Venue Variation: Exploring Chicago's best music venues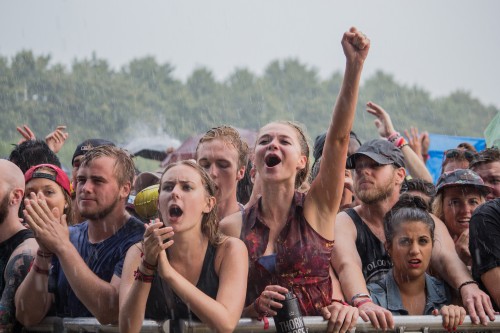 Indoor or outdoor, dive bars or ballrooms, thousands of people every night make their way to one of Chicago's numerous music venues every night. 
While most people won't attend a concert specifically for the venue, people still have venues they're excited to attend concerts at.
"My favorite music venue is the Aragon Ballroom," DePaul freshman Olivia Peera said. "My favorite thing about the Aragon is its ceiling. It's painted to look like the night sky and outer space and it's breathtaking. When the stage lights hit it, it becomes even more magical."
"It feels like you're in a castle looking up at the sky," DePaul freshman Kaitlyn Madden also said about the Aragon Ballroom's ceiling, adding that it is one of her favorite venues as well.
Most attendees want their concert-going experience to be unique. A lot of the feeling towards having a unique concert experience is dependent on the venue in which it takes place.
"In a music venue I look for a place with some character," Peera said. "Lucky for me, most of the venues in Chicago each have their own little quirks and cool details."
These quirks are evident when walking into any of Chicago's many music venues. Each of the theaters including Aragon Ballroom, the Vic and Metro are all uniquely beautiful and the perfect size to catch larger bands when they come into town. Smaller dive bars like Double Door and Beat Kitchen are the perfect size to see a band or artist before they make it big. And there's nothing like watching the night get darker over Lake Michigan when attending a massive concert at Soldier Field, or embracing some of Chicago's great sports history at the United Center while taking in a concert.
Chicago also hosts great outdoor concerts as well, turning the parks and fields that residents love throughout the year into the best music venues for summer.
"I usually base (going to music venues) off the artists performing there and not the venue itself, but Lollapalooza is a big pull for the atmosphere and reputation in Grant Park," DePaul sophomore Ravi Dhebar said.
Whether indoor or outdoor, and large venue or small, Chicago is home to a large assortment of varying music venues — making the city one of the best places to catch live music.
UNITED CENTER
1901 W. Madison St.
Year opened: 1994
Capacity: 20,500
Average Ticket Price: $45 for 300-level, $55 for 200-level
Previous performers: Beyonce, U2, The Weeknd
Point of interest: Beyonce performed songs off "Beyonce" for the first time on Dec. 13.
Similar venues: Soldier Field, Allstate Arena, Wrigley Field
METRO
3730 N. Clark St.
Year opened: 1982
Capacity: 1,100
Average ticket price: $25
Previous performers: Joe Strummer, The White Stripes, Naked Raygun
Point of interest: The Smashing Pumpkins played their first show as a full band at Metro.
Similar venues: Park West, the Vic Theatre, Riviera Theatre
DOUBLE DOOR
1572 N. Milwaukee Ave.
Year opened: 1994
Capacity: 550
Average ticket price: $15
Previous performers: FIDLAR, Chance the Rapper, Liz Phair
Point of interest: The Rolling Stones played Double Door for $7 in 1997.
Similar venues: The Empty Bottle, Subterannean, The Hideout
LINCOLN HALL
2424 N. Lincoln Ave.
Year opened: 2009
Capacity: 507
Average ticket price: $10
Previous performers: Rita Ora, Fall Out Boy, Trash Talk
Point of interest: In 1934, FBI sharpshooters were placed on top of the building to prevent John Dillinger's escape from the Biograph Theater. 
Similar venues: Schuba's Tavern, Beat Kitchen, Reggie's Rock Club