No. 4 Baylor hands DePaul women's basketball first defeat of the season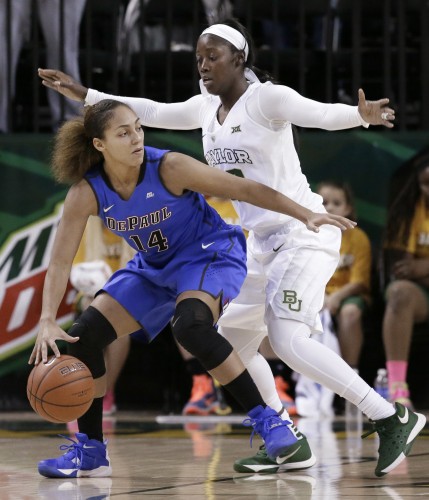 DePaul women's basketball had a huge challenge coming into Sunday's preseason WNIT final — the Blue Demons were to face the fourth best-ranked team in the country, the Baylor Bears.
In Waco, Texas, the No. 19 Blue Demons (3-1) fought hard and, at times, challenged the Bears, but ultimately dropped a 86-72 defeat in the WNIT Final. It was DePaul's first loss of the season.
DePaul forward Megan Podkowa led the Blue Demons with 19 points.
The Blue Demons established their full-court pressure early, making Baylor uncomfortable and were able to establish the game at the pace head coach Doug Bruno prefers. While Baylor jumped out to an 8-0 start, the Blue Demons found their rhythm and went into the second trailing only 24-22.
But Baylor kept their composure like one of the best teams of the country. They remained calm against the full-court press and used their superior size to score points inside the paint.
Baylor guard Alexis Jones scored 21 while forward Khadijiah Cave had 16. Baylor led 44-36 at halftime.
"When you extend the floor, you know there's a chance you're going to give up some easy baskets," Bruno said, according to the Associated Press. "We did, but we also gave up some easy baskets in some situations where I didn't think we had to give up some easy buckets."
Baylor finished the game shooting 63 percent. But the Blue Demons also forced them to a season-high 21 turnovers.
"Golly, thy never stop moving on the offensive end," Baylor head coach Kim Mulkey said. "They never stop pressing you."
DePaul's run-and-gun style was successful at times, leading to a season-high 24 assists. Guards Jessica January and Chanise Jenkins each had season highs in assists with eight and seven respectively.
The closest DePaul got in the second half was eight, down 69-61 with 6:42 left in the third.
This was DePaul's first game against a top 25 opponent, but will face three more before conference play begins in January. They face No. 1 UConn on Dec. 2, No. 2 Notre Dame on Dec. 9 and No. 12 Texas A&M on Dec. 12.
"I really think coaches are hypocrites if they ask their kids to play fearless and then play a weak schedule," Bruno said. "If you're going to ask your players to be fearless, then you better be fearless with who you schedule."
DePaul plays Chicago State on Tuesday at 7 p.m. at McGrath-Phillips Arena.
View Comments (1)