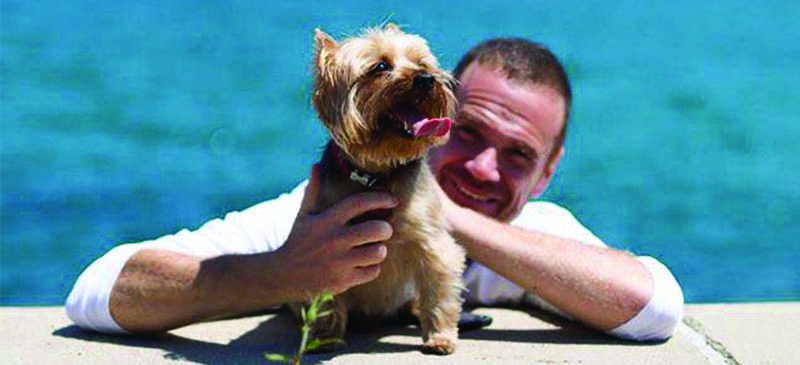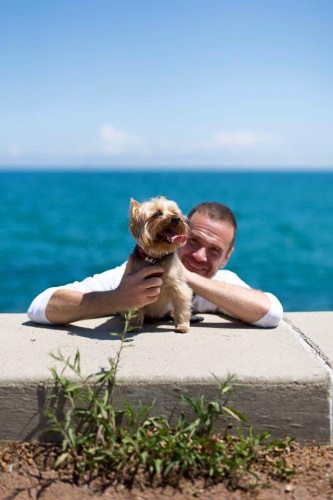 Life is notorious for throwing curveballs. Your job is terminated unexpectedly, a relationship ends suddenly, you accidentally set your kitchen on fire. Unforeseen hurdles can set you back more than a few paces. If you're fortunate enough, you will have friends and family to help you get back on track but when you don't, a four legged friend may just be the support you need.
In 2011, Dr. Rob Garofalo's curveball was a positive HIV test result. In effort to cope with his diagnosis, he adopted a little ball of fur that would change his life forever. It wasn't long after meeting his dog that Dr. Garofalo realized they could have a therapeutic effect on others in his situation, too.
Dr. Garofalo, division chief of Adolescent Medicine at Ann & Robert H. Lurie Children's offices, decided to devote his career as a physician in Chicago to care for HIV+ teens, thus beginning a non-profit organization Fred Says with his sidekick Fred. The organization's project, When Dogs Heal, aims to capture some of their stories through photos by Jesse Freidin and interviews from Los Angeles, San Francisco, Chicago, New York and Atlanta to spread awareness and will premiere the photos in Chicago on World Aids Day, Dec. 1.
"When Dogs Heal is about changing the narrative on HIV to no longer be about death or illness. It emphasizes the power of overcoming stigma and grief through the compassion of our pets and the unconditional love they give us to continue living, surviving and thriving," said Dr. Garofalo, drawing from his personal story that led to the project. "For me, When Dogs Heal is quite literally a labor of love."
For Dr. Garofalo, that love is a Yorkie he named Fred that would dissolve the many years he spent in the dark and bring a little magic back into his adult life. Fred was there to bring joy, love and cuddles, at the mere expense of an occasional sock. After nearly four years, Fred is still adorable and Fred Says has made tremendous impacts in the lives of HIV+ teens.
Since its inception, the organization has grown to raise money to improve the health of HIV+ teens through charitable work and through the support of agencies across the U.S. that aim to make the world a better place for adolescents battling not only HIV but the stigma associated with the disease.
In 2011, according to POZ magazine, there were over 400,000 HIV+ people in the U.S. who owned a dog.
The premiere event will take place at FLATS Studio on West Wilson Avenue from 6 to 9 p.m. It is a free event, open to the public with a suggested donation of $10 to $20.
"I share a special bond with all those who participated in this project, not just because each is living with HIV but more because we have each experienced the gift that comes from the unconditional love of our dogs," Dr. Garofalo said.