DePaul men's basketball can't overcome Seton Hall in 78-74 loss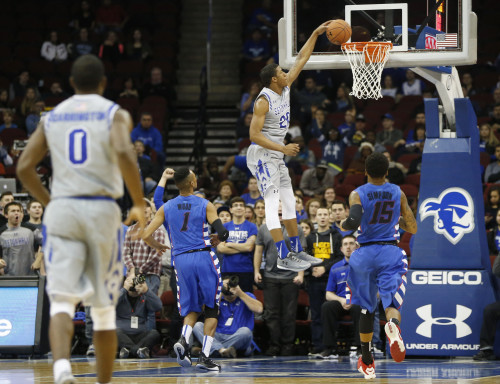 The stage was set for DePaul's best free throw shooter to tie up the game with less than a second to go. Junior point guard Billy Garrett Jr. attempted a three as the clock ran out with DePaul down 76-73 at Seton Hall. He missed, but was fouled in the process and sent to the line for three free throws and a chance to tie it.
It was symbolic of the rest of the game, with DePaul seemingly out of the game but getting reeled back in. But they came just short of getting over the edge. Garrett missed the first free throw, made the second, and then sent the third one off the backboard, needing it to hit the rim for a chance to get a rebound. DePaul (6-8, 0-2) fell to Seton Hall (12-2, 2-0) 78-74 in South Orange on Saturday morning.
Garrett led the game with 20 points, while senior forward Rashaun Stimage and senior guard Myke Henry each put in 15 points. Isaiah Whitehead led the Pirates with 18 points.
The Blue Demons' resiliency was tested early when they went down 19-9 with 12:32 to go in the first. Turnovers were hampering the Blue Demons as they committed 19 the entire game, five more than their season average. DePaul climbed back into the game and tied it at 31-31 with 1:32 to go in the half, giving themselves fresh life in the game. They went into the half down 35-34.
The biggest lead of the second half was 8, which the Pirates went up by twice. They were up 59-51 with 9:23 to go and 68-61 with 5:52 to go but still DePaul stayed in the game. They were within one with 2:58 to go but that's the closest they would get. Garrett could not hit all three free throws he earned with less than a second to go, and Whitehead hit two free throws on the other end to ice the game with a 78-74 final.
DePaul is back at Allstate Arena to take on Butler on Tuesday.