Who could be playing 2016 Chicago music festivals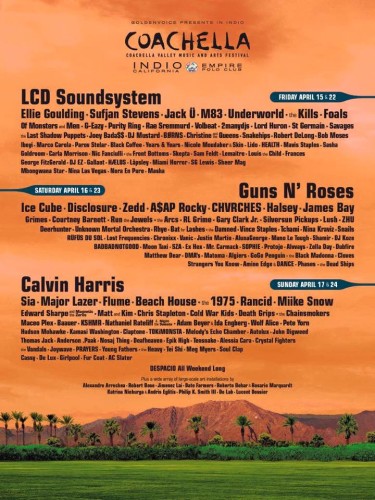 Slather on that sunscreen and fill up your water bottle – festival season is almost here.
Okay, maybe we're still six months out, but Coachella's lineup announcement yesterday gives festival goers a sneak peek at who we might be expecting in Chicago this summer.
Predicting music festivals is part science, part art and part sheer luck, but here's my best guesses for 2016 Chicago music festivals.
Pitchfork Music Festival
What we know: Not much at this point, other than it's happening sometime in mid-July. Pitchfork Paris, which last took place in the fall, might give some indication, and Pitchfork's definitive indie style helps too.
Best guesses: Beach House, Ty Segall, Father John Misty, LCD Soundsystem, Sulfjan Stevens, Grimes, Battles
Wild cards: Animal Collective, Death Grips, Bon Iver, Kamasi Washington, Deafheaven, Hudson Mohawke
What we're missing: A legacy act
Over the past few years, Pitchfork has pulled some strong indie legacy acts largely unseen on the festival circuit, like Sleater-Kinney last year and Slowdive the year prior. Unless LCD Soundsystem fulfills that need, it's hard to guess who is next.
Beach House and Ty Segall feel like safe bets – both are Pitchfork alum and loved by the site – along with Grimes and Father John Misty.
Lollapalooza
What we know: It's expanded to four days this year, and promised a bigger lineup. Lollapalooza's international festivals also might hint at who will be in Grant Park this summer.
Best guesses: Mumford and Sons, Jack U, Chvrches, Run the Jewels, Disclosure, Big Grams, Fetty Wap, Radiohead
Wild Cards: Guns n' Roses, Pearl Jam, Ellie Golding, Sia, Snoop Dogg, Mac Demarco, Courtney Barnett, Major Lazer, Miike Snow, Flume, Red Hot Chili Peppers, Vince Staples
What we're missing: A hip hop headliner
Mumford and Sons are playing Lollapalooza's other incarnations and headlined Bonnaroo last year, and feel like a strong fit for Lolla's pop headliner spot. Jack U is also playing other Lollapaloozas, and Jack U, Disclosure, Chvrches, Flume and Major Lazer are slotted for Coachella. All of them are strong candidates for an undercard slot.
Guns n' Roses could fulfill the role of legacy act, though Lollapalooza and Coachella do not tend to overlap too many headliners. It likely won't be Pearl Jam either; they're almost a sure bet for Bonnaroo, and there are a few rumors about a return to Wrigley Field this summer. Red Hot Chili Peppers are playing Bottlerock, and could be an interesting pick and nod to '90s Lollapalooza.
Other festivals:
Possible artists: Big Gigantic, Bassnectar, Odesza, Porter Robinson, Deadmau5, Pretty Lights, Vince Staples, Calvin Harris, Death Cab for Cutie, Panic at the Disco.
Spring Awakening, North Coast Music Festival and Riot Fest regularly repeat artists, making guesswork a little more difficult. Still, if Lollapalooza does not pull some of these EDM heavyweights, a few of them are almost certain to make their way to Soldier Field or Union Park this summer.
With Riot Fest over nine months away, it's too early to tell, but Death Cab and Panic at the Disco seem to be making the festival circuit this year, after both made a small comeback in 2015.