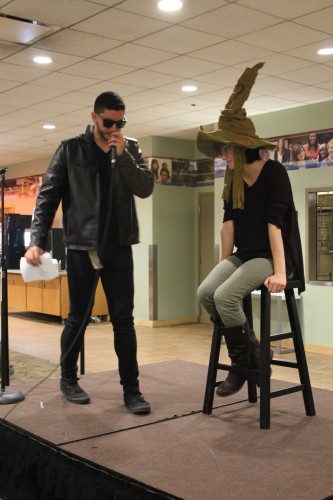 DePaul Activities Board (DAB) magically transformed the Student Center into the Hogwarts School of Witchcraft and Wizardry for its DePaul After Dark event last Thursday.
More than 350 students, wizards, witches and muggles alike gathered to enjoy the spread of activities. Senior Kasia Kujawski, who helped take attendance, called the night "really successful" because it attracted "a lot of people who wouldn't have come otherwise."
Freshman Arturo Echevarria said that he has been "obsessed" with Harry Potter since kindergarten.
Attendees received two raffle tickets for prizes, including a coveted Harry Potter paperback book box set with a wand.
The legendary Honeydukes Sweet Shop offered a candy station with three whimsical treats. Students filled their bags with Fizzing Whizbees (Pop Rocks), Nagini Snakes (gummy worms) and the classic Bertie Bott's Every Flavour Beans (jelly beans).
"We finished off all the jelly beans first," sophomore Ayesha Chaudhry said.
A mocktail potion class really made it a night at Hogwarts with an interactive Butterbeer bar. Cream soda, butterscotch syrup, a few drops of vanilla extract and whipped cream created the well-known drink in the series. Students could also try a pink love potion spiced with ginger ale called Amortentia. A bubbling cauldron of dry ice, as well as battery-operated candles, set the magical scene. Tables were scattered with "dark mark" temporary tattoos.
"The Butterbeer ingredients mixed so well together," freshman Mei Badecker said. Sophomore Stephanie Lehocky agreed and said the butterebeer tasted just like it does at Universal Orlando's Wizarding World of Harry Potter.
Students also had a unique opportunity to play the competitive sport of the wizarding world, Quidditch. At Hogwarts, witches and wizards play it riding flying broomsticks. DAB swapped the broomsticks for pool noodles and tall goals for hula hoops, and let the games begin.
Senior Niraun Kittiviriya commented that it's hard not to look "weird and awkward running with a pool noodle between your legs." But, that was part of the fun.
The object of the game is to land the Quaffle, a ball, through the hoop for 10 points, or for thirty points, to catch the golden snitch, which was, throughout the night, the position of DAB members such as juniors Katriel Hampton-King and Matt Welsh.
Junior Laurel Pierce refereed with sophomore Betsy Lugo announcing for most of the matches.
"It was lots of fun," sophomore James Ryan said, who played the seeker position for his team in the first Quidditch match. He liked the hula-hoop goals, calling them "charming" in comparison to the towering goals at the Hogwarts stadium.
The secret to finding the train to Hogwarts is entering through Platform 9 ¾.
Students had the chance to pose in front of it before entering the Quidditch arena.
In Brownstone's, a string quartet played some recognizable music from the movies. Violinists Emily McClean and Danielle Simandl, both second-year performance certificate students, teamed up with violist Dana Debofsky and cellist Joshua Dema, both first-year masters students, for an artful performance full of talent.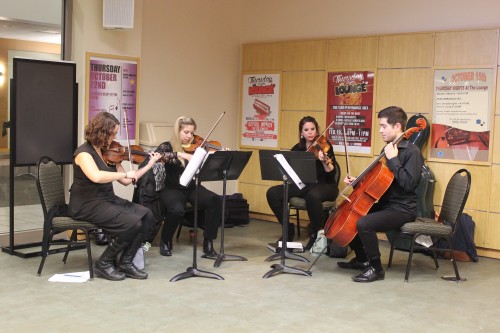 Upstairs, students tried their luck with the Sorting Hat. First they filled out a quiz that asked them questions like 'Which spell would you cast on yourself?' and 'Which animal would you choose for your Hogwarts pet?'
Then, junior Josue Ortiz, acting as the personification of the Sorting Hat, would call each person to the stage while students tried on a sorting hat. After each placement into a different house — Gryffindor, Hufflepuff, Ravenclaw, or Slytherin — other students would clap for their new housemate.
Also in the dining hall, students could make a bookmark shaped like a tie or a scarf in their houses' colors.
At 9 p.m., DAB showed "Harry Potter and the Goblet of Fire," the fourth movie in the series. A themed crossword puzzle and word search were both available, as well as coloring pages.
DAB was able to "cover the whole student center" with the event, junior Lindsay Frommer said.
Though the popular candy bar ran out around 9 p.m., Quidditch matches continued until after 11 p.m.
"Tonight was some of the most fun we've had here," freshman Alex Perry said.
Fellow freshman Sarah Greenwell added, "it made not getting my letter from Hogwarts a little easier."