The most renowned bands and musicians to walk through the halls of DePaul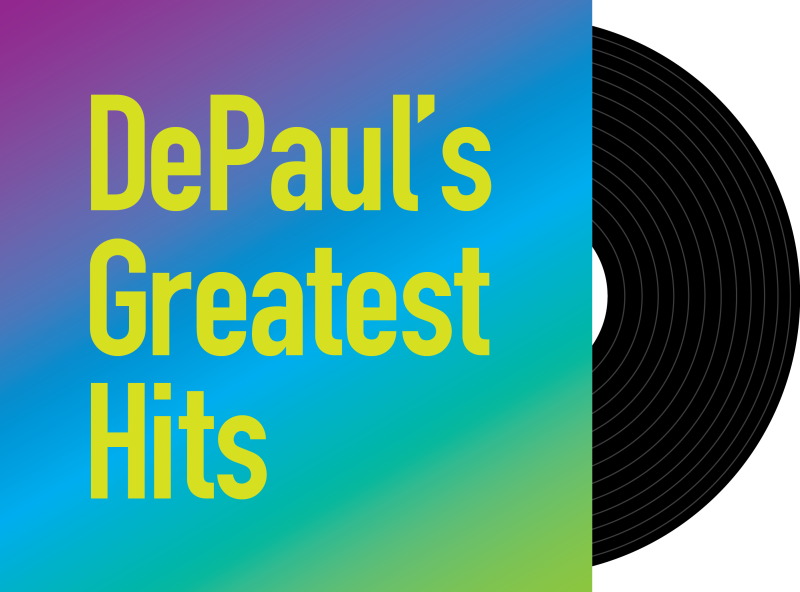 Chicago is home to many well-known and influential musicians. Rappers like Kanye West and Chance the Rapper instantly pop into mind when thinking about the talent that has come out of this city. Fan favorites like Rise Against, Alkaline Trio and Pearl Jam all boast members born in Chicago or raised in the suburbs. What's a little less obvious is that some of these music icons roamed DePaul University's campus during their college years.
They may not have all graduated, but they all created an impact in music.
Take Fall Out Boy, for example. Pete Wentz, bass player of the rock band, nearly graduated from DePaul. However, just shy of graduating, Wentz dropped out to pursue a career in music. With six full albums, holding honors such as the Teen Choice Award for Rock Group and over seven million albums sold worldwide, it's safe to say dropping out benefitted Wentz in the end.
For Becky Yeker, a sophomore cinema studies student at DePaul, Fall Out Boy has been a family affair. Yeker said she has been a fan of the band since third grade as a result of her dad buying her "From Under the Cork Tree," Fall Out Boy's second album.
"I used to make music videos in my head to every single song on that album. It feels like childhood to me. It feels like innocent feelings about emotions I didn't even understand yet," Yeker said. "They were the first band that ever sparked any kind of emotion in me. I went down this path of pop punk and alternative, and watched my musical taste go down a very different path than most of peers."
Fall Out Boy has become a cult classic, especially for those who live in or near the city. Pick Me Up Café, a restaurant in the Lakeview neighborhood, was actually the setting for the "Evening Out With Your Girlfriend" album cover. Since their formation in 2001 in Wilmette, the four-piece band has attracted a huge following, including over 9 million likes on Facebook and nearly 2 million followers on Twitter. Despite a hiatus that kept the fanbase waiting for years in anticipation, dedicated fans still have an emotional tie.
"[Fall Out Boy] made me realize that I am passionate about lyrics as well as the music," Yeker said. "They were my transition into a world of music that would literally change my entire life and way of living."
Ray Manzarek, keyboardist for The Doors, is another example of a famous musician to come from DePaul. Manzarek, who was also a producer and a writer, claimed the South Side as his home. After graduating from DePaul with an economics degree and moving to California to attend UCLA, Manzarek met Jim Morrison at Venice Beach. Later on, The Doors would be known as one of the most controversial bands of the 1960's, singing about topics such as the Oedipus complex all the way to taking LSD (which was legal in California until 1966).
In 2004, Rolling Stone claimed The Doors to be in the top 100 bands of all time, arguing that they stood out because "they didn't have a bass player. The keyboard held everything together."
"In my opinion The Doors were an important and influential band. Their allure was impossible to copy," said Charles Dicola, who teaches a class about The Beatles. "One of the reasons The Doors were successful was because they didn't sound like anyone else. In their wake I can imagine many young people being attracted to the idea of forming a band, so in that sense the band was also influential".
In addition to their unique sound, Dicola said that many rock bands like The Doors were a "cultural touchstone for young people in the socially volatile decades of the '60s and '70s." Rock music often was written about oppression or controversial issues such as the Vietnam War, garnering attention from teenagers and college students.
"Affected by slogans like 'Never trust anyone over 30' and 'I hope I die before I get old' taken from the music, many young people developed views counter to their parents' and other authority figures' rules and regulations," said DiCola. "Listening to rock music and attending rock concerts were outlets from an ever more inexplicable society."
Besides singing about controversial issues, The Doors also gained popularity (and backlash) due to Morrison's infamous stage antics. Their live shows would sometimes end in riots, and in some cases, arrests of Morrison himself. A combination of drugs, drinking on stage, and personal issues eventually led to the singer's death from an overdose in 1971.
"In retrospect, the Doors were like a meteor that blazed brightly for a brief time," DiCola said. "It's hard to imagine what they would've become had Morrison lived."
DePaul's top tracks
Fall Out Boy
Pete Wentz, bassist for Fall Out Boy, dropped out of DePaul a few weeks before he was supposed to graduate. Wentz toured with the band extensively, playing hundreds of shows before going on hiatus in 2010.
"Sugar, We're Goin Down"
The Doors
Ray Manzarek, keyboardist for The Doors, lived on the South Side of Chicago. After graduating from DePaul with an economics degree, Manzarek moved to California to attend UCLA. There, he met Jim Morrison, frontman of the band.
"L.A. Woman"
How to Dress Well
Thomas Krell, a philosophy grad student at DePaul, has been making R&B music for the last few years under the moniker 'How To Dress Well'. After playing Pitchfork Music Festival and gracing the cover of their magazine, Krell has been DJ'ing smaller clubs around Chicago.
"Repeat Pleasure"
Chicago
Lee Loughnane, Walter Parazaider and James Pankow, all members of the famous rock band Chicago, met at DePaul. Combining pop, R&B, jazz and rock, Chicago was often seen frequenting the stage at venues and clubs around the Midwest.
"If You Leave Me Now"
Neutral Milk Hotel
Jeremy Barnes, a folk artist, was formally asked to drop out of DePaul before graduation to play drums in Neutral Milk Hotel. Besides playing and touring with Neutral Milk Hotel, Barnes has also been a part of other musical acts such as Bright Eyes and Beirut.
"Holland, 1945"
OK Go
Often noticed for their quirky and odd music videos, OK Go, now a California-based band, once claimed Chicago as their home. Tim Nordwind, the bass player, was once a student at DePaul before moving away with the rest of the band members. Even though it's been nearly two decades since the birth of the band, OK Go occasionally releases new music and continues to tour.
"Here It Goes Again"