Leitao ejected in DePaul loss to Georgetown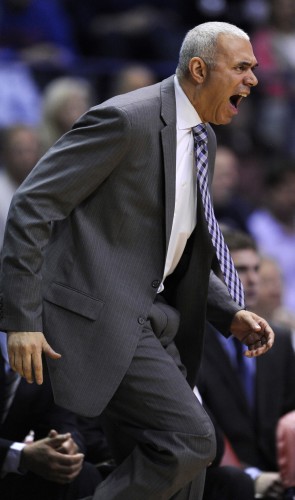 A two-point halftime lead vanished for DePaul men's basketball (6-10, 0-4 Big East) early in the second half as the Georgetown Hoyas (10-6, 3-1) won 74-63.
Junior guard Billy Garrett Jr. led the Blue Demons with 16 points as DePaul dropped their fourth game in a row, their longest such streak of the season.
"They were good and we weren't good enough," head coach Dave Leitao said. "They made more plays, things that define games and seasons and good teams."
This was the second loss for the Blue Demons against Georgeotwn this season. The Hoyas opened up the teams' conference schedules with a 70-58 win at the Allstate Arena on Dec. 30.
The opening minutes featured back and forth between the two sides as neither could grab a substantial advantage. DePaul led by six with 3:30 to go in the first half, which would be their largest lead of the game. Georgetown managed to cut the lead down to two as they went into the half, down 30-28.
A few minutes into the second half, D'Vauntes Smith-Rivera hit a three that put the Hoyas up 34-33, which put Georgetown up for good. The Hoyas went up by as many as eight with just over eight minutes to go but DePaul climbed back into it. They were down by three with under 6:00 to go but that was the closest they got to catching the Hoyas.
With just under four minutes to go, DePaul was given a technical foul as head coach Dave Leitao argued with the officials. Less than a minute later, Leitao was given a second technical and ejected from the game. Associate head coach Rick Carter took over the duties of head coach for the remainder of the game.
Leitao declined to talk publicly about the ejection and what he said to the officials to earn the two techinical fouls.
"That's just something for me to talk about with the Big East coordinator of officials with," he said.
The Hoyas continued to extend their lead as the clock wound down and finished the game with a 74-63 win to complete the season sweep on the Blue Demons. DePaul continues their road swing with a trip to Xavier Tuesday night. Xavier sits at 2-1 in the Big East and 14-1 overall, likely to be a tough matchup for DePaul.