The gloves are off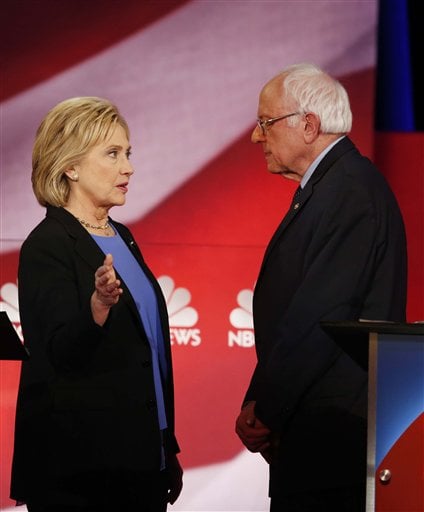 INDIANOLA, Iowa (AP) – With days to go before the lead-off Iowa caucuses, Hillary Clinton on Thursday ramped up her attacks on fellow Democrat Bernie Sanders, who said she is not interested in ideas that will "never make it in the real world."
The former secretary of state offered a sharp assessment of the Vermont senator's proposal for a single-payer health care system on Thursday morning, saying it would lead to "gridlock" in Washington. She also questioned his foreign policy ideas.
Clinton took up the foreign policy attack in her 30-minute speech Thursday, criticizing Sanders' suggestion to invite Iranian troops into Syria to help fight ISIS, which she said was like "asking the arsonist to be the fire fighter."
"Sen. Sanders doesn't talk very much about foreign policy. But when he does it raises concerns because sometimes it can sound like he hasn't really thought it through," Clinton said in Indianola.
Clinton, who is in the midst of a campaign swing through Iowa, stressed that this was a tough race and said she knows how to get "knocked down" and get back up.
Her pitch made sense to Jim Bonney, 63, of West Des Moines, who plans to caucus for her.
"A lot of my friends are Sanders supporters," Bonney said. "I like his ideas, but he can't get them accomplished."
Sanders and Clinton are locked in a tight race going into the Feb. 1 Iowa caucuses, prompting Clinton and her supporters to grow more aggressive. On Thursday, David Brock, a top Clinton ally, criticized a new ad from Sanders, saying it presents a "bizarre" image of America, focused on white voters.
Brock, a long-time Clinton supporter who runs several progressive groups aiding her candidacy, said Thursday that a new Sanders ad was a," significant slight to the Democratic base."
The uplifting, gauzy ad features images of his rallies as Simon and Garfunkel's "America" plays. The people featured in the commercial are overwhelmingly white, with only a few individuals possibly representing other racial or ethnic groups. No words are spoken but the spot aims to highlight the grassroots support Sanders campaign has attracted.