DePaul professor makes documentary on largest U.S. municipal fraud case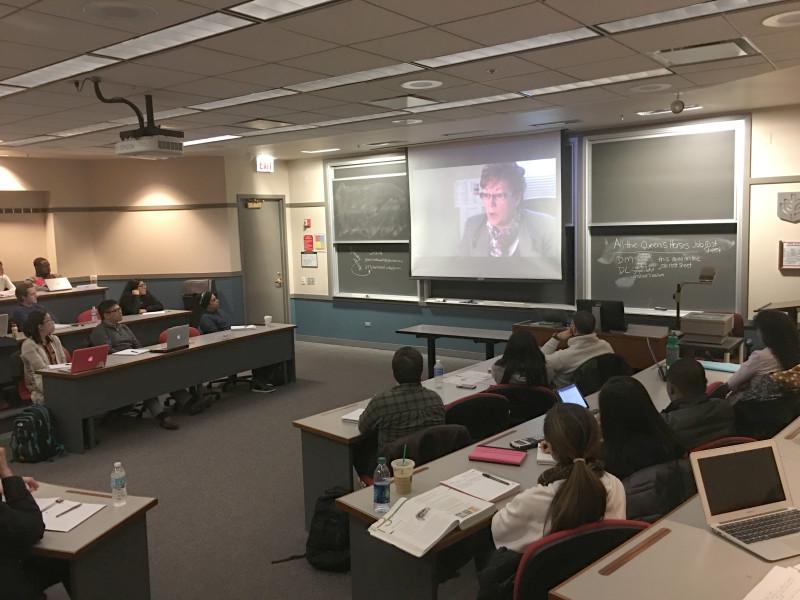 It's a compelling story. A small-town city official from Dixon, Illinois commits the largest municipal fraud in U.S. history by stealing $53.7 million over 20 years and builds a horse-breeding empire worth 767 championships. In charge of telling this story for accounting students at DePaul is professor Kelly Richmond Pope. 
Debuting this September is "All the Queen's Horses," Pope's second documentary film explaining how such a giant fraud could go unnoticed in a town of just 16,000 people. More than just a good story, the case is an excellent example to teach her students. 
"I've always loved TV and I've always loved film, so I tried to bring a lot of video into my classes," Pope said. "When I couldn't find the kind of material that I wanted, I started working with people to shoot video that I needed. I wanted to view the world of accounting through the lens of film and I think that brings a different sense to my classroom and that students respond well to it."
One of Pope's students is Darartu Mohamed, a senior studying industrial organizational psychology and accounting. Pope and Mohamed met in the Alpha Kappa Alpha Sorority, Inc., where Pope became a professional mentor for Mohamed. Mohamed said she has taken other accounting classes at DePaul, but Pope's teaching style is unique. 
"Accounting sometimes can be a bore," Mohamed said. "(Pope) makes it entertaining and explains it in a way so that someone who's not an accounting major can grasp it… Her consideration for how we learn is what makes her a great professor." 
Pope wanted to produce the film to teach her students about the Dixon fraud case committed by city comptroller Rita Cromwell, who in February 2014 was sentenced to 20 years in prison. The title of the film comes from the massive horse-breeding project that Cromwell invested in with the millions she stole from Dixon. 
"I decided to do a documentary because I thought that merging the concept of accounting and business theory with film was a very creative way to teach students," Pope said. 
She joined a group promoting diverse filmmakers at Chicago production company, Kartemquin Films, where she met Raymond Lambert, who became her co-producer. 
"I thought it was really fascinating that more people didn't know about this and that it provided an educational opportunity for municipal fraud and fraud in general, how it works," Lambert said. "We as citizens should be aware of what's happening around us, and I thought (the film) would be a wonderful way to do that."
Both Lambert and Pope have backgrounds in the business world, but Lambert said it was his experience producing and her expertise as a professor that made them a strong team. 
"Most professors are story tellers. Every day when they're in class they're telling a story and taking you from beginning to end on whatever the subject matter is they're teaching," Lambert said. 
After producing her first documentary, also about fraud cases, Pope learned that a compelling story is key.
"I think what Kelly is going to be able to do is take you behind the scenes and walk you through how this whole thing happened," Lambert said.
"You'll get a perspective from the citizens who live there, who are affected by it; you'll get an overall view from the lawyers who prosecuted the case at the end; you'll get a perspective from the employees who worked right next to her; you'll get her boss' perspective, how could this possibly happen with this lady you work with every day. And you'll get a peak into who she was."
Pope's film falls in line with other popular films and television shows depicting financial crimes like "Orange is the New Black" and "Identity Thief."
"Embezzlement is a scheme that we talk about in my forensic accounting class at DePaul," Pope said. "It's a very hot topic and the subject of a lot of shows and movies and conversation." 
Pope said that while she is producing the film to show in her classes, it is not a DePaul project. Last fall some of her students accompanied her on a field trip to interview the mayor of Dixon for the film, but there is no official affiliation with DePaul to produce the film. 
In its final stages of production, Pope said it will be released in September of this year. All that's left is to raise the final $75,000 of the almost $400,000 cost. Pope said the film will have international distribution, a benefit of partnering with Kartemquin Films, and they are hoping to show the film on a major network or in theatres.
View Comments (1)