Men's tennis looks for progress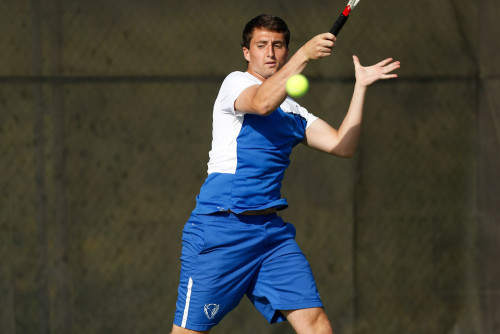 A season ago, men's tennis was the subject of momentum talks. They had just  gone on a surprising run to the finals of the 2014 Big East tournament and were hoping to turn that into success in 2015.
After going 12-12 in 2015, the Blue Demons sit at 2-4 after their first three weekends. A 4-0 defeat to Southern Methodist University capped off an 0-2 weekend at SMU. Before the weekend, the Blue Demons were feeling like they were starting to get into a rhythm.
"I felt like we were playing well," junior Nathan de Veer said. "We lost tough matches but it was a good start."
There has been an adjustment period coming out of the break, where head coach Matt Brothers said the team came back from winter break in varying states of readiness.
"The thing that matters to me is that we're getting better each week," Brothers said. "I went into (the season) this year without a lot of expectations because we went into the season with about four days of practice."
The team is led by three seniors, including Kyle Johnson, Sten Leusink and Jan-Willem Feilzer.
"The rythym is going well," senior Kyle Johnson said. "We're practicing hard, which is the most important part."
The Blue Demons added two freshmen  for the 2016 season. Croation Ivan Divkovic and Conor O'Meara, who hails from Austin, Texas, are still adjusting to playing at the collegiate level, according to Brothers.
"They are adjusting, let's say that," Brothers said. "Typical freshmen stuff. It's always tough for them when they've typically had the same coach for three or four seasons and now they have to turn over those duties to us."
The Blue Demons are still looking to figure out the most effective lineup as they go through the season, with some setbacks forcing different options to go through.
"We're still trying to figure out some lineup stuff," Brothers said. "There's been some rotation toward the bottom of our lineup. We've had to deal with some adversity because injuries are inevitable and guys are getting sick."
Despite the setbacks, the Blue Demons have stated goals to earn a ranking, and to go all the way and win the conference.
"We've got five months and the more matches we play the better we get," Johnson said. "The more we take away from those matches the better we get."