Bullet for My Valentine discusses new album "Venom"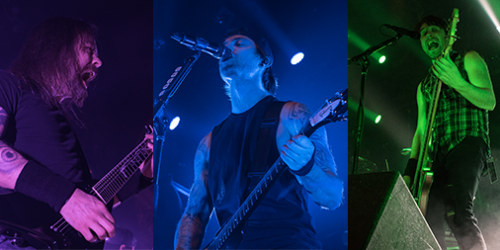 After the release of their fifth album, "Venom," the Welsh heavy metal band, Bullet for My Valentine, is back on tour with help from Asking Alexandria. The band's Chicago stop on their "Venom" tour is taking place on Feb. 19 at the House of Blues.
The DePaulia recently spoke to Bullet for My Valentine over the phone about how they're preparing for their tour, and what inspired their latest album.
The DePaulia: You guys are coming to Chicago Feb. 19. I was wondering how you're preparing for your upcoming tour?
Matt Tuck: We just started rehearsals recently. We've had about seven weeks off after our last show we did. All's going really good so far, just normal preparations as usual.
DP: That's good to hear. How will this upcoming tour differ from any of your previous tours?
Tuck: For us, it's kind of business as usual, you know? We're going to do our thing. For a few of the shows, what we're planning to do is to change the production. The stage set that we're having is something we've never brought to America before. It's definitely a step up in that sense. We've never been given the opportunity to put on more of a production, rock show before this tour, so we're really excited to bring that to America.
DP: So, I was looking up your tour online, and it looks really long. You guys are hitting up at least three different continents. What are your feelings about that, and what are your plans for when it's done?
Tuck: I'm feeling good about it. It's just something that the band is no stranger to now. The touring schedule for us, they just are what they are, you know? It's about 18 months to kind of get around everywhere we want to go. It's good, we're just kind of getting ready for it, and we're just up for it. It's nothing daunting. It's something we've been doing for a long time. We're going to take it in stride and get going.
DP: What was the process of creating your new album "Venom"?
Tuck: We've been doing it a while, it's not our first album, so we tried to accumulate as many ideas as we could on our last tour while we were traveling. Then when we had downtime we all got together, put everything on the table, went to Padge's (guitarist Michael 'Padge' Paget) place, because he has a home studio and we went through everything. We picked out the good bits and tried to kind of produce an album through that. We tried to capitalize on down time while we were on the tour as much as possible, because there was a lot of time to prepare. So, we just accumulated as much stuff as we could.
DP: What were the influences for this album?
Tuck: I think the main influence for this particular album was ourselves, really, and just taking a look at the whole back catalog of what we've got, and just listening to what makes us who we are. Thinking about that is not something we've really ever done before. What we wanted to do was kind of recapture a more aggressive Bullet for My Valentine, which it was when we first started, when we were younger and stuff. Just listening to everything we've ever done, pick out the good stuff, think about what made it good and just try to recapture that vibe. It's kind of hard when you get five albums in and you've been doing it for a while to get a bit of perspective on what to do. I think sitting down with everyone, and actually having a game plan going into it before we started writing was a really good idea and helps us a lot.
DP: With the idea of this album being you guys going back to your roots, how do you think your sound has evolved since the first album?
Tuck: I think it's evolved naturally and steadily album to album. The Bullet for My Valentine identity has always been plastered all over everything we've done, which is something we've always been trying to do, but there has been an evolution album to album. It's just been a very natural way of doing stuff. The only time we've really thought about what we're going to do was on "Venom."
DP: With that being said, what do you see in the future for Bullet for My Valentine?
Tuck: More of the same, really. We've been given a great opportunity to do this, and we never waste those opportunities. We've done five albums and we're only in our mid-thirties, so there's potential to be around for a very long time. We've just got to keep up with the hard work and keep on being creative doing the best we can.