Wavves and Best Coast bring summery vibes to Chicago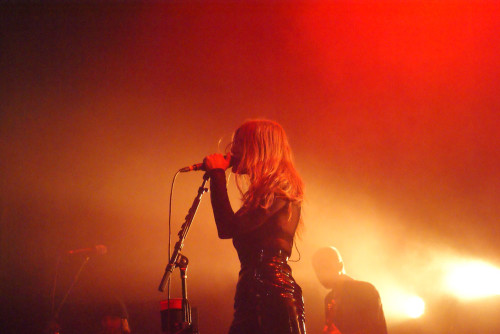 No matter what the weather is, whenever I listen to California bands Best Coast and Wavves, I instantly feel warmer. The bands, who sing of sunshine and their great home state of California couldn't have brought their recent tour to a more opportune place at a more opportune time — Chicago in February.
The two bands, and their opening act Cherry Glazerr, performed two sold out shows at Thalia Hall as part of the Summer is Forever II tour on Feb. 24 and Feb. 25, and if their closing night in Chicago was any indication of how the first night was, Thalia Hall was home to two phenomenal shows. Their Feb. 25 show was a brief glimpse of the joys of summer, as all three bands performed energetic and powerful sets.
Cherry Glazerr was the opening band, and if Best Coast and Wavves represent Summer, then Cherry Glazerr is like the beautiful first day of Spring when you get a glimpse of how good the next few months will be.
The Los Angeles-based band has some Chicago roots, in singer and guitarist Clementine Creevy, who had "like 50 relatives" at the concert. The band, who is currently working on their third album, had fun, but mellow music at the same time, and fit well with the summery theme of the concert.
Best Coast, the duo fronted by Bethany Cosentino, performed the second set of the night and played a wide variety of songs spanning their entire discography from their earlier songs like "Crazy for You," off of their debut album to songs off of their newest release, "California Nights." The band dedicated their 2010 song "Goodbye" to Donald Trump, "Because I want to say goodbye to that m—— forever," Cosentino said.
Cosentino, who is so beloved by her fans that she couldn't get a word in without them screaming in response, has a stunningly impressive voice in a live setting, and the rest of the band was outstanding in performing the band's mellow, beachy songs, especially shining while playing "Feeling Ok."
The Summer is Forever II tour was in support of "V," Wavves' fifth studio album, and arguably their best. The surf rock band played songs off of "V," including "My Head Hurts" and one of their singles off of the album, "Way Too Much."
Wavves was very obviously having a blast throughout their set, and towards the end of it, frontman Nathan Williams told the crowd "I have a present for you guys," before throwing out inflatable aliens and balloons, which floated around the crowd for most of the rest of the band's set.
Aliens seem to be a common theme with the band, as Williams dedicated "Heavy Metal Detox," a song about aliens, to FBI Agent Dana Scully from the recently rebooted FOX TV show "The X-Files."
Best Coast and Wavves have collaborated numerous times, and hopefully the two will continue to work together in the future, because their performances on Feb. 25 didn't leave anything to be desired.