Loyola students rally in support of Kesha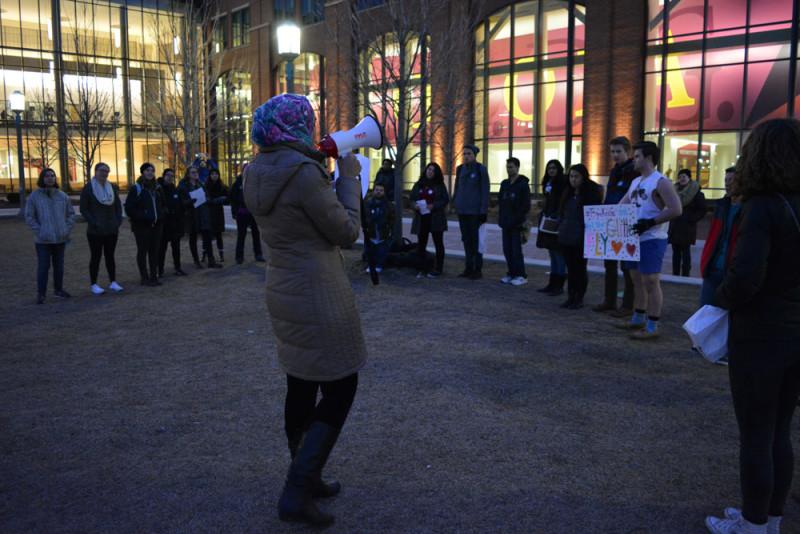 Despite Kesha cancelling her performance at Loyola University Chicago on Feb. 26, she was still represented at the University, as students and members of the community gathered to rally for the pop singer who is currently in the midst of several lawsuits in an attempt to get out of her contract with Sony after she claimed she was drugged and raped by her producer, Dr. Luke.
A rally was planned to show support for Kesha before her planned concert, but even after it was cancelled for "personal reasons" according to her management, the rally still took place.
"It initially started out with my suggestion that we all wear teal, the color that represents sexual assault awareness, to show our support, as well as make signs for the concert," Shanzeh Daudi, a Loyola student and organizer of the event said. "From there, it picked up speed as we realized how many people wanted to show their support as well. We hope this rally shows Kesha that she has a huge support system rallying behind her, and raises awareness of the issue of rape culture."
The event took place in Loyola University Chicago's West Quad, where 40 to 50 Loyola students, members of the community and people who travelled to show their support of the pop singer and other victims of sexual assault chanted and listened to speakers open up about sexual assault.
"I've always been a supporter of sexual assault survivors," Regina Silvestrini, a student at Adler University said about why she attended. "Once I heard about Kesha, I thought if someone in higher authority can't get justice then who can?"
The rally not only covered what happened with Kesha, but featured speakers that discussed their own experiences with sexual assault and offered support for fellow survivors. Other issues were discussed as well, as Loyola student Jack Santy from the Loyola group The Men's Project discussed how to dismantle rape culture from a male standpoint after taking a moment of silence for victims of sexual assault.
Rachel Cohen of FURIE, a Chicago feminist group, also spoke about other instances of communities coming together to support a victim of sexual assault, including in Steubenville, Ohio, when a high school girl was sexually assaulted by members of the Steubenville High School football team.
"Speaking about something that is silenced is very important," Ash Senter, a student at Adler University said. "We need to stand together and support each other."
The night ended with attendees gathering inside Loyola to listen to musical performances and have a discussion about sexual abuse, rape culture and the importance of showing support to victims of sexual assault, like Kesha.
"I think it's vital that we stand together and stand up for ourselves," Cohen said.