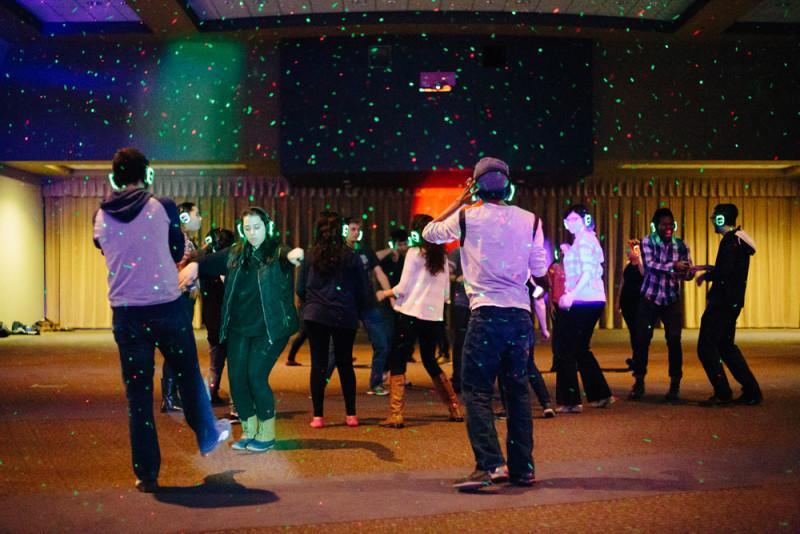 To an observer, it looked like any other dance party — it just didn't sound like one. It had a light show, a DJ and plenty of dancers, but no music?
Not quite.
DePaul Activities Board (DAB) brought a Silent Disco to the Lincoln Park Student Center on Feb. 24. Many students experienced, an event that is gaining popularity across major U.S. cities for the first time.
"I'd never seen anything like this before. The idea of a silent disco is new for this generation," DePaul sophomore and DAB member Jazmin Nevarez said.
At a silent disco, music can only be heard through provided headphones. Those attending the event and dancing enjoy the tunes exclusively. DAB marketed it as a "disco night with a twist."
DePaul freshman Benjamin Tomasik called the dance "conceptually weird." But he found that after "getting used to it," plenty of students found the beat.
Each pair of the headphones could tune in to three channels of music, each one corresponding to a different color that lit up the headphones. The green channel played Top 40 hits while the red channel played electronic dance music. A DJ controlled the Top 40 tracks while the EDM ran from a playlist. The blue channel was silent.
"It's different music everyone can dance to," freshman Kim Cronin said.
Most dancing students kept it on green all night, though some groups of students danced to the red station.
"The EDM option is good for our hipster school, while the Top 40 option is more versatile," DePaul senior Teagen Reid said.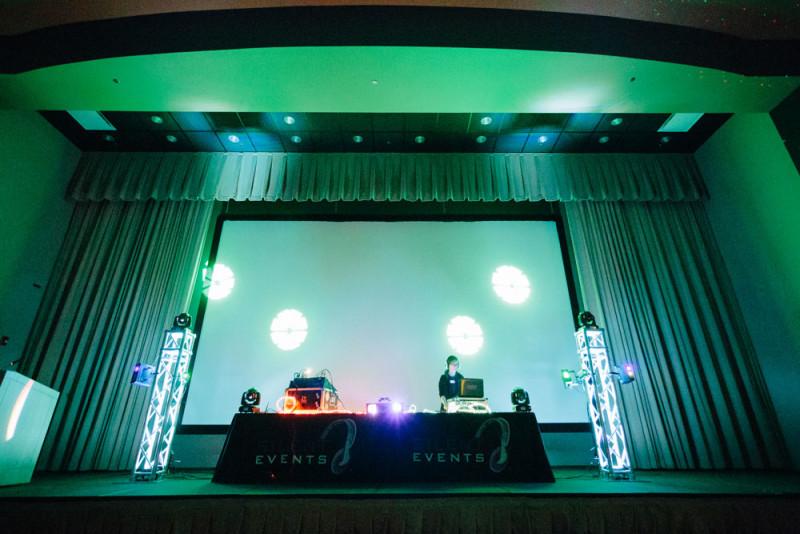 Silent Events provided the DJ, music, headphones and lighting equipment for the night. The Tennessee-based event company markets itself as "America's top silent disco equipment provider and headphone event production company," according to its website. Creator Ryan Dowd first brought this concept to events and festivals more than 10 years ago. Silent Events has grown to host dances at festivals and events across the United States, including Bonnaroo, Warped Tour and ESPN's X Games. Freshman Shivam Chokshi called it an "innovative and modern" concept.
"It seems like every year, there's a new trend in the festival world," sophomore FEST Coordinator Betsy Lugo said. She and the FEST Committee chose to host a silent disco because it appealed to them as music lovers and urban students. There is actually a "relatively large market" for this type of event, Lugo said.
More than 60 students attended with plenty of room to dance around a room in the Student Center. Red and green lights splashed the room from floor to ceiling. At one point, a 20-member conga line snaked across the dance floor.
"Anaconda" by Nicki Minaj was one of the most popular songs of the nights, with many students belting out the lyrics.
"Everyone was feelin' the music," freshman Kelsey Miles said. Miles, a member of DePaul Hoop Troupe, hoop danced some of the night.
Other favorite songs on the Top 40 station included "Lean On" by Major Lazer and DJ Snake, "679" by Fetty Wap, "Worth It" ft. Kid Ink by Fifth Harmony and "Uptown Funk" by Bruno Mars. The DJ also played the throwback from 2007, "Don't Stop the Music" by Rihanna.
While it would have been "a lot easier to draw people in" to the dance if music blasted into the Student Center, the students who did come ended up dancing in a "really fun atmosphere," Lugo said.
Freshman Shelby Robinson summed the silent disco up: "it's a bunch of crazy kids in a big room."