SWMRS talk new album, touring and the impact they have on their fans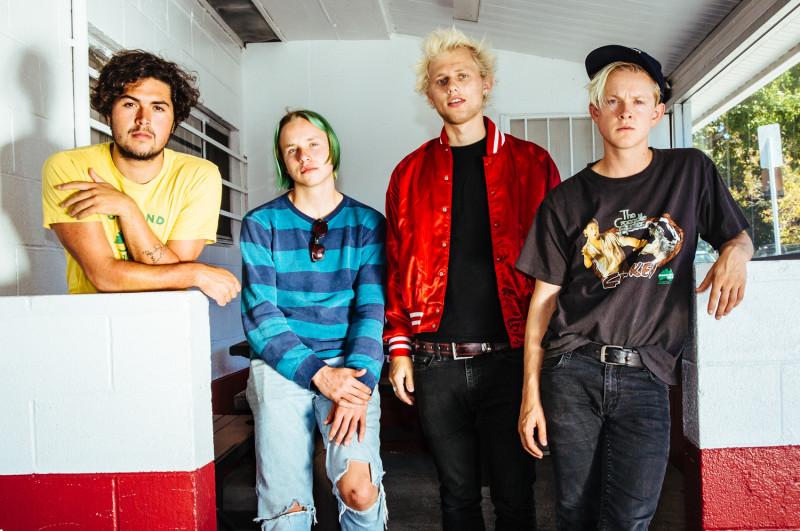 After 12 years of being a band, SWMRS have changed things up a bit. Formerly known as Emily's Army, they changed their look, found a change in their fan base and released "Drive North" — the band's first studio album under their new name and their third altogether. The Oakland-based band is fronted by brothers Cole and Max Becker on guitar and vocals, Sebastian Mueller on bass and Joey Armstrong on drums.
"Drive North" was produced by Zac Carper of the Los Angeles band FIDLAR, who Becker credits with helping them expand their sound.
"You can definitely hear it in the result," Cole Becker said in a phone interview with The DePaulia. "He's an amazing producer, and he's really into getting into the minor, minor details of it, which was fun for us."
Carper's influence helped the band add different electronic sounds on their songs, including "Ruining My Pretending," a song off of their album.
"We always wanted to incorporate electronic music into what we were doing, we just didn't know where to start," Becker said. "He helped us kind of find that, which was amazing."
The connection with FIDLAR also led to new fans finding their music.
"Somewhere along the line, it became really cool to like SWMRS," Becker said. "We have all these really cool kids that might not have even wanted to be friends with us in high school because of FIDLAR. We definitely have an added level of respect from a more critical community because of them."
But because the band now has a new generation of fans, it does not mean they've forgotten about the loyalty of the fans who have been with them since their time as Emily's Army.
"It's definitely a really cool mix of both now," Becker said. "The Emily's Army fans have been there from day one, for better or for worse. They're very attached to us, which is awesome. They're the most faithful people."
SWMRS has a dedicated fan base that regularly interacts with them on websites including Twitter and Tumblr, where they ask the band relationship advice and talk about their problems. "Figuring It Out" off of "Drive North" perfectly reflects the struggles that most people go through when they're becoming adults.
Becker is aware of the influence that he could have over his younger fans because of the band's growing popularity.
"We're so lucky to have made it this far," Becker said. "It's because of a special set of circumstances that we have made it this far, so I think we definitely have a debt to the world. If we don't use this influence that we're so grateful for, then what's the point of us having it?"
Despite their long tenure, the band is also young, with three of the members enrolled in college, although they are currently on a leave of absence due to their touring schedule.
"We all took leaves of absence from college in December because it was getting too hectic," Becker said when asked about their ability to multitask college and being in a touring band. "Seb (Mueller) and I were still in school, and we were trying to balance that and going on a couple of tours. We had to bring all our reading in the van."
After taking a leave of absence, Becker finds more time to relax while on tour.
"Now it's nice because we get to read for fun in the van."
SWMRS is currently in the middle of a two-month long tour to promote "Drive North" that's taking them across the United States in addition to stops in Canada. After their current tour, the band leaves for Europe where they will be playing in France and the United Kingdom.
"It's so cool that we get to see the whole country this way," Becker said.
"A lot of these places we've never played before. It's very slow and it's kind of humbling" Becker said when talking about the different places they're touring, and their excitement about returning to cities they've played before like Chicago, where they'll play on March 17 and New York, where they played last week. "It'll be nice to see the fruit of our labor come to a head in New York and Chicago and see what we've built up."
While the band is happy with "Drive North," Becker hopes to push even further in the future.
"We already made a 'Drive North,' so whatever is next, it's going to be something different and it's going to be something new," Becker said. "I think we all just want to keep pushing the boundaries of what we can accomplish."