Big East tournament: DePaul handily defeated by Georgetown 70-53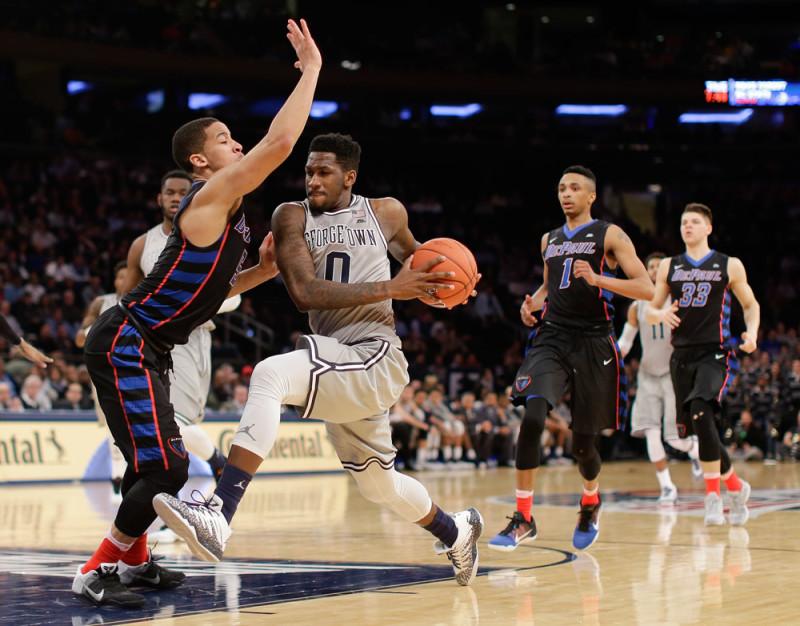 NEW YORK – There was a moment in the second half when DePaul had gone down by their largest deficit to that point, and Billy Garrett Jr. shoved a pass out of bounds, a result of miscommunication between him and Myke Henry. Eli Cain gave an exasperated shrug as he headed to the bench for a timeout. The team was dejected as it seemed like it was that moment had put the final nail into the coffin for DePaul's 2015-16 season.
That shrug encapsulated a season of exasperations as DePaul fell for the 22nd and final time in 2015-16, a 70-53 loss to the Georgetown Hoyas in the first round of the Big East tournament. The wind was long gone from the sails of a head coach who spoke of winning and changing the culture less than a year ago when he was hired. DePaul, who was the ninth seed in the Big East tournament, finished their season with a 9-22 record overall and a 3-16 record against Big East opponents.
"In wrapping it up, we had some trying and difficult times," head coach Dave Leitao said. "There were some few days there when we put things together. It looked like we could be about something."
The loss was microcosmic of the struggles of the season. DePaul turned the ball over 17 times; they had trouble breaking through a zone defense and their two leading scorers on the season, Henry and Garrett, were held to a combined 12 points.
"There were some good games and some bad games; up and down year," Garrett said. "I struggled with consistency and didn't finish how I wanted to finish."
Garrett's four points were only a part of the Blue Demons' offensive struggles in this game. DePaul could not match the Hoyas, who were bolstered by the return of injured forward Bradley Hayes. By the under-8 timeout, the Blue Demons were already down 16-8 and had turned the ball over several times. They would get as close as four before the half closed, but the Hoyas found separation to give themselves a 35-24 halftime cushion. The Blue Demons were struggling with the added height in the paint.
"You always have to admire a guy that hadn't played in three years and then has a breakout season like (Hayes) had," Leitao said. "It would have been a real shame if he wasn't going to be healthy for the rest of the year because as you saw today' he's an important part of the team."
Hayes had ten points and seven rebounds for the Hoyas in his first action since a leg injury in mid February.
In the second half, DePaul started off on a 7-0 run to cut the lead to four, which gave themselves a glimmer of hope but that would be the closest they would get as Georgetown took over the game from there, steadily increasing their lead until the end. The final minutes came and went with little fanfare, only an ovation for Henry, Rashaun Stimage and Aaron Simpson as they came off for the last time.
One player who actually played relatively well was Cain, who put in 14 points and five rebounds, far and away the most statistically impressive Blue Demon on the court Wednesday night. As his freshman season came to a close, he reflected on the transition from high school to college.
"I'm a pretty confident guy so coming into the season I thought I would play well," he said. "But obviously transitioning from high school to college is not going to be as easy as you think…Being 9-22, I'm not a real losing guy so I feel that I failed personally."
This loss marks the second year in a row that the Blue Demons fell in the first round of the Big East tournament and their worst record since 2010-2011, Oliver Purnell's first season with DePaul.