Sanders addresses violence, income inequality at Chicago rally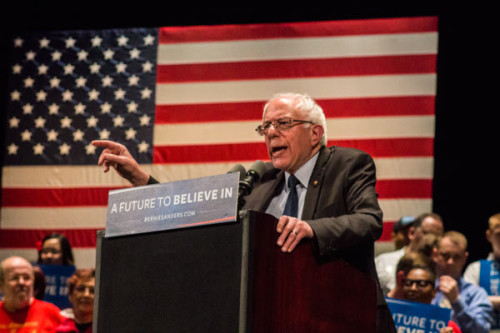 After campaign stops in Missouri, Ohio and North Carolina, Democratic presidential candidate Sen. Bernie Sanders took the stage March 14 around 11 p.m. at Chicago's Auditorium Theatre. Nearly 4,000 Sanders supporters attended the March 14 rally, where he addressed the importance of high voter turnout, ending political corruption, combating income inequality and the likelihood of defeating Republican frontrunner Donald Trump. Thousands of others were turned away after the theatre reached full capacity.
"It's 11 o'clock at night and you're still here," Sanders said. "Looks like you're ready for a political revolution."
In his speech, Sanders addressed major issues for Chicago including the "outrageous" level of violence, school closings and corruption. He also took the opportunity to denounce the political establishment, notably Chicago Mayor Rahm Emanuel and his endorsement for Hillary Clinton.
"I want to thank Mayor Rahm Emanuel for not endorsing me," Sanders said. "I don't want his endorsement. I don't want the endorsement of a mayor who is shutting down school after school and firing teachers."
He specifically attacked Emanuel's response to the Laquan McDonald shooting and Clinton's private, $225,000 speeches to Wall Street.
Sanders emphasized the implications this year's election will have on the country's future.
"We are in a moment in history where we need fundamental change," he said. "It is not acceptable that schools in Chicago get shut down while we give tax breaks to billionaires," he said.
Jake Puleo, a 24-year-old Wrigleyville resident and vocal Sanders supporter, said the senator's appeal comes from both his 'grumpy grandpa' image and willingness to make risks and address corruption.
"He's a little cutie," Puleo said. "(And we're) hearing something from him that we aren't from other politicians."
The senator's speech was optimistic throughout, including in his campaign's potential to defeat the Republican Party in the general election, and specifically Trump.
"We will defeat Donald Trump because the American people know that bringing our people together . . . always trumps dividing us up," he said. "We will defeat Trump because the American people under that communities helping each other always trumps selfishness. And the American people will defeat Trump because we under that every religion on Earth, whether it's Christianity, Judaism, Islam, Buddhism . . . At the end of the day love trumps hatred."