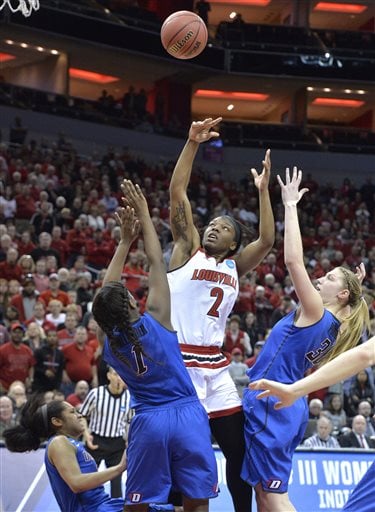 Throughout the season, DePaul coach Doug Bruno has questioned what he would get out of his bench. Sure, the starting five have been reliable all season long, but who from the bench was going to step up and be that "sixth man" he needs?
Enter Ashton Millender.
Back on Feb. 12, after Millender scored 15 points off the bench to lead the team to a win over Xavier, Bruno expressed how impressed he was with his sophomore guard.
"She is a really good player who has been getting a lot of minutes…and she can score the basketball," Bruno said. "It's good to see Ashton get the points off the bench."
After averaging just 2.6 points and only breaking the double-digit point mark once against Georgetown her freshman year, Millender matched that in the opening game of this season scoring 14 against Southern Illinois. Her points per game average has increased to 7.8 this season, having played just 88 minutes more than last year.
Millender said she's been working on the "little things" the season – which is A+ Bruno lingo rubbing off on his players –  one of which being shooting, especially off the dribble, and getting to the basket more. Her offensive game has improved over the course of this season, and senior guard Chanise Jenkins, who Millender often spells at the first substitution of each game, has noticed.
"(She's gotten better at) creating a shot for herself and getting open," Jenkins said. "It's not that hard to shoot the ball and take the shots that are given to you, but to be able to create your own shot and hit those open shots is key."
[Read more on the women's NCAA tournament]
Just take a look at how many times Millender has scored in double digits this season as a testament to her offensive progress: Thirteen times she's scored at least 10 points, twice against AP top-8 opponents on the road against Baylor and most recently against Louisville in the NCAA tournament.
While Jessica January had an incredible performance against the Cardinals, Millender was arguably the second best player on the court for the Blue Demons that game. Offensively she shot 5-5 from the field, 2-2 from behind the 3-point line for 12 points and grabbed four rebounds.
Defensively, though, is where she really impressed. Millender's presence on defense disrupted Louisville's flow, preventing them from getting the ball to the players intended and contesting shot-after-shot. It went largely unnoticed – but it was key.
"(I work on defense) a lot. I'm not that quick, so I try to get better (tactically) and think in front of good players," Millender said. "I'm one of the main people to take out somebody, me and Brooke Schulte, so we just try to own our own matchups. Against the good players, we want to beat that player and the player wants to beat you.
"For you to beat them, you have to have the determination to stay in front of them and beat them instead of them trying to beat you."
Statistically, rebounding is where she's made the most strides. Recording a total of 42 last season, Millender is already at 89 this year and will likely haul in a few more against Oregon State in the Sweet Sixteen. It's another one of the "little things" she worked on in the offseason and continued to work on each week and she feels it's where she's improved in the most.
"I don't get that many rebounds and coach emphasizes the little things a lot, so I try to get more," Millender said.
Jenkins has seen her grow as a player since the workouts in the spring and summer and thinks it's all finally paying off when the Blue Demons need her most.
"Seeing it finally come together this year and just be the phenomenal player that I know she can be is just awesome and she couldn't have picked a better time," Jenkins said. "We know she's a shooter, we know she's going to knock down shots, it's just a matter of if you're going to do it in a big game…and she definitely stepped up and showed that."
Millender embraces the praise from the player she looks up to on the team. She said Jenkins and fellow guard January push her and make her work hard in every practice because they see her potential and want to ensure she reaches it.
"You want to be like them and live up to what they do," Millender said. "It's just great because you learn from them because they're older players.
"When they leave, I'll have to step up."