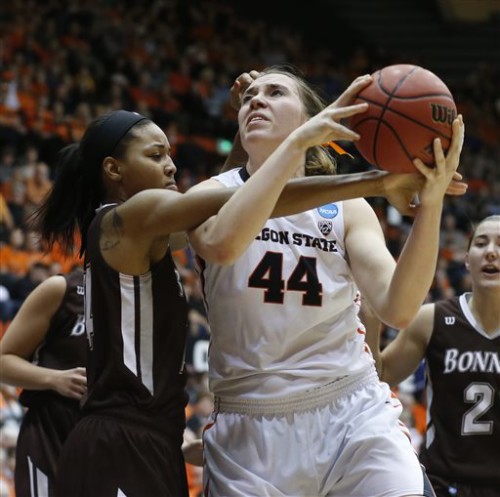 After narrowly edging past No.3 Louisville on their home court in the second round of the NCAA tournament, No. 6 DePaul had to wait a few hours to find out if it would be No. 2 Oregon State or a rematch with No. 10 St. Bonaventure. The Beavers did what was expected of them and walloped the Bonnies 69-40, locking up a spot in the Sweet Sixteen against DePaul.
Having had only a day to scout the upcoming opponent, DePaul is still trying to learn its upcoming foe. One thing the team noticed immediately is the dominance of Oregon State's Jamie Weisner and Ruth Hamblin, PAC-12 Player of the Year and Defensive Player of the Year respectively. Though, Chanise Jenkins says the team is ready for them.
"Oregon State is a really good team. They have really good guard play and a really good post player in (Hamblin), so we're really looking forward to the challenge," Jenkins said. "We just really have to focus on owning our own matchups."
Not only do the Beavers have two outstanding players in Weisner and Hamblin, the entire team is full of size and shooters. While they may not be able to keep up with the tempo DePaul likes to play at, the inside presence of having three players standing at 6-foot-4 or taller could cause problems for the Blue Demons.
"They have a great inside presence…but they also have guard play that can all make 3's, so they're very good at stretching the floor," DePaul coach Doug Bruno said. "They're a well-coached team, a really big team that has the ability to hit 3's, so it's just a really quality basketball team."
Oregon State breezed through the PAC-12 regular season only dropping two games – at then-No. 15 UCLA and at then-No. 13 Stanford – and between those losses ripped off 13-straight wins. Since the regular season ended, the Beavers have only had one of their five games decided by less than 10 points, including a 12-point win over UCLA in the PAC-12 tournament final.
"They're the fifth overall seed in the tournament. That makes them the number one two-seed in the tournament and they're that way for a reason," Bruno said. "They're really close to being a one-seed."
DePaul will be in for a tough Sweet Sixteen match against Oregon State at the American Airlines Center in Dallas on March 26. With tipoff slated for 5 p.m. Central Time, the Blue Demons will have most of the day Saturday to mentally prepare for their opposition. Jessica January thinks getting a win can be achieved by simply doing what the team has done all year long.
"We're just going to have to defend and rebound and play 'DePaul ball'," January said.