Archbishop Cupich addresses anti-Semitic flyers at photo exhibition opening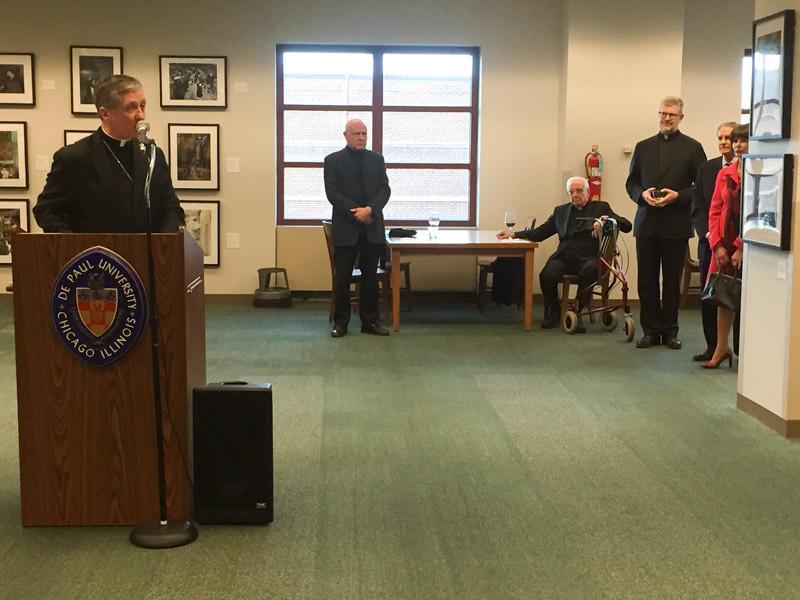 Archbishop Blase Cupich commended DePaul president Rev. Dennis Holtschneider, C.M. Tuesday night for the university's swift response condemning the appearance of anti-Semitic flyers on campus last week.
The archbishop made the remarks at the opening of a DePaul photo exhibition celebrating papal journeys to the Holy Land held in the Richardson Library and co-sponsored by the Israeli Consulate of Chicago.
"We're here tonight to talk about pictures because as the adage goes, a picture is worth a thousand words," Cupich said. "Well, the picture of this room speaks volumes about DePaul's true culture and Fr. Holtschneider, we want you to know that we stand with you and DePaul University in your efforts to fight anti-Semitic literature and efforts and also to promote diversity."
This comes less than a week after anti-Semitic and white supremacist flyers appeared in printer output trays throughout DePaul's campus. It was later revealed that to be part of a larger hack that affected several universities across the country.
Cupich was joined at the event by Holtschneider, Consul General of Israel of the Midwest Roey Gilad and President of the Jewish United Fund/Jewish Federation of Metropolitan Chicago Steven B. Nasatir.
"Fr. Dennis, your statement was not a public relations rhetoric; rather it's part of DePaul's DNA," Cupich said. "DePaul was the first university in Chicago to accept Jews, people of other denominations, men and women without reservation. All we need to do is look around the room at what we see tonight; people of various backgrounds who are not just visitors, but longtime partners with DePaul and so many efforts to promote diversity."
Remarks from other leaders echoed the sentiment and celebrated the relationship between the Catholic institution and the Jewish community.
Gilad described the relationship between Catholics and Jews as one of "brothers who at times in our history have had tense a relationship, but now are firmly committed to building bridges of lasting friendship."
The Consul General went on to commend DePaul's history of standing with the Jewish community, from being one of the first universities to admit Jews into its law school to rejecting the anti-Israeli Boycott, Divest and Sanction (BDS) movement, which passed as an advisory referendum question in the 2014 student government elections.
"As part of this (BDS) campaign, Jewish students at DePaul have sometimes been threatened and intimidated," Gilad said. "However, the president of DePaul University, Rev. Dennis Holtschneider, has held the line and reaffirmed the values of tolerance, fairness, and free speech, on which this university was founded."
Holtschneider, in his opening remarks, said, "It has always been DePaul's great honor to work very closely with the Jewish community of Chicago, frankly, since we were founded."
He added that exhibitions like this are part of the university's effort to educate students.
The exhibit, titled "Building Bridges of Faith: Photographs of Papal Visits to the Holy Land, 1964-2014," featured 44 images of Blessed Pope Paul VI, Pope Saint John Paul II, Pope Emeritus Benedict XVI and Pope Francis at nearly a dozen holy sites.
The collection was curated by Greg Harris, the assistant curator at the DePaul Art Museum, and will soon travel to the University of Saint Mary of the Lake in suburban Mundelein and then Marquette University in Milwaukee.