Student's photo used on fake Twitter account claiming affair with Ted Cruz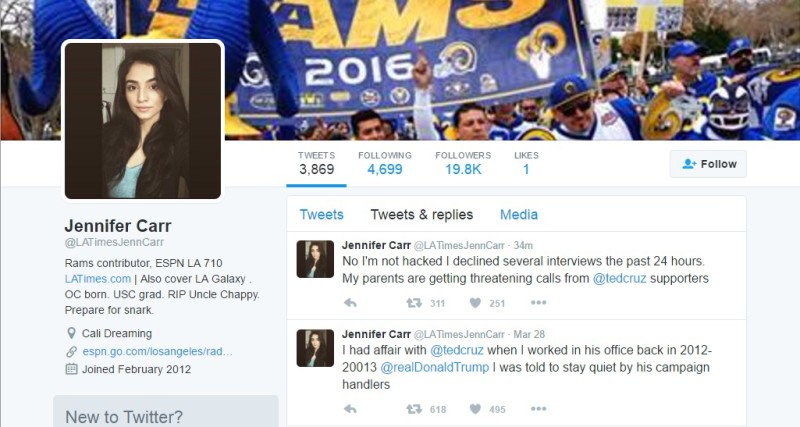 Samantha Rivera never expected to wake up to this.
Wednesday morning, the DePaul junior's phone was flooded with Twitter notifications and emails from strangers pointing to a fake account that had co-opted her Instagram profile picture. The account, @LATimesJennCarr, featured a fake sports journalist that tweeted about an affair with Texas Senator and Republican presidential candidate Ted Cruz.
"I had affair (sic) with @tedcruz when I worked in his office back in 2012-20013 (sic) @realDonaldTrump I was told to stay quiet by his campaign handlers," the account tweeted.
And with nearly 20,000 followers and an ongoing tabloid conversation about Cruz's infidelity, people were buying it. It was retweeted more than 600 times.
"At first, I thought maybe it was a joke or something," Rivera said. "But then, I read through the tweets."
By that time, the account had already been removed, but Rivera immediately reached out to her parents and her employer, Univision, to alert them that her name and likeness were circulating. But as an aspiring female sports journalist, for her it's brought up bigger issues of online harassment, especially with women in media.
Rivera's incident comes just a week after The National Enquirer published a salacious article, alleging Sen. Cruz had affairs with multiple women. CNN political commentator and former Cruz Communications Director Amanda Carpenter was rumored to have been one of those women. Carpenter blamed Trump's campaign for the story.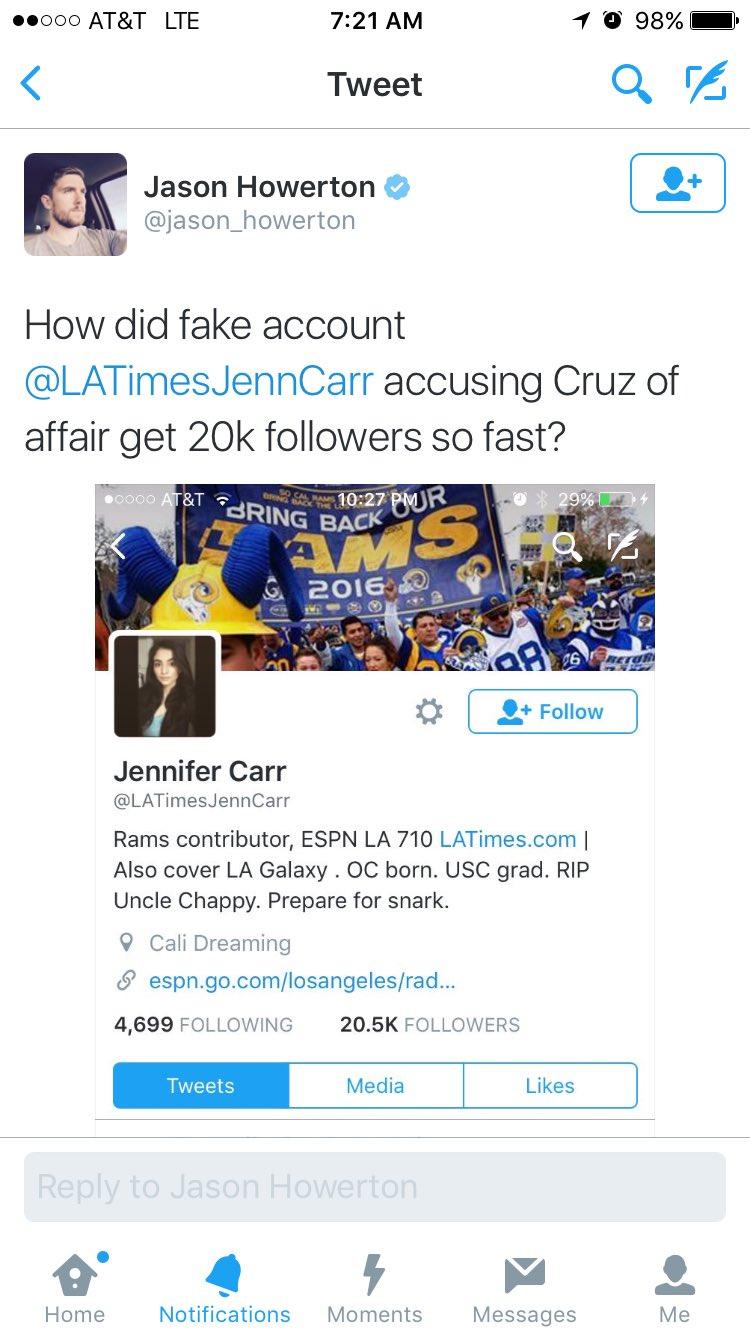 "I don't want to run away from this. I want to address it. But, at the same time, the hardest thing about doing this is defending myself, but not making it worse," Carpenter told CNN's Jake Tapper. "That's the weird conundrum that I found myself in, and so many other women who have to confront these sort of sexist smears."
The @LATimesJennCarr account also claimed to be a former Cruz staffer turned sports journalist for ESPN and the Los Angeles Times. The paper confirmed that no reporters by the name of Jenn or Jennifer Carr work for them.
Part of the reason why fake information can be spread so rapidly is because it can be difficult to determine the truth on social media, especially when fake accounts present themselves realistically, said School of Design assistant professor Sheena Erete.
"I don't think people do a lot of vetting," Erete said. "The fact that people go by really realistic images, people who post photos, you're more likely to say that this is legitimate."
Rivera is not sure who is behind the account, nor has anyone come forward. A few users in a pro-Trump Subreddit pointed to an anonymous sports gambling blogger with several aliases, which interacted regularly with @LATimesJennCarr. Some of these accounts have since gone private. The blogger did not respond to requests for an interview.
"That's the scary part: I don't know why (they) chose me or how (they) even found me, and what other information (they) even know about me," Rivera said.
And finding a motive could be difficult. Erete said there's a number of reasons why people might pose as others or otherwise troll online, ranging from pure pleasure to seeking out easy targets for future crimes, such as identity theft. Rivera also said that some users were mistaking her real account with the fake one, calling her a "witch" and harassing her.
Though journalists are expected to have an active social media presence, it has her rethinking online privacy. The photo was her Instagram profile picture, which could be stolen even though it's set to private.
"It's just my profile picture and they used it for something as crazy as this, so I don't really think there's anything I can do to keep myself as safe as I want, which is a really sad realization," she said.
Erete also said that even with additionally privacy protection, everyone with an online presence is vulnerable.
"This could happen to anyone," Rivera said. "The privacy we think exists – it doesn't exist. As much as we want to think all of our stuff online is safe, it's not."
Editor's note: Samantha Rivera is a staff writer for The DePaulia
View Comments (1)