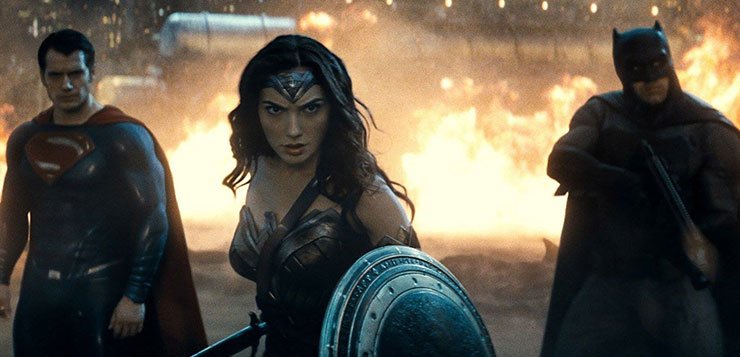 What's Fresh is The DePaulia's weekly rundown of the latest arts and entertainment news and reviews.
"Batman v Superman: Dawn of Justice"
Warner Bros. Pictures
March 25
"Batman v Superman: Dawn of Justice" was released on March 25 to unfavorable reviews from fans and critics. The title and director, Zack Snyder, promise screen time for both DC heroes but deliver an overly stuffed, awkwardly plotted, disorganized film that is as predictable as superhero movies can get. Despite the presence of new DC characters, including the psychotic, slimy, tech-savvy jerk Lex Luthor (Jessie Eisenberg) and the ageless Wonder Woman (Gal Gadot), the film does not reach the expectations set by its unmerited confidence.
There are a few brilliant moments, however. It's two and a half hours long, full of loud sound bites sure to blow your ear drum if you sit too close to the speaker. The acting is mostly strong (Ben Affleck unexpectedly pulled off a decent Batman) and there's enough deep material, quality visual effects and hyper cutting to make the viewer feel like they watched a good movie. But if you look past the visual aspect, "Batman v Superman" is nothing more than a cash grab setting up DC's "Justice League." — Marissa de la Cerda
Parquet Courts
"Human Performance"
This isn't Parquet Courts' most hard-hitting album, but it's an obvious step up from their last EP. The two singles, "Dust" and "Berlin Got Blurry", are the most memorable and the classic drone, New York punk sound the band is known for, but other songs like "One Man, No City" show their lyrical prowess. The band also finds a successful balance between experimenting in instrumentals without going overboard, adding in some Congo drums that give a little surf rock edge to the band and Ramones-influenced riffs that quicken the monotone beats. Overall, Parquet Courts has found a steady rise in their musical abilities. — Jaycee Rockhold
Upcoming concerts
April 6
The Joy Formidable
Double Door
1572 N. Milwaukee Ave., $25
April 7
Laura Stevenson
Cobra Lounge
235 N. Ashland Ave., $14
April 8
Chance the Rapper
Chicago Theater
175 N. State St., $50
April 9
Alex G and Porches
Bottom Lounge
1375 W. Lake St., $15