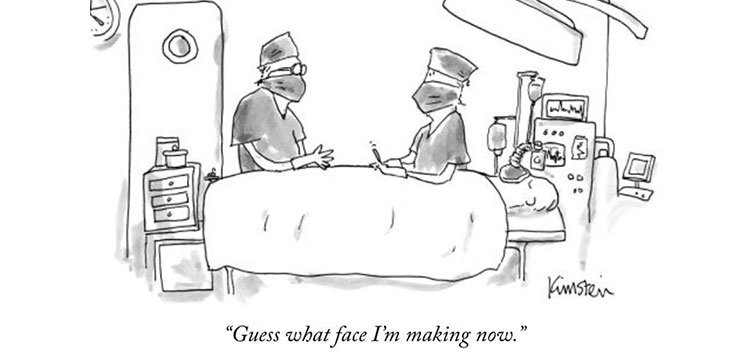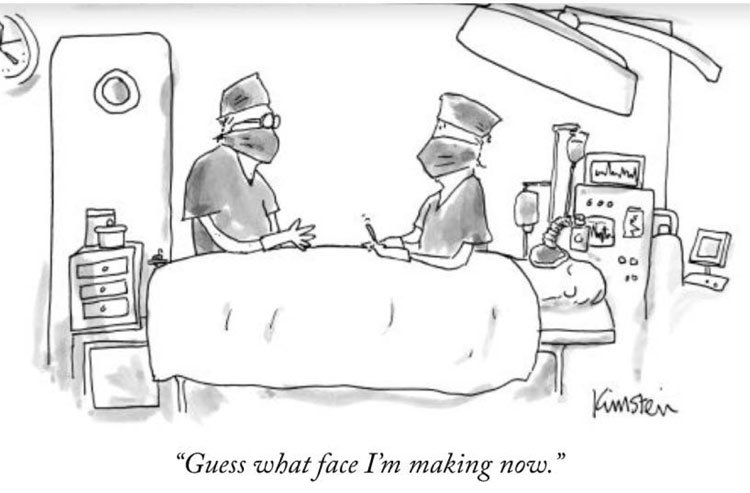 When asked how he got his start as a cartoonist, Ken Krimstein, a professor in the College of Communication, started with how, when he was little, he loved to draw. His house, always full of art supplies and comics, encouraged the hobby.
So he doodled. He dabbled. And, years after those first sketches, he was published in the New Yorker and, as a test, he did it again and again.
His start perhaps stems from the story he tells about his beginning, connecting the love to draw with his youth. His father who worked in an ad agency, a Chicago version of "Mad Men," would bring young Krimstein to his office and he couldn't believe the sights before him: the diverse group working at the agency, all of them fascinating, creating and producing advertisements, but also cartoons.
"His office as a kid blew me away — there were so many diverse and interesting people," Krimstein said, reflecting.
The creation and production of advertisements was captivating to Krimstein, but it was the cartoons that really struck him. He remembers one hung up on the wall of the office, by B. Kliban, that blatantly made fun of advertising and those who create it.
Something connected in his head at that moment and he decided "I've got to do this." And he has been ever since, finding that cartoons and ads share a similar foundation.
"Cartoons are written — they're gags, they're ideas. Coming up with those ideas is similar to coming up with an ad idea," Krimstein said. "There are similar tasks involved and creating cartoons and ads uses the same process. That's what I try to tell my students."
Krimstein's message seems to have caught on with the students he interacts with, both in class and in AdVentors, a DePaul club for advertising students. Gary Galindo, who is president of the club, said that Krimstein's teaching style is loose, adapting to the environment students will find themselves in once they leave school, as well as the impact of ads on individuals.
"He taught that advertising is a reflection of society. It's obvious with campaigns and political ads, but I see it now with other ads, too. They persuade us in a way that reflects our values and feelings," Karina Schumyatskaya, junior public relations and advertising and political science student, said. "When I respond to an ad, I know it's also a reflection on myself and the things that move me and matter to me."
Before becoming a teacher, Krimstein worked in New York at ad agencies and as a cartoonist. He was made partner in an agency in New York. His first cartoon was published in the '80s in Good Housekeeping but it was his first cartoon pitched to and accepted by the New Yorker, the magazine Krimstein calls the greatest publication for cartoons, that thrilled him.
"I was dumbfounded and awestruck by it," Krimstein said. "Selling the first (to the New Yorker) was a thrill. The second one was harder but I wanted to prove to myself that I could do it, that they hadn't made a mistake."
Krimstein's cartoons span a wide breadth of subject matter, from the bizarness of bag pipes to the varied usages of those flags airplane people use to slightly more political issues like the inanity of pre-existing conditions. He keeps a notebook, as well as a notepad app on his phone, for when inspiration hits.
"It's a constant struggle," Krimstein said on the topic.
"I try to be aware of what's going on around me, but I've found inspiration only comes when you sit down and work."
Galindo, who has taken many classes with Krimstein, said that his cartoons may be a reflection of the man himself but with a tone that mirrors other cartoonists.
"Ken's cartoons remind me of Bill Watterson's tone: funny, witty and show me how a lone image, or comic, with the right line is all you need to show a big idea," Galindo said. "Other than that, they are just interesting."
Krimstein has honed his abilities through his career and the shifts in his work and location have been helpful, too. In New York, he spoke at a national networking event for the group Advertising Women of New York. Through this experience — and being asked to teach and talk to students around the New York area — Krimstein found that he really enjoyed teaching and, after meeting people from DePaul and building a rapport with them, he accepted a teaching position when asked in 2012.
Drawing runs in the family it seems. Krimstein's three children all draw and one, like their grandfather, attends the School of the Art Institute of Chicago (SAIC). Though he teaches, he still pitches cartoons to the New Yorker.
When asked about the process now, Krimstein said that rejection is still high after all of these years and "every week it's an assignment, a process I'm continually working on."
That work, as ad creator, cartoonist and teacher has helped his students.
"Ken has helped qualm my fears about the craziness of the ad industry. I know there's a large world out there that needs ideas. Ken helps us through his connections in the industry, and shares his experiences with AdVentors," Galindo said. "All my life, I've lived inside a bubble, and Ken took a needle and stabbed at it, which, now that I think about is a good thing. Ken's taught me to think a little bit more like a leader, and I believe leadership is one of the greatest qualities a person can ever have."
Krimstein has been a full-time professor at DePaul for four years and through his experiences has been able to help and aid students while also doing an impressive balancing act sustained by a lot of coffee and an interest in many topics, something he also recommends to his students.
"I think students should study and do things outside of their majors, browse, find passions," Krimstein said. "Don't be afraid to explore different points of view so you can bring more of yourself to what you want to do."