Chicago band The Symposium talk about their origins and rise in local scene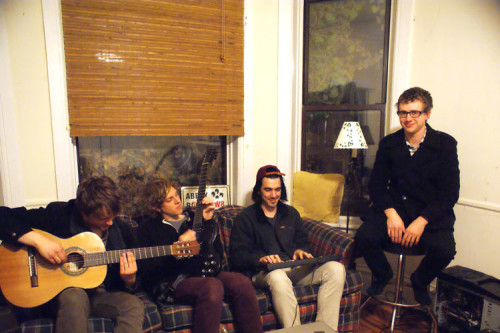 There was a rumor that The Strokes were playing Lollapalooza this year, only to have the headliners be Radiohead, Red Hot Chili Peppers and LCD Soundsystem. Fortunately for Chicago fans, there's The Symposium, a local band who sound reminiscent of the New York band's best releases.
There are numerous threads on music blogs and Reddit comparing the strokes to and the Chicago-based band The Symposium acknowledges that their earlier music, including their 2014 album "Drugs" and many of the songs they play live are heavily influenced by The Strokes.
"A lot of the stuff we play, the older songs, mainly, sound the most like them," Charlie Gammill, vocalist and guitarist for The Symposium said, adding that for their upcoming album the band is embracing different influences.
"Their music sucks now, in my opinion, compared to the first two albums," Gammill said. "They haven't written any truly good music in 13 years, so clearly we have different influences now."
These influences include Local H and Nirvana as well as artists whose music hasn't faltered throughout their career like Ty Segall, Diane Coffee and Mac DeMarco as their main influences, is planning on releasing a new album this summer, their first with drummer Jamie Seiwert who joined last summer.
Seiwert runs a DIY venue, La Cubierta, out of his house, and joined the band after The Symposium played there last summer.
"We needed a drummer, so we asked him and he was totally down to be in the band," guitarist Sam Clancy said. La Cubierta is home to DIY shows throughout the summer and has also hosted bands like The Orwells and Modern Vices.
"Last summer we started throwing these shows," Seiwert said. "The first one was kind of small, but they've actually got progressively pretty big."
"They have hot dogs too," Gammill said.
While the band recently added Seiwert, the rest of the members have known each other for years after growing up in Elmhurst together. Bassist Benny Goetz, a senior at DePaul who studies media and communication, is Goeetz's cousin, and Clancy and Gammill have been best friends since elementary school.
"We were waiting in line for recess, and I asked if anyone knew how to make homemade explosives, like a fireworks-type deal, and Sam said 'I don't know how to make explosives but I know how to make a smoke bomb,'" Gammill said. "Really, all it was just sticking a bunch of really flammable, super-toxic s— in jars and lighting it on fire. It would smoke probably this toxic death that took years off of our life, but it smoked. And that's how it started."
The two friends have been playing music together for years. They started playing with Goetz as a band when he moved to Chicago to attend DePaul.
Overall, Goetz has found it manageable to handle his school work and being in a band. The most difficult parts of multitasking for him have been when the band has traveled to different cities like New York City to play shows, so he is excited to graduate at the end of the quarter in order to focus more on The Symposium.
"If we have to go somewhere, I have to miss a bunch of days sometimes, but overall it's pretty good," Goetz said.
Goetz graduating will give the band more of an opportunity to tour, something they have been hoping to do. They're currently in the process of trying to set up a DIY tour to the West Coast with fellow Chicago band, The Walters, who they have played numerous shows with in the city.
"We've had all these random opportunities, but nothing has been focused in the form of a tour yet," Gammill said about the shows the band has played on the East Coast, including an upcoming one at St. Mary's College near Washington D.C. "I think we're right there, though."
The summer will also give the band more opportunities to promote their upcoming album. While there's no release date yet, they released a new single, "Red River," over the weekend. The single was released in October with a music video, but it was just made available on Spotify, where Goetz said the band has their largest audience, for the first time with the most recent release. It'll be The Symposium's first release since "Drugs," their 2014 LP.
While the band has their sights set on touring in the near future, they don't deny the influence the Chicago scene has had on them throughout their years of playing local shows and playing with larger local bands like Twin Peaks and The Orwells, who are also from Elmhurst.
"We've been playing dope house shows with really cool bands," Clancy said. "We've got deep ties with the (Chicago) music scene, I'd say."
"There's a lot more energy with the bands in this scene, it's had us bring more energy to our shows," Gammill said. "It's definitely different from the New York scene. From what we've seen, the New York scene seems to be a lot more like it's every man for himself, and here it's like everyone bands together and plays each other's spaces."
The house shows that The Symposium frequently play are put together and supported by the DIY community, and the supportive community helps Chicago stand out amongst other music scenes.
"The DIY spaces here come and go, it's kind of like guerrilla tactics. Where one pops up, a bunch of bands play it, and then it gets shut down, but then another one pops up," Gammill said.
"So everyone's kind of helping each other out in that sense and I think it's really cool because it's super easy to meet a lot of people and play shows for a lot of people. I think it's one of the better scenes to be a part of right now, anyway."
Upcoming shows:
April 7 | Double Door
with The Walters, Post Animal $8
April 9 | The Observatory
Headlining show $5
April 21 | The Empty Bottle
with Acid Dad, Modern Vices $8
May 10 | Schuba's Tavern
with Muuy Biien, Beat Drun Juel $10
May 21 | Beat Kitchen
with the So So Glos, The Dirty Nil $12
View Comments (1)