DePaul borrows $70 million for new School of Music building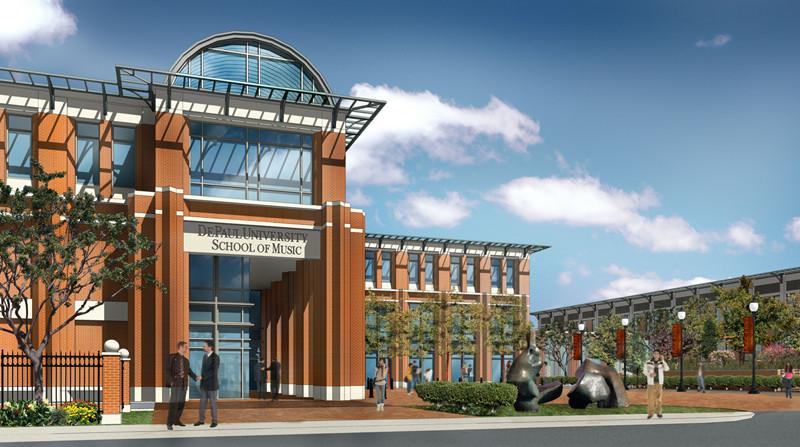 DePaul sold more than $70 million worth of bonds late last month, providing the vast majority of funds necessary to construct the $80 million School of Music building on the Lincoln Park campus.
While borrowing money was always a part of the equation to fund the capital projects greenlighted by the board of trustees, the issuance presented a change of plans, one that could save the university as much half a million dollars per year in interest payments.
University executive vice president Jeff Bethke said the initial plan was to borrow cash to pay for the new basketball arena, a project approved in 2013. But that changed when the School of Music project, which had been on hold for a few years, was approved in November.
"So now, we're operating in an environment where we have two capital projects that just so happen to be of about the same dollar amount," Bethke said. "So from a capital structure standpoint, I then went back to the board and said 'here's an idea to the finance committee: instead of borrowing taxable for the events center and paying a slightly-higher rate, we now can borrow tax-exempt for the music building and use those monies we set aside for the music building and redesignate them for the events center building.'"
Since DePaul is a non-profit institution, it can issue bonds in tax-exempt markets, which come with a lower interest rate than a taxable issuance of bonds. The important distinction between the two capital projects, according to Bethke, is that DePaul will not own the stadium, which makes it ineligible to issue tax exempt for that project.
"There's no additional borrowing that's occurring, but because we're structuring it this way, we're borrowing tax-exempt instead of taxable, and therefore we're saving ourselves a half a percent or three-quarters of a percent on the borrowing cost, which is a relief to the budget in the range of a half a million to $600,000 a year of interest expense that we then don't have to absorb," Bethke said.
The School of Music building is expected to cost around $80 million while the university is responsible or $82.5 million of the $165 million price of the events center.
Bethke said for big investments like building a building, there are essentially four ways to pay for it: gift money from donors, tapping into institutional reserves, the use of operating surpluses, and debt.
As The DePaulia reported in January, the university had a massive budget surplus in fiscal year 2015, which was used mainly for capital projects and to shield Monetary Award Program (MAP) recipients from the state's budget crisis.
While DePaul has taken on debt to fund projects before, including in 2011 to aid in the construction of the Arts and Letters Hall, it is a tool the university tries not to over-rely on.
"You want to be very careful about how you take on debt because it restricts your future flexibility," Bethke said. "And the future is always uncertain, but regardless of what happens, you're going to be called upon to make those debt payments, so you have to be careful and make sure you feel very confident that you're not taking on too much."
As of September 2015, the university's total direct debt stood just under $277 million, a number Bethke cited as low to moderate for an institution of DePaul's size and characteristics.
"There's no bright line with any of this stuff, but there's a continuum and they say, 'alright, for an institution of DePaul's size, with its endowment and with its operating income and whatnot, it either has good debt capacity or it doesn't have good debt capacity,'" Bethke said.
Ratings agencies affirmed the university's bond ratings despite the increased borrowing and all marked the DePaul's outlook as 'stable.'
Fitch and Standard and Poor's have DePaul at an 'A' rating while Moody's Investors deemed it 'A2', firmly within investment grade.
According to Fitch, "The 'A' rating reflects DePaul's history of positive operations, sound balance sheet resources for the rating category and active expense management. However, enrollment for graduate, law and undergraduate transfer students has declined in recent years, which is a concern."