Holtschneider urges openness and kindness after chalking controversy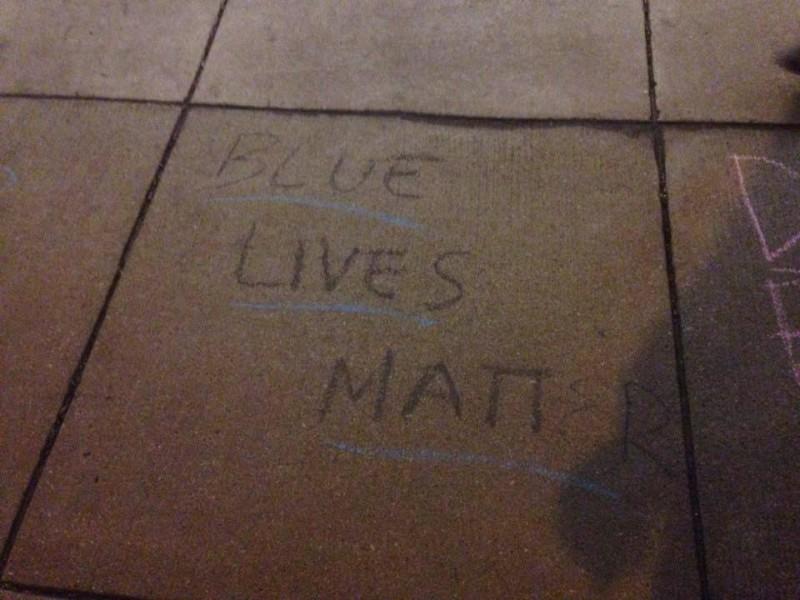 College Republicans' campus chalkings earlier this month may have been erased within hours, but the verbal sparring in response to writings like "Blue Lives Matter" and "Build a Wall" has reverberated for more than a week.
During that time, students on both sides of the issue expressed outrage over issues of free speech and racism, along with confusion about what kind of chalking is permissible on campus. In a statement Friday, DePaul President Rev. Dennis Holtschneider, C.M., acknowledged this conflict while attempting to clarify earlier statements and encouraging openness and kindness among students.
"If we are doing our part as an intellectual community, we must engage the topics of the day with all their apparent weaknesses," he wrote. "We do this not only to refine better ideas, but to create the conditions for people to genuinely hear the other and be heard by the other – a space for inquiry."
The chalkings were created late at night on April 4 by DePaul College Republicans and were erased sometime the following morning by campus grounds crews. In the following days, many students took to social media to express their outrage over statements they considered racist and xenophobic. College Republicans, however, maintained that the demonstration was meant to draw attention to conservative values.
A week later, an email sent by Vice President for Student Affairs Gene Zdziarski also pointed to DePaul's policy on political campaigning. As a non-profit organization, DePaul is "prohibited from directly or indirectly participating in, or intervening in, any political campaign" and therefore clarified that partisan chalking constitutes public political campaigning.
Chalking is allowed when it does not contain political or abusive speech and is located on a flat sidewalk where it can be reached by rain, among other restrictions. Zdziarski also said that though chalking is not explicitly included in the university's policy on Political Campaign Activities, this is not a policy change.
"Obviously there was some confusion about how the policy was applied," he said. "The intent of my message was to clarify that to the student body and everyone involved."
Still, several members of College Republicans said they believed their actions were in accordance with university policy on chalking at the time.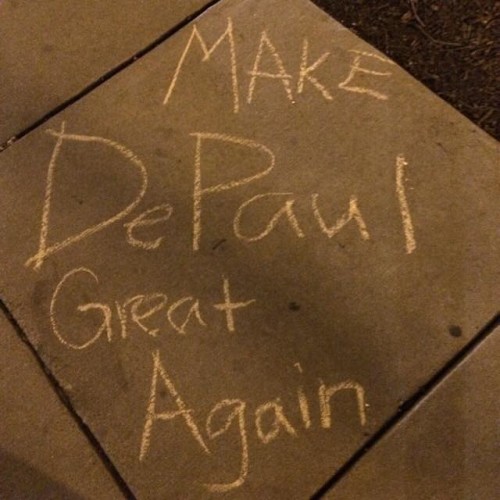 "We as a club know that we didn't do anything wrong — I think the whole situation was blown out of proportion," said junior finance and mathematics major Kati Danforth, a member of College Republicans. "We looked at the guidelines before doing the chalking and we didn't break any rules."
Similar chalkings have occurred and sparked protests at dozens of other universities across the country, including the University of Illinois and Emory University in Atlanta, Georgia. Emory, which is also a private university, did not cite its non-profit status as a reason for removing the chalkings.
Further complicating the issue is the ongoing conversation surrounding race and inclusivity at DePaul. University policy also states that "messages may not contain profanity or may not abuse, assail, intimidate, demean, victimize or have the effect of creating a hostile environment for any person or group of people based on any of the protected characteristics in the University's Anti-Discriminatory Harassment Policy."
In Holtscheider's statement sent Friday, he said DePaul will not protect its students or faculty from unwelcome or uncomfortable ideas.
"Some asserted last week that the mere mention of the name Trump was offensive and should be prevented. We will never do that. Other groups over the years have asserted that student demonstrations outside the student center made them feel unsafe. We did not support those assertions either," the statement read.
Still, he encouraged humility and kindness between students in addressing sensitive matters, and to avoid provocation.
"The phrase 'All Lives Matter,' for example, sounds obvious, even banal. In fact we are all aware it is frequently used to reject out-of-hand the core message of the 'Black Lives Matter' movement. Members of our community are calling for attention to the indignities and injustice suffered by the black community, and it's simply insensitive to repeat something that we know in advance will bring pain and frustration to others. Our policies are not devised to prevent its use. Nor can we compel students to avoid its use. Can DePaul ask our students for kindness and sensitivity? Yes," Holtschneider wrote.
But in an election cycle when ethics and policy values often overlap – and have been compounded by discussions on inequality – this issue has highlighted the complex political and racial environment at DePaul and nationally.
College Republicans member John Minster admitted earlier this week on Facebook to writing in chalk "Build a wall," a statement criticized as racist. But for him, it was a clear declaration of supporting a policy of strong border protection.
"None of us believed that these statements were in any way racist or xenophobic, and if other people do, I guess we have different definitions of what those are," Minster said. "(People) are free to disagree, but don't shut me down when you do."
For others, these statements are reprehensible. Junior Michael Lynch – who has been vocal online in his dissent of sayings like "Build a wall" and "Blue Lives Matter" – said he is not interested in silencing different political viewpoints. But Lynch, who is a member of the Black Student Union, said he also spoke with several groups about ways to better report incidents of racism to administration.
"Minority students absolutely cannot experience everything DePaul has to offer when they feel like they are being disrespected," Lynch said.
Going forward, Zdziarski said the Division of Student Affairs will work with faculty and staff "to provide opportunities for open discourse on these issues so they can be appropriately debated and discussed." The goal, he said, is to provide a space to have respectful conversations on these issues. Minster, Danforth and Lynch all said they hoped for dialogue among student groups.
"You have one side making a statement, and you have the other side making a statement," Lynch said. "We're spending a lot of time talking at each other, instead of talking to each other."
View Comments (2)