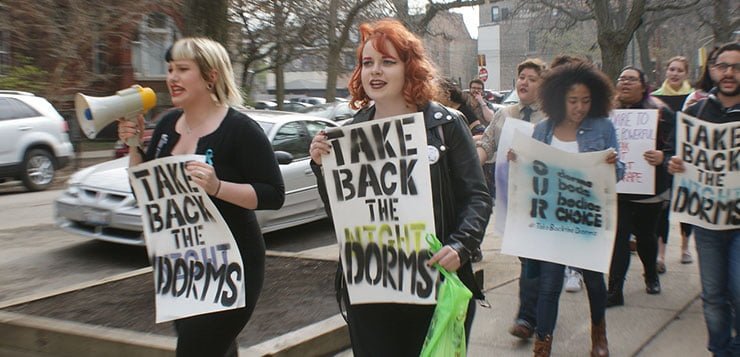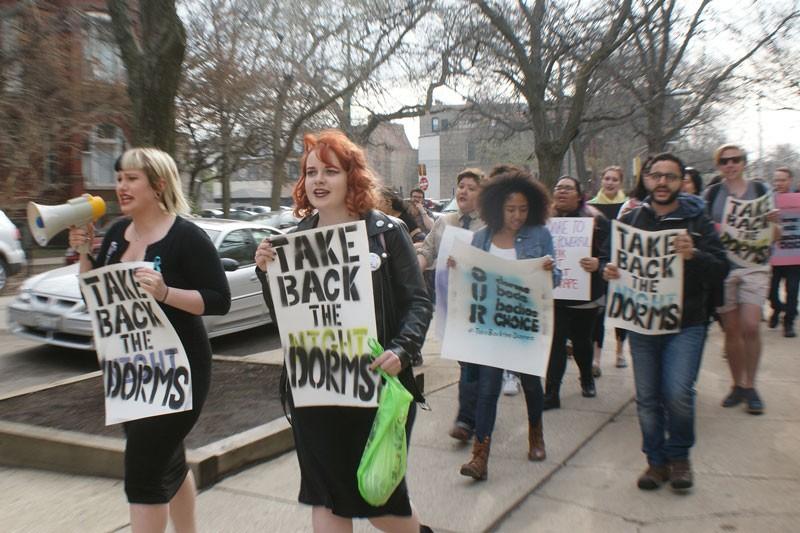 Chants calling for the end of rape culture and safe housing in the dorms echoed across campus as Feminist Front, an organization at DePaul, hosted Take Back the Night, which included a rally in numerous spots on campus and a march through DePaul's Lincoln Park campus on April 21.
DePaul's 10th annual Take Back the Night event featured five planned speakers and had around 30 people attend. Feminist Front member Laura Springman said DePaul's event is part of a larger, international movement that has existed since the 1970s. But this year one of the main focuses of this year's event was safety in the dorms.
"People cannot fear attending college because they are scared they will be sexually assaulted," graduate student Brittany Hamilton, who spoke first at the rally, said.
In a statement made on the DePaul Feminist Front Facebook page, the group demanded that DePaul create a consensual housing policy to alert students if their potential roommates have been accused of rape, and allow students to refuse to live with accused rapists. The group created a hashtag for students to discuss the issue over social media, #TakeBacktheDorms.
DePaul confirmed that a student may be moved after claim of sexual violence, but cited that student's privacy rights prevents them from providing any additional information.
"When DePaul receives a report of sexual or relationship violence, DePaul evaluates whether it is appropriate to take any interim measures while the report is being investigated and addressed," the university said in a statement. "These interim measures could include, for example, modifying the living arrangements of the individuals involved, to avoid further contact between them while the report is being properly investigated."
The rally's theme came from experiences that friends and members of Feminist Front had in regards to sexual assault in the dorms.
"We have one friend who dated a guy who was moved to another dorm because he was accused of sexual assault," Ellen Goese, a member of Feminist Front and one of the organizers of Take Back the Night, said. "He ended up assaulting them again."
DePaul juniors Kajal Patel and Jasmine Farley, who both attended Take Back the Night, lived in Corcoran Hall their freshman year and heard from other students that someone who was transferred there from another dorm was accused of sexual assault.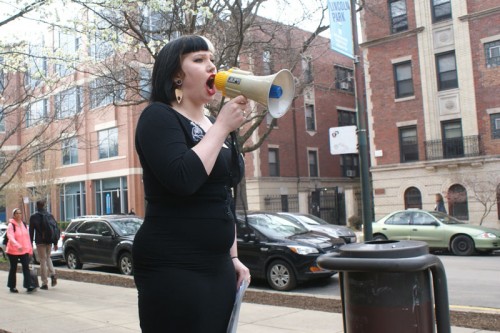 "They shouldn't transfer students to other dorms," Farley said. "It's not acceptable and it made us feel less supported."
Although Patel and Farley went through that experience, that was not the primary reason they attended the rally and marched across campus.
"We have a friend who was sexually assaulted, and we wanted to come out and support her," Patel said.
The support for victims of sexual assault was another heavily stressed point made throughout the rally, as numerous speakers discussed the importance of giving survivors a safe space to speak about their experience. Speakers brought up how they feel DePaul is silencing victims of sexual assault by allowing accused rapists to move into other dorms.
"I don't think St. Vincent DePaul would appreciate taking voices away from the voiceless," senior Felicia Darnell, who was one of the speakers at the event, said. "It's definitely not in the Vincentian mission to take away someone's voice."
As the march made its way across campus, speakers discussed different aspects of sexual assault and issues about dorm safety, most notably in front of Centennial Hall, where the Department of Housing Services is located.
Speakers also brought up the issue of sexual assault survivors being questioned about their clothing and amount they drank when they report rape. They also stressed issues of survivors not being trusted, despite the statistic that only two percent of rapists are falsely accused, according to The Enliven Project, a campaign to raise awareness about sexual violence.
"I trust survivors. Does DePaul trust survivors?" DePaul student Kara Rodriguez said while speaking in front of Centennial Hall before a chant of "Hey DePaul we challenge you, we trust survivors, why don't you?" broke out among the crowd.
The general feeling behind the event was that DePaul was not providing justice to victims of sexual assault on campus, especially when accused rapists are placed in different dorms after they are accused.
"There is a need to look at our framework of justice," Ira Lowy, a member of Feminist Front, said. "The goal is to be safe and have needs met."
"If they're going to relocate someone who is accused of sexual assault, the new roommate should be informed of this, and they should be able to decide whether or not they are okay with this person living with them," Goese said. Ideally, they said DePaul should implement a consensual housing policy, comparing it to a sex offender registry.
Feminist Front was supported by Students for Justice in Palestine (SJP), who carried their own banner showing solidarity with the group throughout their campus-wide march, and had a member speak about the sexual assault that Palestinian women face. Other issues such as adjunct pay and problems transgender students face on campus were also brought up throughout the event by speakers and DePaul professor Joy Ellison.
The event culminated in healing circles held in Arts & Letters, and left students and attendees feeling excited about the change that could potentially happen on campus in regards to making DePaul's campus a safe space for sexual assault survivors, despite having previous referendums ignored by DePaul's administration.
"I really think you can win this one," Ellison said.