Potential running mates are now a concern for Clinton
Hang on for a minute...we're trying to find some more stories you might like.
Winning four out of the five Eastern states was a turning point  for Democratic candidate Hillary Clinton's campaign. Following those recent wins, many are predicting that she will claim the 2016 presidential nomination over opponent Bernie Sanders. Clinton now has over 90 percent of the delegates needed to take the title, according to the Associated Press.
Taking this into consideration, the question of the best running mate to accompany her on her journey in facing off against controversial Republican candidate Donald Trump has entered the news cycle. 
Clinton has a lot to contemplate as she prepares to step into the next stage of the campaign season. James Wolfinger, associate professor of history and education at DePaul, believes when it comes to her narrowing down a running mate, she'll need someone who's going to balance out her qualifications and who's qualified enough for the role.
"In part, the selection of a candidate is who's going to maximize your ability to win the general election. The second part becomes who's actually going to be good at being vice president," Wolfinger said. "Eight years ago, when Barack Obama was picking his running mate, Joe Biden was seen as somebody with a lot of experience compared to Obama being a relative newcomer. Part of it is getting elected, and the other part is running the country. Those two aren't always the same thing."
Although it's important that Clinton reflects on how balance has worked well in the past, Wolfinger would remind her to be conscious that that's not always the case.,
"Some presidential candidates have chosen their running mates because there's ideological alignment, other candidates have chosen because they needed to bring in something the candidate seems to be lacking. John McCain, with Sarah Palin, is a good example of that," said Wolfinger. "People thought she looked appealing, so she should be a good running mate. Clinton is seen as a centrist candidate. She's been critiqued by Sanders of not willing to champion policies that are directly aligned with the working class."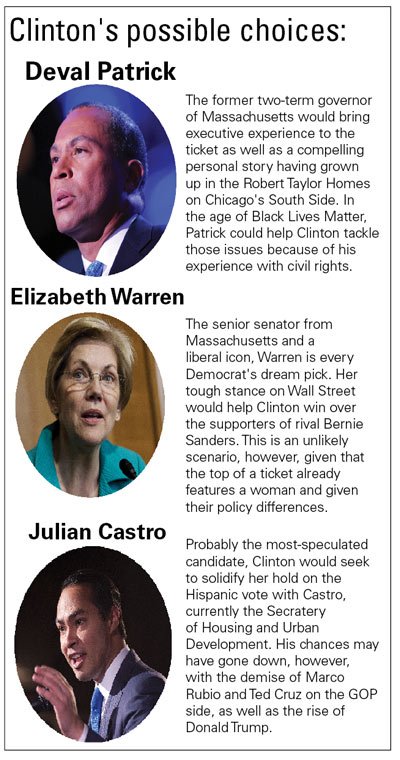 Sanders, who recently surprised analysts with a win in the Indiana primary, has shifted his campaign to focus more on his message and less on winning. Supporters of Sanders have criticized Clinton for being insincere and inconsistent with her message to minorities. Joseph Mello, assistant professor of political science at DePaul, said that if Clinton is chosen as the nominee, she may face a harder time because of those criticisms.
"If the choice is vote for Hillary Clinton, or, vote for Donald Trump, I have a hard time believing that Bernie supporters are going to choose Trump," Mello said. "As flawed as Clinton is, she's way closer to their ideal points."
Mello said that finding an ideal running mate  would mean finding an individual who can form a connection with voters.
"First and foremost you have to be somebody that person can build a relationship with," Mello said. "We've seen the vice presidency grow from a position that you put people in when you want them to disappear, to a partnership. Clinton needs to pick someone she can trust."
Vice President of DePaul's Student Government Association (SGA), Ric Popp, knows all too well of the bond that is shared between presidents and their running mates. Popp, who has worked alongside SGA's President Vanessa Cadavillo, expresses how the foundation the pair has built together is a result of a strong team dynamic and good communication.
"You have to be willing to put in just as much, if not more, work then who's running beside you. The camera is not always going to be on you, but you have to act like you're running for president," Popp said. "We're really good at communication, and willing to push each other in ways you weren't expecting. If something comes up, you need those disagreements. Question each other's perspective, and make them think what are you going to do best to serve the people that voted you in."
Popp believes, when looking at potential running mates, Clinton has a wide pool to choose from.
"Name recognition is important to anyone she gets. Elizabeth Warren (would have that). Secretary of Labor, Thomas Perez has also been on the radar," Popp said. "Diversity is going to be an issue for her. It would be in her best interest to consider a vice president that is a person of color. Governor of Massachusetts Deval Patrick, he's African American, from Chicago and rose up to the ranks."
A lot of factors come into play when selecting who you're going to ask to aid in your effort to serve the country. As we wait in anticipation to see Clinton's final decision, Wolfinger emphasizes that whoever the choice may be will have a lasting impact in the years to come.
"Sometimes it seems like a second place prize, and some people even see it as the end of their career. Vice president is a symbolic role. Presidents will use vice presidents in different ways. If you're a candidate, like Hillary, you're balancing the ideology, the politics, and thinking about your legacy."