Art fans flock to 'The Secret Birds' at DePaul Art Museum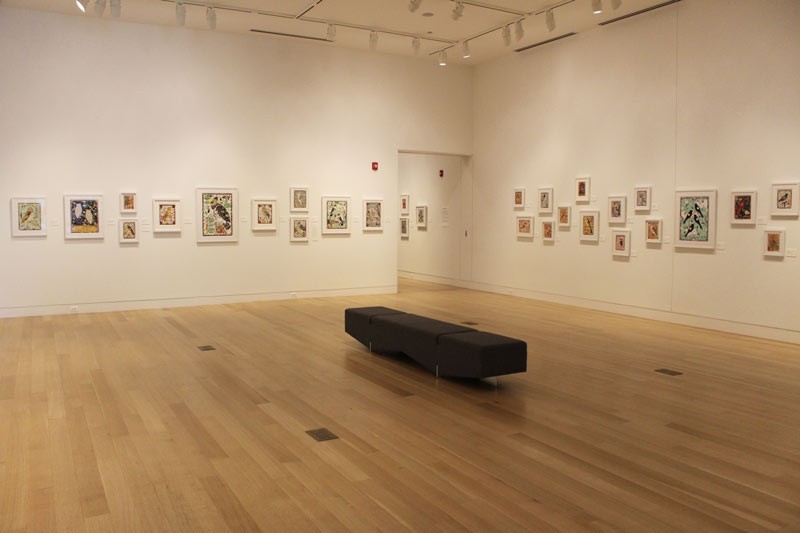 He's a playwright, a painter and a poet, but in the new exhibit "The Secret Birds" at the DePaul Art Museum, Tony Fitzpatrick displays his talents as a collagist. Produced over the past five years, "The Secret Birds" draws great influence from Fitzpatrick's working class, Chicago roots with the "drawing/collages" that tackles local issues such as crime, racism, corruption and drug abuse.
One of the more obvious examples of Chicago crime as a topic in Fitzgerald's work is in "Monster Bird," where the black of the bird's chest and wing is a "map" of the city's notoriously dangerous neighborhoods including Lawndale, Englewood and Auburn Gresham. The tip of the bird's beak is red, presumably from blood.
Other symbols in "The Secret Birds" are less obviously Chicago-related, but the themes they exude are still very much local. In one drawing/collage, a raven is covered in clocks, signaling the omnipresent worries of death and violence Chicagoans face. In another, a pigeon bears an atomic symbol on his chest, perhaps a nod to how street dwellers are viewed as grimy, lesser creatures. In every drawing/collage, Fitzpatrick creates a unique story that audiences can only attempt to fully comprehend upon their first viewing.
"(The exhibit is) incredible from what I've seen," Stasia Delivannides, DePaul senior and gallery monitor at the DePaul Art Museum, said. "The detail and the kind of work he does is something you need to look at for a long time, I think."
The many layers of Fitzpatrick's drawing/collages are inspired not only by personal experiences and local struggles, but also Chicago artists, citing novelist Nelson Algren and poet/biographer Carl Sandburg as major influences. When it comes to visual inspiration, Fitzpatrick looks to folk art, cartoon characters and tattoo imagery.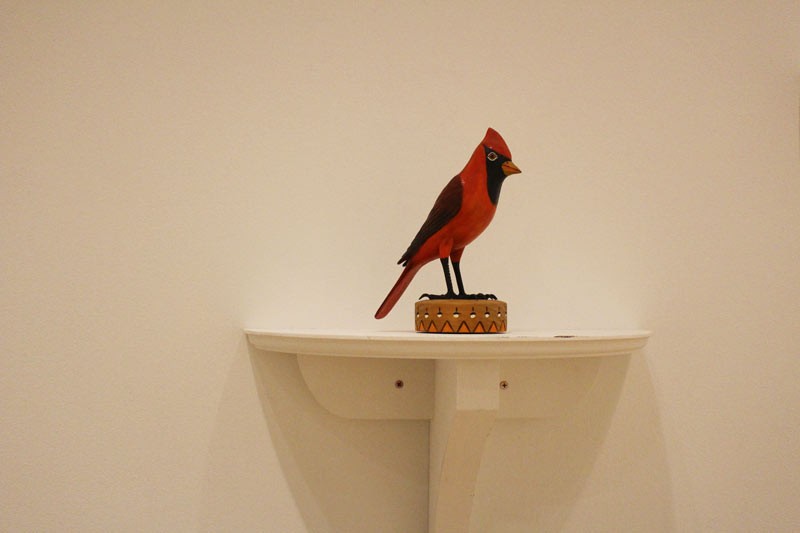 His work has been collected by a number of world-renowned institutes including the Museum of Contemporary Art, the National Museum of American Art and the Museum of Modern Art, so it should come as no surprise that "The Secret Birds" has drawn in larger crowds than any exhibit in the DePaul Art Museum's history.
"This event has been very popular," Deliyannides said. "We had a record-breaking attendance for opening (night). We had 700 people. We normally get like two or three hundred. So it's massive. Tony Fitzpatrick has a huge fan base in Chicago, and I think because of that we've seen a lot more foot traffic than normal."
The exhibit also includes a group of prints titled "Remembered City" that Fitzpatrick began working on in the late 1990s. Much like "The Secret Birds," Fitzpatrick draws inspiration from personal and city struggles in "Remembered City." One of the personal prints in this collection is arguably Chicago Sailor, created and inspired by Fitzpatrick's father, a World War II veteran and funeral bait salesman.
Before being established as an artist, Fitzpatrick worked as a bartender, boxer, construction worker, radio host and actor. He's still hands-on in his work, from the production stage to the exhibit stage. Fitzpatrick has frequently been stopping by the DePaul Art Museum to see his work in the space and the people who made the trip to see his drawing and collages.
In the preface to "The Secret Birds," award-winning writer Helen MacDonald summarizes Fitzpatrick's signature style.
"In collage, Fitzpatrick has hit upon the perfect way to capture the truth of how we see birds and other living denizens of the world around us," MacDonald said. "His work shows us how we make the world out of what we find, out of what has been given to us, and the meanings we wrest from it."
To make your own meaning from Fitzgerald's drawing/collages, stop by the DePaul Art Museum. "The Secret Birds" will be on display through Aug. 21.