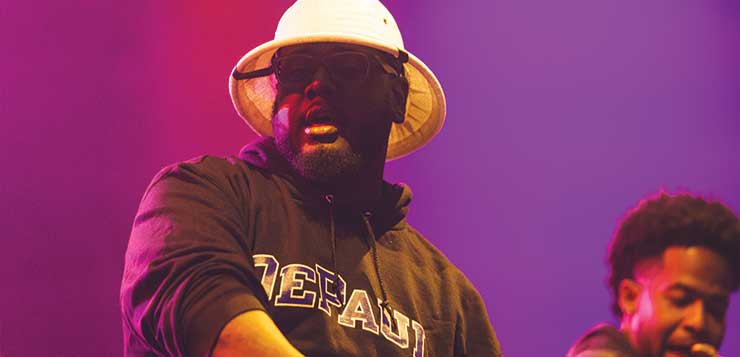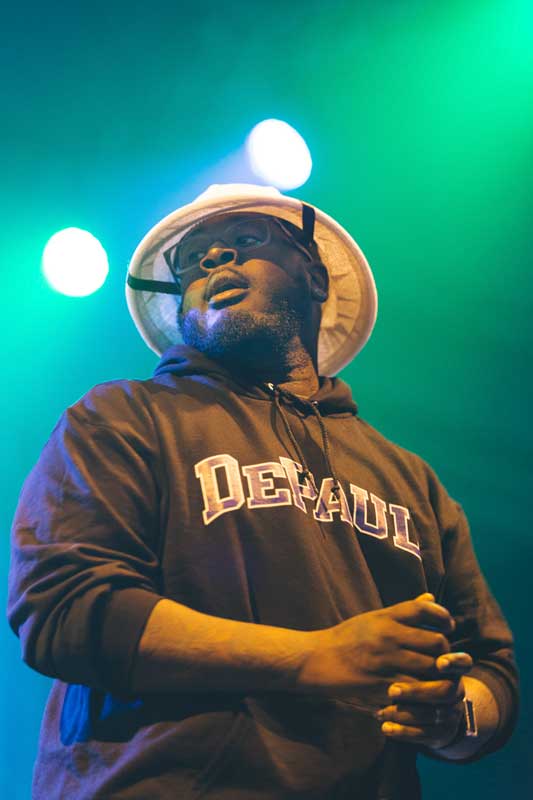 FEST coordinator Betsy Lugo and her team of 13 assistants had been waiting for this day all year. They finally got to see all of their hard work come to life on May 27 for DePaul's annual concert FEST.
"It's very strange, because you're putting in all of this work for a year plus, but you don't see anything develop," Lugo said. "You kind of just know that you have a photo booth coming and this artist coming, but I think that until the day of, you don't see all of the hard work that you've put in."
Lugo and her team couldn't have been more proud of everything they had accomplished for this year's FEST, which featured artists Karmin, T-Pain and the Neighbourhood. The artists usually perform on DePaul's Quad but due to rain, the event was moved inside the McGrath Arena.
One of Lugo's assistants, DePaul senior Brittany Kurt, said that the set up for the big day wasn't as crazy as she expected it to be.
"(Moving FEST inside) was definitely something we had to be flexible about, but it wasn't really crazy at all," Kurt said. "We had a really great team so it all came together clean and nicely."
This was Kurt's third year in a row working at FEST, and said one thing always makes her job worthwhile: students' faces as they first walk through the doors. She loves when they come in because of how excited students get by just being in the environment.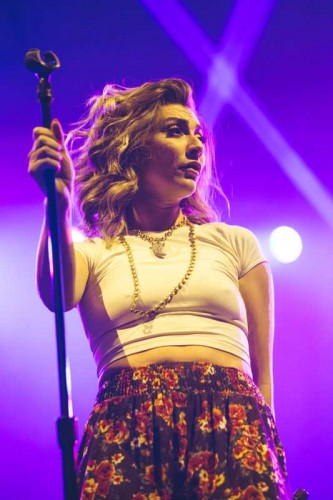 The excitement was not distributed evenly throughout the event, though.
While there were students screaming and cheering for Karmin and the Neighborhood as they each performed, they couldn't keep as many students on the floor as T-Pain could. Shortly after Karmin's performance, students started chanting "T-Pain" as Lugo's team was setting up the stage for the rapper. He then opened with one of his top singles "Booty Wurk (One Cheek at a Time)," causing many students to dance along and flail their arms from left to right when the song instructed them to go a certain way.
As soon as T-Pain walked off stage, so did many students, despite the Neighbourhood still waiting to perform.
DePaul junior Jesse Renteria said he has always known of T-Pain, and it's part of the reason he felt he had to see him perform at FEST this year, as opposed to any of the other artists.
"I just remember hearing his name a lot when I was younger and I was like, 'if I have the chance to go, why the heck not?'" Renteria said. "I didn't know every word, but it was a good vibe, especially for (FEST) not being outdoors this year."
Because students only wanted to see certain people such as T-Pain, Lugo said sometimes she would overhear comments about the artists she and her team worked hard to bring to campus during the days leading up to FEST. However, she relied on her team to cheer her up and remind her about what's really important.
"I kind of want to turn around and be like 'we do so much,'" Lugo said. "I just hope the word gets around that students work so long and hard for this. This is my everything, this is their everything and you know, it's easy to just brush those comments off when you have a team like I do because I come back to them saying 'oh my gosh, I can't believe I heard this' and they'll be like 'do you see everything that we're doing? We're doing such a great job. Why would you listen to anything negative that is said?' and it is so true."
It's not just the hard work that her team puts into FEST, but it's also because FEST is 100 percent student-run, she said. Lugo and her team only want to make other students proud of their peers at the end of the day.
"I just hope that everyone enjoys all of the hard work people have put into this," Lugo said. "I've put in a significant amount of work but (my team) are the heart and soul of everything and I really hope we give (other students) something to be proud of."
With the recent protests on campus following journalist Milo Yiannopoulos' visit to DePaul, the Mexican slur painted on the Quad and reports of a noose on the sidewalk that divided many students, Renteria said that FEST could be a good starting point in helping students feel more proud of one another and united once again.
"I think FEST is helping (the campus) come back together, but I still feel like it's a little divided right now," Renteria said. "I think small steps like FEST will bring our campus back together, but we'll just have to wait and see what kind of impact it'll have in the future."