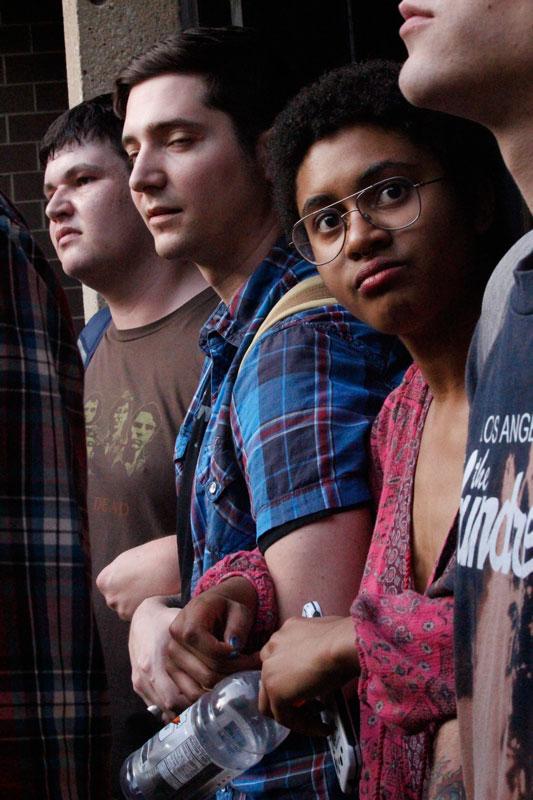 A week has passed, yet the DePaul community is still reeling in the aftermath of conservative journalist Milo Yiannopoulos' stop through its Vincentian doors. College Republicans were wrongfully denied an opportunity to hear their speaker, no matter the poor intentions they had in hosting him. But, more importantly, minority groups had to deal with multiple racial incidents that have brought DePaul's status as a diverse and inclusive place into question.
Yiannopoulos came to DePaul under the facade of standing up for free speech and challenging the opinions traditionally held by liberal college students. And, predictably, there was backlash.
But, what was exposed was not a campus full of liberals intolerant of other viewpoints, but a student body yearning to be heard.
While the actions of these protesters, whether banging on the doors outside the event or disrupting it inside, were wrong, their grievances are legitimate and cannot be dismissed out of hand.
Tuesday did not happen inside of a vacuum. The heated rhetoric of a nasty presidential campaign has seeped into many aspects of life, especially on college campuses. And in the age of Black Lives Matter and Donald Trump, it is not surprising to see a clash of cultures, especially as the country becomes more diverse and existing power structures are challenged.
This clash played out both before and after Yiannopoulos' visit to campus. Tuesday morning, an oiling sketched on the Quad featured an anti-Mexican slur. This came a month after College Republicans drew chalkings in front of the Student Center that included phrases like "build the wall."
And of course, a noose was reportedly found on campus on Thursday. This was after people of color in the university community, whether protesters or academics, received racist messages on social media, some including death threats.
What's clear is Milo Yiannopoulos himself did not cause the backlash (though he probably will take credit for it); he was merely the tipping point.
In a letter to the community in February, Rev. Dennis Holtschneider, C.M. outlined some of the lesser-visible concerns students had about race, from overtly racist posts on social media to microaggressions in the classroom and much more in between.
And in an email sent out on Saturday, the university announced steps it is taking in wake of the recent incidents. They include:
• Additional Public Safety patrols on campus grounds.
• The escort service at Lincoln Park expanded to 24-hour operation within the campus boundaries.
•  Student Affairs staff will be increasingly visible this week.
Information tables have been set up at the Lincoln Park and Loop campuses to answer student questions and address concerns. These will be staffed Tuesday, Wednesday and Thursday from 10 a.m. to 2 p.m. and from 4-6 p.m.
While these steps are certainly welcome, they are temporary solutions to a long-term problem. While not unique to DePaul, students from marginalized communities do not feel their voices are heard. And even if they were, proper outlets have not been made available for students of differing opinions to have a rational dialogue.
This must change.
Protesters should not have to feel they must shut down a campus event to assert their voice. By the same token, College Republicans should not have to feel they must invite a troll to assert theirs.
Universities are where ideas get exchanged and rational debate is supposed to occur. It is incumbent upon university administration to be proactive in protecting the rights of everyone to share their thoughts and express their emotions while on campus grounds. This could look something like a university-sponsored forum where students can have this dialogue in a safe and constructive way.
DePaul's diversity is one of its many strengths, but it must be protected.