Films to watch this Fourth of July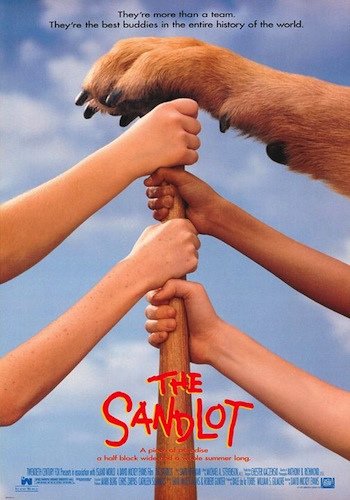 Hang on for a minute...we're trying to find some more stories you might like.
This weekend, families across the nation will undoubtedly indulge themselves in patriotic parades, dazzling fireworks and good ole fashioned barbeque as they celebrate the Fourth of July— a date that not only serves as a summer holiday, of course, but also America's Independence Day.  As those fireworks simmer from the dark sky and the heat dims from your grill, the best way to end your night of Americana is to pop in your favorite patriotic film.  Whether it be historical films on the Revolutionary War, or an alien invasion halted by Jeff Goldblum — for every genre and every decade, there's a patriotic film for Americans to watch this weekend.  Here are just a few:
THE SANDLOT (1993)
Possibly the most enjoyable film on the list — or in all of film history — "The Sandlot" centers around the great American pastime of baseball.  Taking place in the summer of 1962, the film tells the story of a group of young boys and their adventures retrieving a valuable baseball from the backyard of a vicious dog.  "The Sandlot" serves as one of those great sports films you watched growing up in the '90s, standing among the ranks of "The Mighty Ducks," "Rookie of the Year" or "Little Giants."
Mr. Smith Goes to Washington (1939)
You do not get more American than Jimmy Stewart, the actor who gave us George Bailey from "It's a Wonderful Life," returning in the summer with another holiday classic.  "Mr. Smith Goes to Washington" sounds exactly like its title suggests: a story of a naïve politician appointed to the U.S. Senate who has his ambitions and goals halted by the corruption of congress.  What's more American than that? In a list that contains an alien invasion film and a puppet film about slaying terrorist, the feel good story about an average man encouraging the senate to shift progressively from self-interest, is probably the most fictional film.
Team America: World Police (2004)
Few films have expressed such patriotic ideals as "Team America: World Police." From "South Park" creators Trey Parker and Matt Stone, "Team America: World Police" delivers not only brilliant satire but cleverly funny action and characters in a story about an elite counter-terrorism team as they battle the biggest and baddest U.S. foes.  The film is undeniably vulgar, offensive, absolutely chaotic and smart.
Forrest Gump (1994)
Not many films flawlessly span over four decades of American history, and work so well.  "Forrest Gump" is a film that looks like a disaster on paper, but is so masterfully executed from start to finish. The story of a slow-witted man who continues to find himself in the middle of America's most defining events from the 1940s to 1980s. Whether it's Tom Hank's iconic performance, or that handpicked soundtrack that places you into each American era or the stunning visual effects that still hold up today — Forrest Gump stands as one of America's most unusual classic American heroes in film today.  
John Adams (2008)
This is cheating because it's a miniseries, but Revolutionary War films like Mel Gibson's "The Patriot" do not do the war justice. "John Adams" is a remarkable piece of work that chronicles the life of U.S. President John Adams and the founding of the United States of America.  Paul Giamatti helms the ship of all seven episodes as he portrays the titular character, while other founding fathers, including George Washington and Benjamin Franklin, also make appearances.  All seven episodes of the HBO miniseries were directed by Tom Hooper, known for his Oscar-winning direction in "The Kings Speech," as well his work on "Les Miserables."
Independence Day (1996)
Calling this summer's "Independence Day: Resurgence" a worthy sequel to the 90s original, is like calling this year's "Brexit" a worthy independence day sequel to the 1707 formation of the UK.  Both are stupid, a waste of millions of dollars, don't have Will Smith and only tarnish the original.  Therefore, I can only recommend to you the 1996 box office hit "Independence Day" that tells the historic tale of how Will Smith and Jeff Goldblum saved humanity from the invasion of aliens.  Not many real presidential speeches have given more chills than that of Bill Pullman's in this film.  "Independence Day" not only reassures us that all aliens are hostile — see ya E.T.— but also that they cannot be defeated without the U. S.  That's what you should keep in mind this Fourth of July weekend.