DePaul is taking charge of state collegiate politics
When DePaul Democrats President Jack McNeil is asked of the challenge in attracting DePaul's large and diverse student body to his club, he, with a chuckle, replies, "Are you asking us if we have a yacht?"
The good-natured ribbing is aimed at his DePaul counterpart, DePaul College Republicans President Nicole Been, whose club, along with other conservative organizations, offers a few more perks to attract the small but vocal conservative voices on campus. 
The two do not share much in common. It's McNeil who found himself standing at the same podium Hillary Clinton used at a rally in the Quad Cities last week, one of the many luminaries warming up for the Democratic candidate for president. And it's Been who considers herself a Rick Santorum-style conservative. A supporter of Donald Trump, one of her most recent gigs was with Students for Trump. 
What they do share, however, is their status as statewide heavyweights at the collegiate level. Been was elected president of the College Republicans of Illinois (CRIL) this past spring. McNeil, elected vice president of College Democrats of Illinois (CDIL) in April, was elevated to president of the organization this summer after the previous president's resignation. 
While DePaul has had students serve on executive boards of state parties, they have perhaps never had as much influence as Been and McNeil do now. While Illinois appears to be a solidly blue state at the presidential level, down-ballot races this cycle, along with a contentious governor's race on the horizon in 2018, present different sets of challenges and opportunities for each. 
Been's challenge, like that of many Republicans in leadership roles around the country, has been keeping the party together amid internal doubts from some about their party's presidential nominee, Donald Trump. 
The politics of Trump are not so easy to navigate for many, however, especially Republicans elected in blue states and swing states. In Illinois, Sen. Mark Kirk, perhaps the most endangered Republican incumbent in the country, has said he will not vote for his party's nominee.
Despite the pressure, the decision to support the GOP nominee was easy for Been both personally and as state party president, though she said CRIL leaders did get calls from the governor's office after issuing their endorsement asking, "Why did you guys do that?"
"In our constitution, it says that we will support all Republicans from top of the ballot to bottom," Been said. "We're telling people that if you're in a position of power and you feel like you can't support the nominee and are going to be purposely be bringing him down, or anyone for that matter, like Mark Kirk or down ballot races, then they'll have to give their position to someone who can."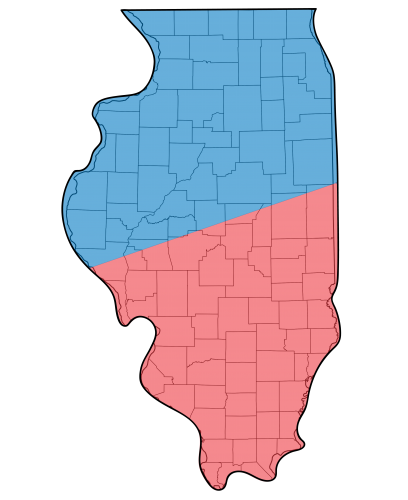 Been went on to point out that Trump fairly won the necessary amount of delegates, including a win in Illinois.
"We're just trying to keep it contained so that there's not a lot of negativity and we seem as unified as possible," Been said. "And I think it's a lot more unified than people think it is."
Been is a familiar figure at DePaul. Whether seeing her name associated with conservative causes in the press or social media, or her marching around campus with Milo Yiannopoulos in May, students know where she stands on the issues. 
This advocacy over the past three years has won her both supporters and critics. Through heated debates with campus Democrats and events at DePaul featuring prominent conservatives, Been has always provided a counterpoint to the  liberal beat of the campus. She believes this fall in particular will be a lot of fun, promising that her conservative club is "definitely going to be very loud on campus."
"There's been a lot more tension. I mean I walk down the street and I get called a racist. (I've been) surrounded on the Quad by groups of students. My group will just be sitting doing homework and they'll surround us and want to debate us," Been said. "So a lot of tension, a lot of confrontation. We get it, we can handle it. We'll have dialogue."
McNeil, on the other hand, is the new kid on the block. Just a sophomore, the Quad Cities native won over members of the DePaul Democrats with his charisma and connections. The same day the Yiannopoulos event unfolded, campus Democrats held an event with a speaker brought in by McNeil, Cook County Sheriff Tom Dart. 
Leading a party unified around their nominee, McNeil's responsibilities are much more logistical in nature. This includes rebuilding an organization that had allowed chapters to fall through the cracks, was financially in poor shape after past mismanagement and not up to the standard one might expect of a Democrat organization in blue Illinois. 
"There were a lot of issues with the organization. There was not really cohesion: there were a lot of chapters that were not at the convention that weren't really tied together. Financially it was a mess, which we're working on now," McNeil said. "The (political action committee) had actually been shut down. For being such a powerful Democratic state, almost a supermajority and going solidly blue during a presidential year, I was almost amazed that we would have this much trouble organizing on a college level statewide."
Since taking office, McNeil has added eight chapters to the organization and is working to organize canvassing, phone banks and voter registration to support Democrats running statewide, as well as in tight local races. 
Organizing is a skill McNeil has been crafting since he was a kid. His father, Porter, served as John Kerry's Illinois communications director in 2004 and worked in the state capitol for many years, exposing his son to the tricks of the game. 
"I just grew up around the local party, going to party events. I remember getting autographs of the state reps. on napkins when I was a kid," McNeil said. "And I was lucky to have good opportunities; meeting President Obama when he was a senator, and the family, Michelle, just going to really cool events as a kid that I can look back and say it definitely influenced me."
Been, while having conservative parents, considers herself much more political than her family, though her background does explain her support for conservatives running on blue-collar issues like Trump.
"I come from a family of a lot of union workers, steelworkers and painters and police officers and teachers," Been said. "They also have these conservative values, but they feel like they're kind of
left out by the party because they're not big business."
Been said she is the first to admit that Trump says some provocative things. Though she added a caveat that "Trump does a really good job of reaching new voters, but also staying true to his base. I think the whole Breitbart thing is very much his base."
It is her belief that Trump will win the election. If not, she "worries it would pretty much be the end of the Republican Party."
Despite his belief Clinton will win and help down-ballot Democrats, McNeil said his party ultimately has to get better at messaging. 
"The Democrats lose at messaging. Part of it is that we have leadership in Springfield that's been there for a long time," he said. "And I don't think a majority of Illinoisans and even a lot of Democrats are OK with that. I think change is good."
Been and McNeil are hoping to organize events on campus and around the state as the election nears, perhaps even a debate between the two. And while they've been on the same debate stage before, this time it would not only be a Sheffield Scuffle, but a Statewide Scuffle.