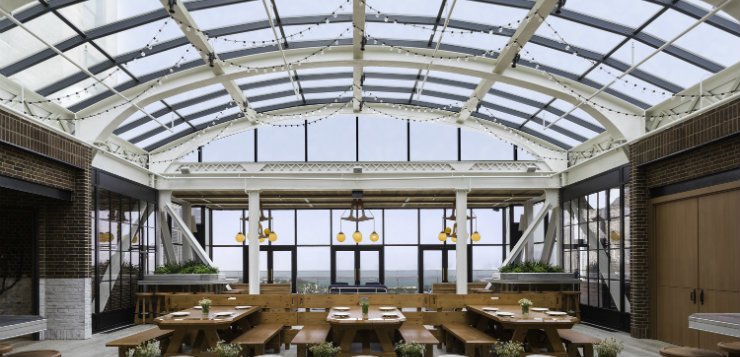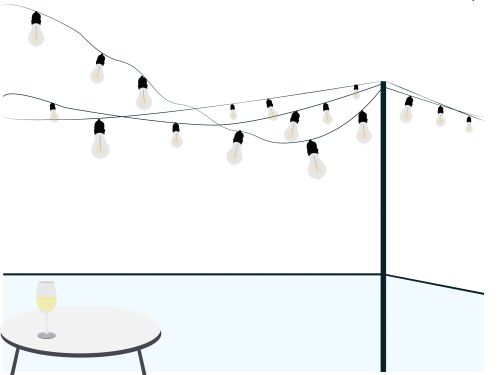 Going to school in Chicago has its perks, of course, but when it comes to the nightlife, it blows every other college town out of the water. There are no cornfields in a hustling and bustling city just the tall skyscrapers, constant screeches of trains, echoing ambulance sirens and the diverse neighborhoods that all add to the strange yet uniquely beautiful place DePaul students call home. To get a taste of just how different Chicago nightlife truly is, rooftop bars are a great place to start. Here are a few of the most notable rooftops:
From the outside, Old Crow Smokehouse looks like any other bar in Wrigleyville. However, the real treasure is on the inside and one floor up: the rooftop patio. Immediately guests are transported into a Southern backyard atmosphere with dark wood, red furniture and string globe lights hanging, despite being right in the heart of a Midwestern city.
The staff is outstanding, delivering the southern hospitality to accompany the feel of the bar. Server Jacklyn Strouse has been working at Old Crow Smokehouse for a little over a year and said the people she works with are some of the reasons she loves work as much as she does.
"The people you work with make it everything," Strouse said. "Without them, it wouldn't be the same."
According to Strouse, the atmosphere and service sets Old Crow apart from other Chicago rooftops but its affordability especially does for college students.
"Old Crow is definitely a lot more laid back than most other rooftop bars. It's a sports bar so it's not high end and makes people feel a lot more comfortable," Strouse said.
The bar doesn't have much of a view other than part of Wrigley Field, but it's the perfect spot to listen in on Cubs games as the ticket prices continue skyrocketing or to grab drinks with friends after a long week.
When hearing that a bar is named "Whiskey Business," the initial thought is that it's a place where a lot of older men go to drink and play poker or fill out their fantasy football drafts in order to escape their jobs, wives and children. That's why it was a surprise to hear "No Scrubs" by TLC playing and a bunch of millennials huddled around one another in a smaller bar chit-chatting after getting off work at 4:00 p.m.
DePaul alumna Hayley Beck has especially been drawn to the rooftop bar because of this environment Whiskey Business has created.
"I love Whiskey Business because I am able to hang out and grab a few drinks with friends, as well as enjoy games on the several flat screen TVs," Beck said. "It's a homey and comfortable environment that I can relax and have a good time in."
While the atmosphere at the bar is noteworthy, the view is not. For a rooftop, it was a little strange to see that after stepping out of the bar area, the only thing people will see are three brown walls with plants sticking out of them.
Thankfully the people, food and drinks make up for the "view." Every employee notices customers and there is a pretty good chance people will order food after a cross between the wasabi and fried chicken aroma fills the air.
Cindy's Rooftop feels like it was copied and pasted directly from Pinterest. Globe lights are hung all around and the sunlight shining through the glass ceiling makes the bar and restaurant feel like a greenhouse, minus the plants. The look inside Cindy's does not even compare to the view from the terrace though.
A full view of Millennium Park and part of the Magnificent Mile creates a picturesque visit to Cindy's. According to DePaul junior Alpi Jani, the view is one of the main reasons he continues to come back to the bar located at the top of the Chicago Athletic Association hotel.
It's not as cheap as a college student would hope, but it would certainly be a memorable experience.
Two words: River North. The neighborhood name pretty much sums up the luxurious, business district vibe that London House gives off. This is where people will run into tourists the most because of companies such as Bloomberg, CBRE, Deloitte and McKinsey that make their employees travel all around the world for work.
Don't be surprised to see most of the guests there in their finest suits as a result. DePaul students may seem a little out of place at first because of this. However, the view, the drinks and the service make it worth the visit and somewhat awkward vibe at first.
The city is every DePaul students' campus, as they've been told almost every day since the first day of their freshman year, and that means every part of it is up for grabs. Yes, that even includes the spots that may take a good part of their paycheck that should've been put towards next month's rent. One piece of advice: Leave the backpack at home.
Do make sure to bring a phone for pictures, which most people will probably bring already because hey, it's the millennial generation anyway. When does anyone ever forget their phone at home nowadays?
The bar is located 21 floors up, overlooking the entire Chicago River and part of the Magnificent Mile. Other than places like the John Hancock or the Willis (or Sears as true Chicagoans say) Tower, it's pretty hard to top the view that people will get from London House. In other words, this rooftop bar is the perfect place for students to create their next Instagram post, so they can make their friends believe their life is cooler than it actually may be.
Old Crow Smokehouse
Address: 3506 N. Clark St.
Recommended Drink: Front Porch Punch
Overall rating: 8/10
Price: $$
Whiskey Business
1367 N. Milwaukee Ave. 
Recommended Drink: Whiskey Business
Overall rating: 6/10
Price: $$ 
Cindy's Rooftop
12 S. Michigan Ave.
Recommended Drink: Grey Garden 
Overall rating: 9/10
Price: $$$
London House
85 E. Upper Wacker Dr.
Recommended Drink: Roaring Twenties 
Overall rating: 10/10
Price: $$$