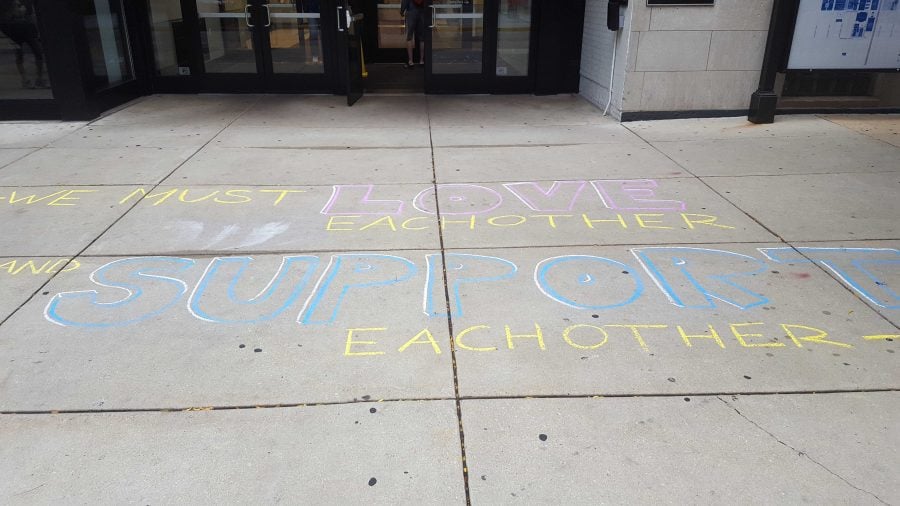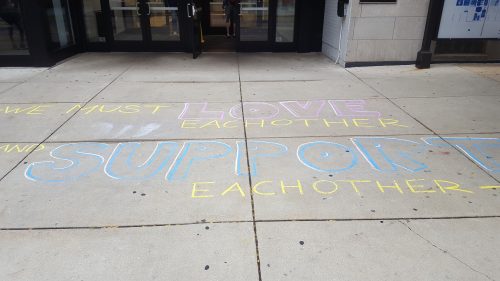 In an act seemingly in response to yesterday's chalkings, unknown individuals crafted their own on the Lincoln Park campus sidewalk, but of a different sort: in colorful lines, they wrote slogans like "Your Feelings Matter," "We must love eachother and support eachother," "You are beautiful" and "We want you here."
The newer chalkings take a fresh position than ones written earlier this year. These preach peace and love; a stark contrast to those written by DePaul Republicans, which criticized the university's position on free speech after denying Ben Shapiro's request to speak on campus.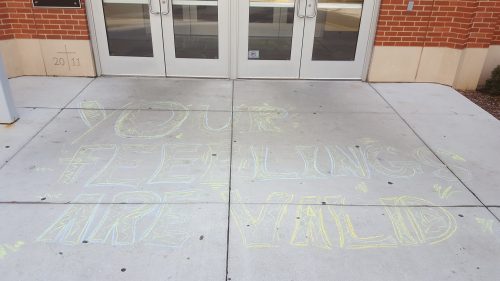 Today's chalkings were fresh this morning by 8 a.m. So far no one has come forth to take credit for the chalkings. But there may have been multiple people involved in different projects: while many were written in English, others were in Arabic and one in an unknown language.
Students, passing by or waiting out front, had a few things to say about the latest chalkings on campus.
"I think they're a bit different … 'We must love and support each other' seems more responsive politically," said Kristin Walerowicz, a junior and world language education major.
While the chalkings over the past couple of days were okay by Walerowicz's book, some in the past do cross the line in terms of freedom of speech.
Chalkings are "a form of advertisement, self-expression," she said. "If it's motivated without harmful intent, it should be fine. Otherwise it's harassment."
Nick Welker, a senior majoring in English, said that he prefers today's chalkings of love.
"They take away some of the political ramifications," he said. "I think there is a big difference between speech that intentional marginalizes certain groups of people, and speech that kind of pushes us forward, rather than taking us back."