Students divided on presidential options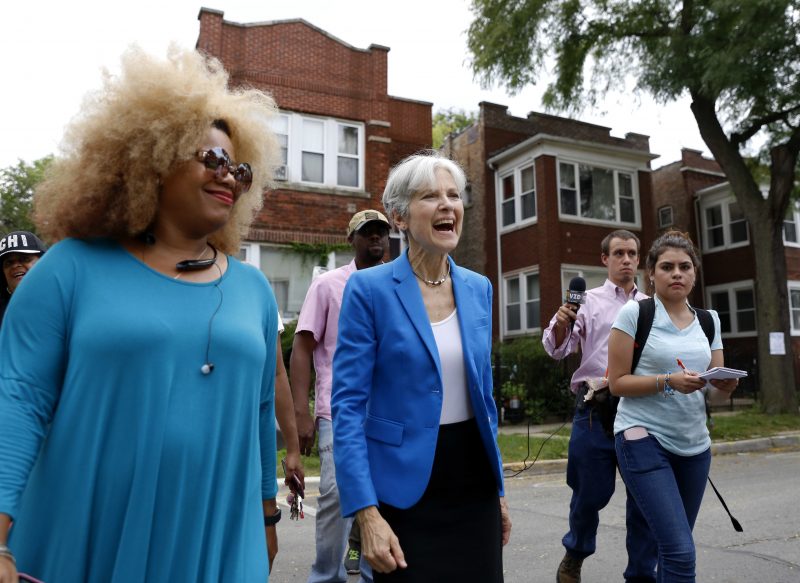 After a primary season where anti-establishment fervor was on display on both the right and left, DePaul students are coming to grips with major party nominees that may not have been their first choice.
On the left, Bernie Sanders won the vast majority of young people over Hillary Clinton, the Democratic Party's nominee. And on the right, Donald Trump was not the first choice among many.
Perhaps in a mirror of the country at large, the leaders of the two major parties at DePaul support their party's nominee, while students from anti-establishment organizations are not so sure.
As president of the DePaul Democrats, Jack McNeil will be voting for Hillary Clinton. Unlike many his age, however, McNeil was a supporter of Clinton during the Democratic Primary as well.
"I think Hillary's policy goals were more attainable. She has experience in Washington to get things done," McNeil said. He was skeptical of Sanders' ability to win the general and maintain a successful administration. "I'm not convinced he was ready," McNeil said.
McNeil believed that Clinton's 30 years in the public eye, often under scrutiny, was an asset to her ability to fight a hard campaign and a testament to her toughness. In his view, Hillary's more pragmatic, if less ambitious, approach would ultimately lead to a more productive administration.
Donald Trump's high negatives among establishment Republicans presented an opportunity that has sadly been missed, McNeil said. Trump's praise of Russian President Vladimir Putin, his comments on John McCain, and his fight with the Gold Star family, are all examples of behavior that has made him unpalatable to previously reliable Republican voters.
"He's made a lot of Republicans question themselves," McNeil said.
However, Hillary's overwhelmingly negative image among Republicans has detracted from potential cross-party voting on the top of the ticket. McNeil said he imagines more Republicans who opposed Donald Trump will leave the presidential slot blank, rather than vote for Hillary Clinton.
If the roles were reversed, McNeil says he would be more open to cross-party voting.
"If the Democrats nominated Kanye West, I would probably have to vote for Paul Ryan. Because I would be taking my decision seriously (and want) someone who could work within the legislature."
President of the DePaul Republicans, Nicole Been, however, is openly enthusiastic about the prospect of a Trump presidency — with immigration being the primary focus. Though initially a Rick Santorum supporter, Been has been a Trump supporter since the Republican Primary.
"Ted Cruz, I saw as a phony. John Kasich was always establishment," Been said.
Globalization and political correctness are, in Been's view, two root causes for the anti-establishment fervor that has fueled the rises of Donald Trump and Bernie Sanders.
The insurgency of the Trump campaign offers an opportunity to broaden Republican appeal to new kinds of voters, Been said. She sees the influx of new and often non-traditional Republican voters as a sign that the party is expanding to new demographics and age groups.
Been was unimpressed by libertarian candidate, Gary Johnson.
"The guy doesn't know what Aleppo is. I don't see him staying in the race," she said.
She also predicts that there will not be a rise in third party voting this election, and that the shifting in party allegiances among certain demographics may be solidified if Trump wins, and that they might return to normal if he loses and the 2020 nominee is an establishment Republican.
"There are groups on both sides who weren't in any party — were in the opposite party. I think people are seeing someone who is willing to stand up to the Republican establishment to champion (causes) they want too," Been said.
Been sees Marco Rubio as someone that might potentially succeed Trump and inherit his supporters if he loses in November. Though she also views Nikki Haley as an up-and-coming Republican leader.
Should Clinton win the presidency, Been envisioned pervasive disenchantment of the American people.
"I think a lot of people are going to feel defeated if Hillary wins."
Sam Peiffer, of the DePaul Socialists, is also unenthusiastic about a Clinton Presidency, though for different reasons. Peiffer was a Bernie Sanders supporter in the Democratic Primary; he now plans to vote for Green Party candidate Jill Stein.
Stein's recent appearance in North Dakota to show support of the Standing Rock Sioux tribe, and their protest against the North Dakota Access Pipeline, was in Peiffer's view, testament to her commitment to average Americans.
"I think it's really important that she's actually involved. She is for building bottom-up power. On her website, Clinton says she stands with Indigenous Rights, (so) why has she said absolutely nothing on this pipeline in North Dakota?" Peiffer said.
Peiffer saw Clinton's choice for vice president as an indication that she was moving further to the center. He preferred Elizabeth Warren over Tim Kaine. The Democrats are on their way to become, "the primary party of the establishment for the capitalist class," he said.
The recent exclusion of the DePaul Socialists from an upcoming debate frustrated Peiffer as well. In his view, young people are interested in more than just the two major political parties. "55% of people in our age group are polling that they are interested in the term socialism," he said, which indicates a desire to have that point of view represented.
Peiffer had strong words for both the college Democrats and college Republicans. To the former, he said, "It would be tragic and unnecessary for campus Democrats to demonstrate that they're just as out of touch as their national organization by refusing to listen to young people's voices." And to the latter, he said, "one would hope that staunch advocates of free speech would also be advocates of free and open debate."
Peiffer said he also wanted to see the presidential debates opened up to both third party candidates. Though it was announced last week that Johnson and Stein did not make the cut.
John Minster, of Young Americans for Freedom, said he is likely to write-in Ted Cruz at the polls. He supported Cruz in the Republican Primary, and viewed him as the last conservative choice available.
"With the presidential election, I hate everybody, to put it very simply. I hate Trump because I don't think he's conservative, I hate Hillary Clinton for obvious reasons, (and) I think Gary Johnson is not a real libertarian," Minister said.
Minster used to believe the two party system was ideal, but has changed his opinion. In his view three or four parties might be more representative of people's' desires. Some speculate that better representation leads to less polarization.
Polarization which made itself clear last week during the various reactions to Clinton's comment in which she referred to half of Trump voters as falling within a "basket of deplorables."
Been was taken aback.
"It was very offensive to a lot of independent voters. You're alienating a lot of the country by calling us that," she said.
McNeil, however, took a different view. While acknowledging Clinton's comment as "a mistake," McNeil observed that Clinton did apologize.
"I haven't heard an apology from Trump, for any of the absolutely despicable things he's said," McNeil said.
Whether they plan to support a major party's nominee, vote for a third party candidate, or write-in someone who shares their values, DePaul students seem universally uncertain about the future of American Politics and how they will develop past the election.