DePaul Art Museum explores Space and Place
Starting this month, the DePaul Art Museum, in partnership with the Peabody award-winning documentary series, will present a contemporary visual art show at their "On Space and Place" exhibit.
The exhibition – which runs from Sept. 15 through Dec. 15 – includes a wide variety of artistic work, including painting, photography, sculpture, ceramics, drawing, installation, video, cartooning, and filmmaking. The contributing artists of the project come from all over North America – the four major cities being, Chicago, L.A., Mexico City, and Vancouver.
DPAM Director and Chief Curator Julie Rodrigues Widholm believes that the intermixing of these artists allows exhibit visitors to see how people from four different cities of the world view and respond to similar issues.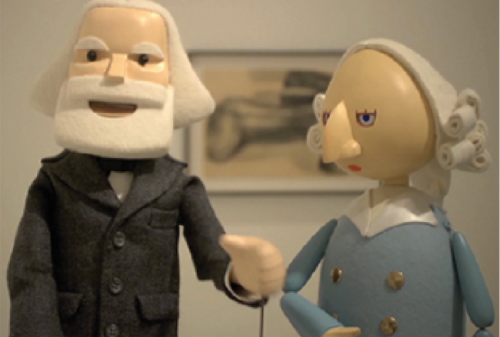 According to Widholm, this is the first time that ART21 has decided to categorize their artists by city to consider how place affects an artist's work.
"I think it's interesting that they chose cities outside of New York," Widholm said. "They chose unexpected cities that are really hot beds for very exciting contemporary art."
Junior dramaturgy/criticism major and DPAM gallery monitor Yasmin Mitchel expressed how contemporary art, that discusses sociopolitical matters, can make a difference in peoples' lives.
"I love that the pieces are contemporary because those are pieces that don't usually make sense to people," Mitchel said. "For them to be curated in this way really humanizes that there are different types of art."
DePaul sophomore and art history major Jenna Washington can attest to this. Washington expressed the strong personal effect that viewing the work of Theaster Gates had on her.
"I've met him before," Washington said. "I'm also from the South side of Chicago, so I resonate a lot with his work."
Gates uses reclaimed building materials in his work. One of the pieces Gates submitted contains marble plates from a building on the South side of Chicago. Another painting, entitled "Brown Cross," is made of roofing material.
"(His work) reminds me of my neighborhood, how it's been gentrified and how a lot of buildings have been knocked down," Washington said. "He sees the value in some of those materials that were taken down."
"Soundsuit," a mixed media piece by Chicago artist Nick Cave, is another work that struck the attention of the guests, according to Curator Widholm. Presented at the "front and center" of the exhibition, this piece is displayed on a mannequin and composed of fabric, buttons, metal, and wire.
Accompanying "Soundsuit," is the piece "Gestalt," also by Cave. This seventeen-minute-long digital video showed three people in sound suits making obscure motions.
"It's very interesting to watch people watch the videos because it's definitely abstract," Mitchel said. "And the idea behind the sound suit is that once you put one on, you don't have a race, you don't have a gender. They are very human in that regard, and it's an armor and protection against the world."
Particularly enjoyable, Mitchel said, was watching children view the video, and then go on to imitate the video's motions.
Chris Ware was one of the two artists who made an appearance at the Sept. 15 opening.
"He brought his daughter and his wife, and they seemed very happy," Widholm said.
Widholm expressed satisfaction at the positive feedback she received from the guests who attended the opening.
"I noticed that we had a really nice mix of DePaul students, DePaul faculty, School of the Art Institute students, artists from around town, and neighborhood visitors," Widholm said. "The response in general was that people who hadn't been to the museum were very impressed with the works in the show, the high level quality of the exhibition, but also our space."
Widholm looks forward to the impact that this exhibit can continue to make to the DePaul community, as well as the Chicago community at large.
"If you were to only know 16 artists in the world right now, these are a really great group to know," Widholm said.