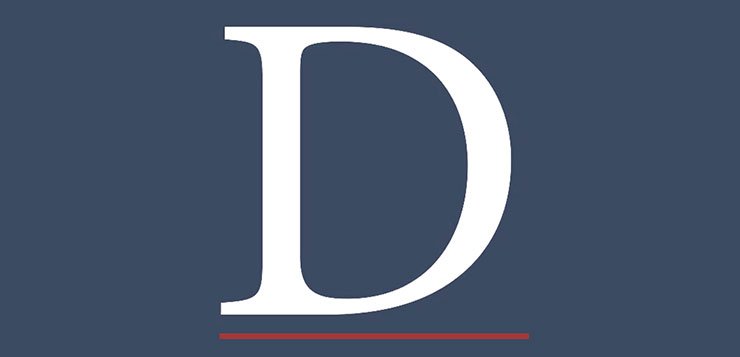 The Chicago Teacher Union's (CTU) voted Wednesday to authorize a strike date, after negotiations could not be settled on a contract between CTU and Chicago Public Schools (CPS) for over a year. CTU is required to give 10 days' notice before striking, meaning the earliest they can walkout is Oct. 11.
State law requires at least 75 percent of CTU members to authorize a strike. When the union met Monday through Wednesday, 90 percent of its members voted in a petition that was distributed. Over 95 percent of those that voted were in favor of the strike.
While CPS wasn't available for comment, CPS chief Forrest Claypool said in Wednesday's meeting the plan for the strike date was "disappointing, because negotiations are ongoing."
This will be the second time CPS shuts down during Mayor Rahm Emanuel's time in office. The most recent CTU strike lasted seven days in 2012 because of teacher evaluations, longer school days and testing. It was the first time in 25 years for the union to go on strike.
CTU prepared to strike last December when 88 percent of its members voted to give the go-ahead, but legally couldn't walkout until May because the state's education labor relations board wouldn't meet until January to discuss the "fact-finding" stage. Once they met, a 120-day process would play out before a strike could ensue.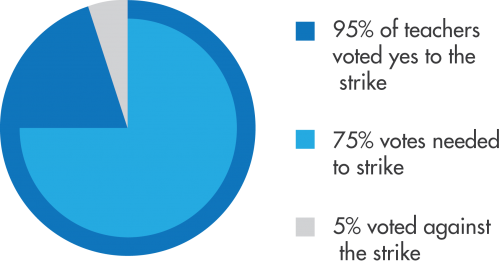 Both then and now, CPS teachers want a better contract than the one Emanuel proposed with "$100 million in layoffs and budget cuts, cuts to pensions, the loss of step-and-lanes, increased health care costs and the continuation of a longer school day," as stated in the CTU website's blog.
According to ABC7 Chicago, the most concerning part of Emanuel's plan for teachers is the 13 percent raise, and the 7 percent decrease throughout their pension payment over the life of the contract.
CTU has said using money from tax increment financing (TIF) districts would help in reaching a negotiation because it would protect CPS teachers' jobs and help them to receive raises. However, that would mean less funding in building and repairing roads, infrastructure, cleaning up polluted land and making a productive use of vacant properties. One project that used TIF funding is the Whole Foods that just opened in Englewood Square on Sept. 28, and will employ close to 100 people.
Given that no one can agree on a negotiation, Donna Kiel, director of DePaul's Office of Innovative Professional Learning (OIPL), understands why CPS teachers are fed up and have voted to authorize the strike.
"I'm not sure (strikes) are the best solution, that's for sure," Kiel said. "But I think given the current situation, I don't know what other recourse Chicago teachers have (…) last time it was all about the teacher evaluation system and job security, and now it's all about just being able to exist."
Despite her understanding, Kiel still acknowledges a strike can be a "hurtful disruption."
"What I saw the last time during a teacher's strike is a growing discourse between students, teachers and parents," Kiel said. "It's this awful sense of abandonment that happens (…) I think for especially elementary and secondary education teachers and students, (school is) their home from 8 a.m. – 3 p.m. and so there's a sense of divorce. It's going away for awhile and it's hard."
Associate professor in the College of Education Hilary Conklin is the parent of a CPS student and understands just how disruptive a strike can be for everybody.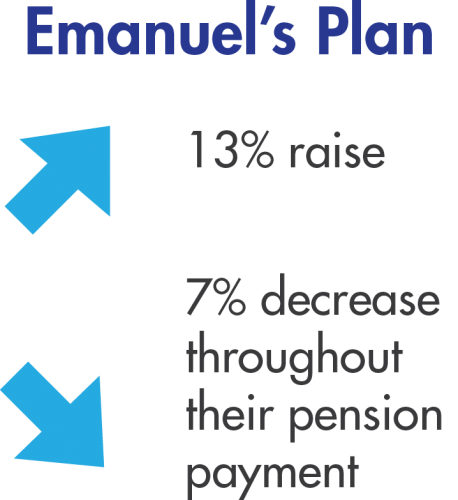 "I think that's why you want to avoid it," Conklin said. "Most teachers I know, they want to be teaching, they want to be in their classrooms and it's obviously going to be hugely disruptive for parents. I am a parent of a CPS student, I obviously work and I work with teachers. It'll be massively disruptive to everybody."
If the strike is eventually enforced, the Chicago Board of Education authorized a $15 million emergency plan to provide shelter and food to students. According to the Chicago Tribune, CPS would work with the Chicago Park District and other agencies to provide facilities, just as they did during the 2012 strike.
However, Conklin is trying to stay positive that none of this will have to happen.
"I think everybody feels uncertain about what's going to happen and it's caused stress," Conklin said. "For me personally at this point, I'm still hopeful that the threat of the strike will do what it aims to do, which is not actually get to that point, but instead illustrate the teacher's union is serious and it'll force the compromise."
Whether a compromise is reached or not before the Oct. 11 strike date, one of the things senior education major Bridget Euker believes needs to change, in addition to the contract, is Chicago's investment in its teachers.
"Teachers are expected not only to be a student's teacher, they're also expected to be their psychologist, their social worker, their parent and at times, their support system entirely," Euker said.
Euker understands the emotional labor it takes to be a teacher because she leads a musical theater class at the Barrington Park District. Just last week, she had to be the emotional support system for one student who cried the entire time during class because her parents were getting divorced. The student was afraid her mom would not come pick her up after class.
In the same night, she also had to deal with a parent who felt her child was not receiving enough stage time, after she felt she was paying a lot for the class.

"It's funny what the priorities are for different people and the different pressure they put on teachers in those situations," Euker said.
Kiel has heard it over and over again when she works with CPS teachers. She says they felt "strongly that they were not being heard and that there was a lack of recognition of teachers." It's also what she attests has probably helped CTU make their decision on the strike.
"I have thought that my entire 35 years in education," Kiel said. "We don't give teachers the credibility they deserve nor the acknowledgment and support they deserve. Teaching is hard, teaching requires someone to give up their heart as well as their mind, and that's a lot."