Letter: adjunct faculty calls for allies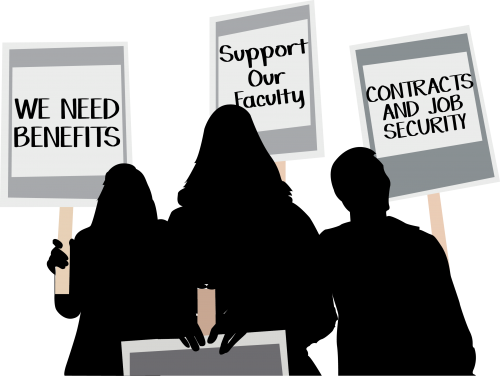 As another academic year begins, we at DePaul are faced with inevitable challenges surrounding equitable treatment of nontenure track, contingent and adjunct faculty.  Tenure track positions­—the classical backbone of any robust university—have been significantly reduced and DePaul, like other universities across the country, is increasingly reliant on contingent and adjunct faculty, who make up close to 70 percent of the teaching positions here.
Adjunct faculty often struggle to make a living wage, working with minimal pay, little to no benefits, no contracts or job security, and no voice in governance, often on the very policies that affect them the most.
To address this crisis, a national movement has emerged and adjuncts, contingents, and most recently, graduate students, have voted to collectively bargain and protect their rights through a union. Faculty Forward of SEIU, the organization that we support, has successfully organized 70 schools across the nation and in Chicago, especially private institutions such as Loyola University, University of Chicago and Northwestern University. As many are aware, DePaul has been the center of a unionizing campaign for the last two years, and many of us welcome the formation of a union to support and protect adjunct and contingent faculty.
Rather than supporting faculty's right to organize, DePaul's administration has responded to this crisis by continually seeking to undermine and deter unionizing efforts, through both subtle and obvious methods, using unhelpful innuendo and scare tactics in their addresses to faculty, borrowing moves from a standard anti-union playbook employed by many college administrations.
As part of this anti-union campaign, the administration has offered an "alternative" to unionization through the formation of an appointed adjunct faculty task force, which has resulted in a proposal for a Workplace Environment Committee (WEC).
This committee is supposedly empowered, with permission of the administration, to negotiate on behalf of adjunct faculty, and to represent adjunct interests on the Faculty Council. In other words, the administration purports that this group will perform the same or similar functions that a union will, but without any legal obligation for the administration to act on the results of these negotiations or any incentive to maintain any changes that are made. These task forces have existed at DePaul before and those of us who have been here for 20 plus years know that little has changed and that things have probably worsened.
Currently, elections are being held for positions on the WEC, along with a $7,000 stipend for the lucky few who may get elected to these positions. The requirements for candidacy are three years in a row of a full adjunct course load (six courses a year, or two a quarter). Since adjuncts are not under contract and can have courses assigned and taken away with no warning, that requirement is a tall order for most adjunct faculty, indeed.
Even more problematic, the formation of this committee is a clear violation of section 8(a)(1) of the National Labor Relations Act, which makes it an unfair labor practice for an employer to "to interfere with, restrain, or coerce employees" in the exercise of the right to collectively bargain. This act not only protects employees from retaliation by employers if they unionize, it also states that employers may not "promise employees benefits if they reject a union," "imply a promise of benefits by soliciting grievances from employees during a union organizing campaign" if that has not previously been a consistent practice, and "confer benefits on employees during a union organizing campaign to induce employees to vote against the union."
As a vote for unionization at DePaul is inevitable, the formation of this WEC and its timing is highly suspect, as it might entice adjunct faculty to vote against a union. If the administration is willing to take so many steps to keep faculty from unionizing, what might it be possible to achieve if we actually had a union fighting for our rights and benefits?
While we respect the individual faculty members who have worked on the task force and honor the work they have done with the intent to improve the lives of adjuncts, we ultimately cannot support what amounts to at best a half measure with no legal basis and at worst a deliberate attempt on the part of the administration to subvert and undermine efforts to effectively unionize.
We do recognize that adjuncts must have a formal mechanism within faculty governance to voice our concerns. But we also affirm the need for a collective bargaining unit, consisting of a wide range of faculty, not just a select few paid by the administration, to support and supplement that process, including holding the administration accountable for decisions that are made on our behalf.  A bargaining committee, open to anyone who would want to participate, would negotiate on behalf of DePaul adjuncts and contingent faculty represented by that bargaining unit to create a legally binding contract. During this negotiation period, any benefits that adjunct faculty will have at that point cannot be taken away or diminished.
Regardless of the outcome, those of us involved in faculty organizing wish to express that our solidarity with one another will not come at the expense of overall university pride, unity and commitment. We will continue working together to improve our teaching conditions and increase our investment in DePaul University.
It is our sincerest hope that this process will move forward quickly, ensuring a stable and positive environment for everyone at DePaul. Through this we can all gain from an environment in which all faculty are valued and are equally invested in our mission at DePaul University.
We urge our adjunct and contingent colleagues to consider that the best way to preserve the gains we are striving to achieve is through collective bargaining supported by a legally binding contract. We ask our tenure-line colleagues, department chairs and students to be allies and help us to achieve our goal to be fairly compensated and supported by the university that benefits from our hard work and devotion to student education.