I'd like to start by addressing some false rumors that I have heard around campus. Word on the street is the student section at the new arena, the Demon Deck, are bad seats. This is a vicious lie. I was inside the stadium earlier this month and I can assure you, these seats are the best in the house.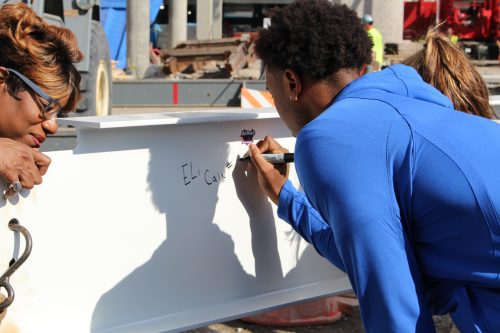 Instead of being on the ground behind media tables and cheer leaders, all obstructing your view of the game, you will be sitting at basket level with the best vantage point possible. You will be able to see plays develop like never before, you will be two green line stops away from the Loop campus, you will not be in Rosemont.
Most importantly, you will once again be vital to the team's success. The men's games are played nearly an hour away, making fan support a hassle no matter how competitive the team is. How competitive can a team be with poor fan support and why would a recruit want to come to a Chicago school to play their basketball in Rosemont with hardly any fans in the seats? There have been some winning seasons since the Blue Demons moved out of Alumni Hall and into Rosemont but it is no coincidence that the only Blue Demons Final Four team lost to Larry Bird and the Indiana State Sycamores the year before the team left Chicago.
Nearly four decades later, the Blue Demons are set to return to Chicago. After DePaul University and the city of Chicago broke ground on the new stadium, the Blue Demons slowly began to re-emerge by recruiting four star student athletes and most importantly, being able to recruit from basketball's garden of Eden, the city of Chicago.  These players include four star recruits, Levi Cook and Austin Grandstaff. Cook opted out of playing for Bob Huggins at West Virginia University in favor of coach Leitao and the Blue Demons while Grandstaff left Ohio State after his freshmen season to become a Blue Demon. The Blue Demons even added Division 2 All American Max Struss. To cap it all off, Leitao has proven that he still can recruit from the city by adding Devin Gage. Gage is an athletic playmaker who led Currie to an IHSA State Championship.
While Struss and Grandstaff are not yet eligible to play in games, by the time you are sitting in the Demon Deck they could be major contributors and so could you. With the Blue Demons once again accessible to their fans and a foundation for success built both literally and by way of recruiting, it's hard not to think of next season as this season approaches.