DePaul Cubs fans embrace their team in L.A.
In the middle of Los Angeles, California DePaul Cubs fans are not quiet about their pride.
"I've worn my hat every day," DePaul senior Josue Ortiz said. "I actually had to get some additional gear because I packed pretty light for Los Angeles."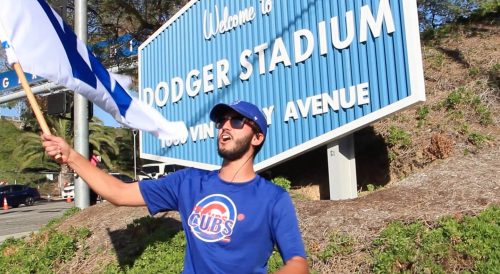 A program under DePaul's College of Computing and Digital Media allows students to "study abroad" in Los Angeles. The LA Quarter offers a lot of unique opportunities for students looking to break in to the industry.
This quarter's group has a number of Chicago Cubs fans, who have entered "enemy territory" since the Cubs faced off with the Los Angeles Dodgers in the National League Championship Series, which ended Saturday with a Cubs advancing the World Series.
"It's been crazy," senior Kyle Monnig said. "Wearing any Cubs attire will get you called out. Most of the time it's just joking, but I actually had a guy get mad at me for it."
Ortiz and Monnig have taken to the streets to exhibit their Cubs fandom. They were part of a production crew that made a video featuring Ortiz running around the streets of Los Angeles with a "W" flag, a Cubs tradition that signifies a victory. He received positive responses from fellow Cubs fans in Southern California, and some not so warm reactions from Dodgers fans.
The DePaul community in the program seems to be rallying behind the Cubs as a whole, even for people who are not die-hard fans.
"Even though people aren't die hard Cubs fans, there's still a general kind of 'go Chicago' kind of attitude," Ortiz said. "Someone said I'm not a Cubs fan but I'm a Chicago fan and I hope they do well."
For Ortiz and Monning, however, it's a fandom that is truly passionate.
"(The playoff run) means a lot," Ortiz said. "The Cubs are kind of part of my family. Every time I've thought about baseball it's been about the Cubbies. It's always been part of my childhood, part of my life."
It's a part of the Chicago setting that drew both Ortiz and Monnig in. For Monnig especially, this experience is unique because he originally is from the area.
"I am from Orange County, California," Monnig said. "And I know what you're thinking, 'he is from California, why is he a Cubs fan?' Well, I have been religiously watching the Cubbies since moving to Chicago. Plus, I hate the Dodgers."
At times it's been hard for them to keep up with the games when conflict arises, but they make it work. Ortiz said his girlfriend sends him texts with updates while he's in class and can't watch the game. This led to an audible reaction during class when Addison Russell hit a go-ahead home run in Game 5 on Thursday. Ortiz said that he "couldn't help himself."
But while they're making the most out of their experience, they are still fans in enemy territory, and away from the city both they and the Cubs call home.
"I was super bummed, honestly, I really wanted to see them play all their games in Chicago," Monnig said after he learned the Cubs would be playing the Dodgers. "I used to bartend in Wrigleyville so all my old coworkers are sending me pictures and videos of how awesome it is to be down there right now. I mean, it's cool to be in LA while the series is going on, but I just wish I could be around the energy in Chicago, you don't get that here in LA."
With the DePaul LA quarter group surrounding them, they're able to create their own little Wrigleyville in Los Angeles.
"I think it's a positive aura over here," Ortiz said. "I definitely don't feel alone."