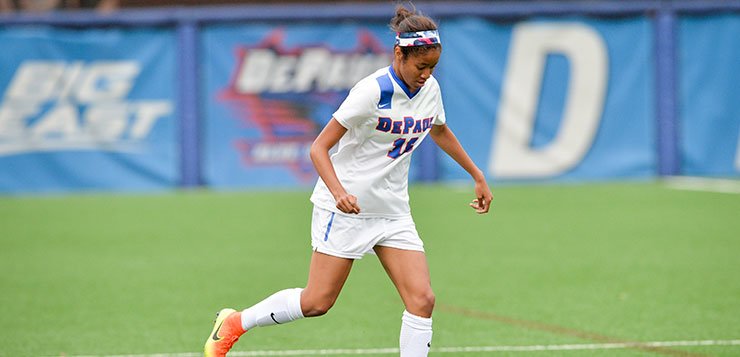 Within his first week attending Campbell University in Buies Creek, North Carolina, Herald Alvarez heard about a fellow classmate being sexually assaulted for being gay. Alvarez stayed in the closet from that point on.
Even his teammates on the university's track and field team would never know Alvarez was gay. They would instead continue to throw gay slurs around the locker room and say things such as "being really grateful and happy no gay athletes were on the team because they wouldn't feel comfortable in the locker rooms."
Not being able to express a part of his identity led Alvarez to ultimately be unhappy during his time at Campbell.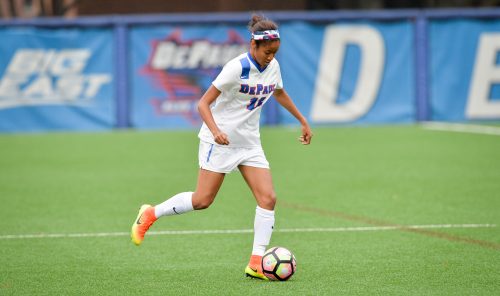 "None of my teammates, none of my teachers, none of my classmates knew," Alvarez said. "I feel like that really took away from enjoying my experience at the school along with you know, being open and meeting people."
This all changed when he decided to transfer to DePaul his sophomore year. Within two months of being there, he met someone and decided to tell the entire track and field team his secret.
Now a DePaul alumnus, he is very thankful for the experience he had.
"They accepted me with open arms," Alvarez said. "From that day forward, I can tell you that my college experience, especially with my teammates, was significantly better and I constantly miss it." 
In fact, a few other DePaul athletes have felt the university has been a place where being openly gay was never a problem.

DePaul women's soccer junior defender and midfielder Sonia Johnson was never openly gay in her conservative hometown of Woodlands, Texas. She was in a similar situation as Alvarez, where her friends would say something such as "if one of our friends were to come out, I'd be so uncomfortable because we're all girls and they'd be looking at me."
"I was just not going to say anything that could hint at (me being gay) so that kept me from coming out," Johnson said.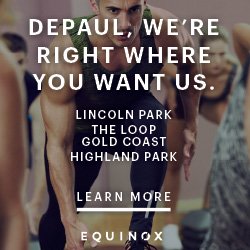 When she got to DePaul, Johnson met someone within the first month. After having some openly gay teammates and noticing people had an open-minded type of attitude towards them, she felt comfortable enough to tell her teammates she was gay as well. She says they really didn't care about her sexuality. Instead, they just cared if the person she would be dating was a good person.

Johnson believes part of the reason her teammates have this mentality comes from what women's soccer head coach Erin Chastain looks for when recruiting players. It makes Johnson's team have better chemistry, which helps them have a better season. Right now, the team has a record of 10-6-2.

"The coaches really put the (player) being a good person in front of being a good athlete," Johnson said. "Being a good athlete just comes along with it. I know Erin always talks about how it's more important for us to have good team chemistry than the very best players because she wants everyone to like each other and get along. This year, our team chemistry is really awesome and we're doing really well right now, so I think that shows that's really important."
Alvarez noticed a significant improvement in his running times from freshman to sophomore year and attributes it to having good team chemistry as well.
"I 100 percent believe that because my teammates were so accepting and so welcoming that I definitely improved throughout my entire sophomore year," Alvarez said. "(…) my times had dropped and I think it was correlated really with the fact that I was happier. I also was competing with a team that I wanted to support and supported me."
Despite what Alvarez and Johnson have experienced at DePaul, they still believe a lot of work needs to be done so people are more accepting of the LGBTQ community.
They both agree the removal of the NBA All-Star game and the seven NCAA championship games from North Carolina was a good start. The events were removed from the state back in September, after North Carolina passed House Bill 2, which prevents cities and counties from passing protections based on sexual orientation and gender identity.
Alvarez was proud to see both organizations taking a stand and Johnson believes more heads of major sports organizations need to take note.
"I think that's a huge step that like the national organizations won't stand for this type of discrimination," Johnson said. "I think there needs to be more heads of the NBA, NFL, general managers, coaches coming out and saying they don't care who's in their locker room, as long as the person has a good work ethic and they're a good person, and that their orientation won't change the judgment and they won't accept poor treatment towards these individuals."
To help make a change, Johnson writes a blog for Out Sports, a sports news website that focuses on "LGBT issues and personalities in amateur and professional sports." After the Orlando shootings that killed 49 people and injured dozens more at a gay nightclub, Pulse, Johnson wrote a blog along with other Out Sports college athletes to respond to the tragic event.
Another DePaul athlete, who for the purposes of anonymity will be referred to as Joe, believes this type of commentary helps create more equality for the LGBTQ community.
"I think we're on the right path, definitely," Joe said. "But just in general, underrepresented minorities in sports all through the LGBTQ community should be more publicized. Maybe ads or commercials (or) any type of  solid feedback that we can give the community that is positive and (being  openly gay) is okay would help. But I think the most important thing is really addressing it in any way we can, so I mean (stories) like this, putting people on the radar."
Michael Sam is not only a minority, but was also the first openly gay football player within the NFL. Joe says when Sam came out, it was a step forward in changing the way people perceive gay athletes in athletics.
However, they also believe Sam is just one football player and more steps should be taken.
"If you think about it, (Sam) is just one football player in the whole NFL," Joe said. "More people should feel more comfortable (…) with themselves, brave enough to come out in sports."
Because Joe felt brave enough to come out at DePaul, they have some advice for those who are struggling to express that part of themselves.
"I think (they) should just talk to a teammate (they) feel close with first and that response, I'm assuming it would be very positive," Joe said. "People aren't just going to leave you and if they are, then they weren't your friends in the first place."
Alvarez says people should never be sorry for who they truly are and in the end, it was worth the experience, especially at DePaul.
"I truly believe everybody should be themselves at all times and should be very unapologetic about it," Alvarez said. "I never felt like I was hiding myself by any means at DePaul and that was something I was always trying to carry forward whenever I conversed with friends or teammates that came out later or to me first. It was always the same conversation 'don't worry, it's going to be great.'"
Editors note: a previous version of the article had the anonymous athlete's name published.