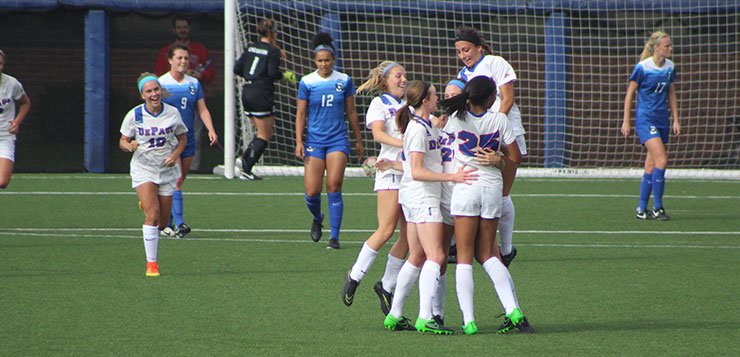 DePaul women's soccer didn't win the Big East regular season title outright, but their work throughout the season gave them enough cushion to share the title with Marquette.
The Blue Demons were ahead of Marquette by three points going into their match on Friday evening in Milwaukee. DePaul had already clinched a first round bye in the Big East tournament, and only needed a win or a draw to clinch the top seed and the Big East title outright. Marquette needed a win to grab a share of the Big East title, but a win would have given them the top seed in the Big East tournament.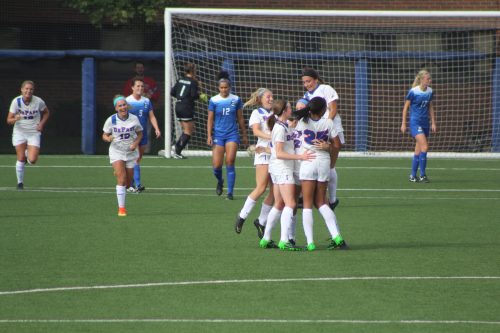 DePaul struck first in their match at Marquette. Senior defender Taylor Schissler, despite being on the ground, was still able to tap the ball into the net for the opening goal of the match in the 38th minute. It would only be a few more minutes, however, before the Golden Eagles equalized with a senior defender Morgan Proffitt goal in the 42nd minute. The two teams would carry this score into halftime.
The Blue Demons got another boost early in the second half when senior forward Abby Reed scored in the 47th minute to put DePaul ahead once again. The Blue Demons' back line held for a good majority of the second half, but it was Proffitt again to draw the Golden Eagles level. This would be the score at the end of regulation, leading the two teams into a golden goal overtime.
It would be the home side that came out victorious in overtime when junior midfielder Eli Beard put the winning goal in the net less than a minute into overrtime and gave Marquette the win, and the title.
Marquette earned the top seed in next week's Big East tournament, while DePaul retained a share of the Big East title and the second seed in the Big East tournament.