DePaulia editors predict election outcomes
Political Editor Brenden Moore and Sports Editor Ben Gartland predict today's Electoral College and U.S. Senate outcome. Check it out:
Brenden Moore, political editor — Clinton 341, Trump 197; Democrats take control of U.S. Senate with 50 votes (assuming a Clinton win, Tim Kaine would serve as the tiebreaker in his role as Vice President)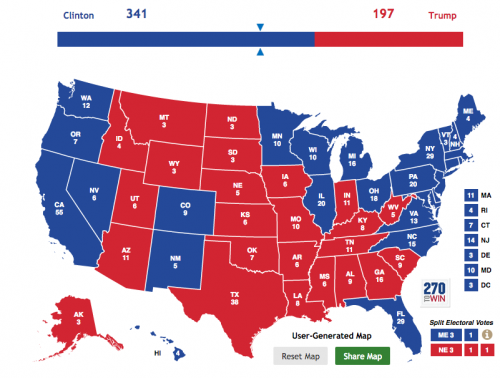 The problem for Trump has always been that his extremely narrow path to victory. And while there have been some indications of the race tightening, Clinton has maintained a lead in the states that make up her 'blue wall'. With Pennsylvania, Michigan and Wisconsin holding steady for Clinton, Trump's path is basically impossible.
This map is probably closer to the ceiling than the floor, but I expect the Clinton turnout operation to tilt several close states into her column. If I'm wrong on anything, it will be North Carolina and Ohio. But, even if those states go Trump, Clinton still wins easily.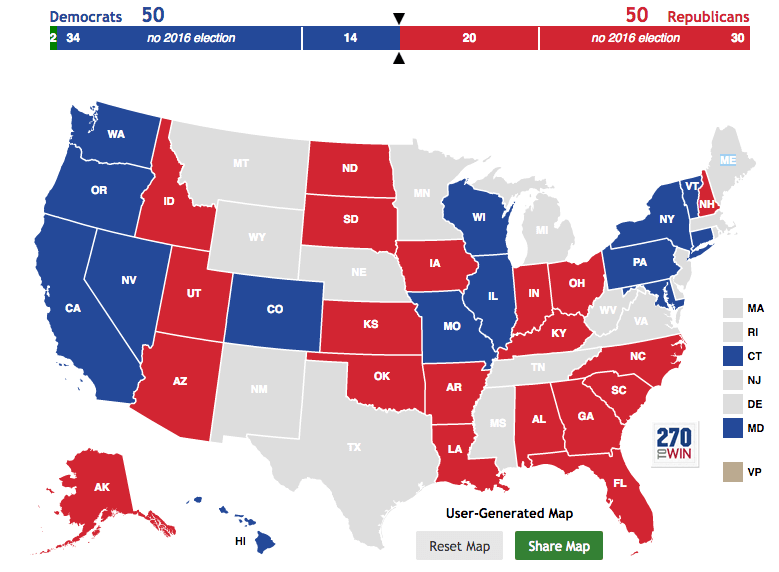 While the House of Representatives will very likely stay in Republican hands, a favorable Senate map has presented Democrats with an opportunity to take back the upper chamber. But despite all the advantages, I believe it's a 50/50 proposition at best, a testament to GOP resilience in places like Ohio and Florida as well as poor candidates on the Democratic side.
Ultimately, I think Democrats will get the bare minimum of 50 seats to take the majority. Illinois (Tammy Duckworth) and Wisconsin (Russ Feingold) are the only sure bets to switch. Pennsylvania Democrat Katie McGinty looks good too and it appears the party will hold retiring Minority Leader Harry Reid's Nevada seat, the only place they were playing defense this cycle.
That means it's down to four states: Indiana, Missouri, New Hampshire and North Carolina. New Hampshire is the purest tossup and features two strong candidates in GOP incumbent Kelly Ayotte and Democratic Gov. Maggie Hassan, so it could really go either way. In a state where retail politics and personal connections are crucial, I give Ayotte the slight edge. Indiana, once thought of as a slam dunk for Democrats when former Sen. Evan Bayh jumped in, is fading fast and will probably stay red.
In Missouri, a mix of a rockstar Democratic recruit in Jason Kander and an entrenched GOP incumbent caught flat-footed in Roy Blunt have made that race competitive. I have a gut feeling that, despite going for Trump at the presidential level, Missouri will go blue in the senate race. And while Democrat Deborah Ross is giving GOP Sen. Richard Burr a surprisingly tough time in North Carolina, I expect him to win.
Ben Gartland, sports editor — Clinton 322, Trump 216, Democrats take control of U.S. Senate with 51 seats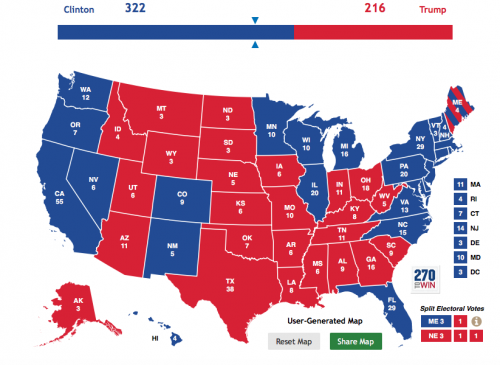 Clinton has a built-in advantage in a lot of states where I'm comfortable she'll do well in. There's only a few states that she needs to win in order to deny Trump the presidency, and that's Florida, North Carolina, and Nevada. With all the reports about high voter turnout from early voting in those three states, particularly among people of color, I believe those states will be close, but they do have the characteristics of going blue in this election. Nothing can go wrong for Trump with this map as he needs to win Florida, North Carolina, New Hampshire and Nevada, whereas the margin for error for Clinton is larger.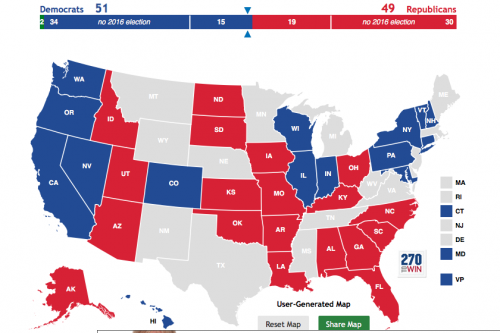 The Senate is so tightly contested that whoever wins the majority will not have a strong one. The closest Senate races are similar to the swing states in the Electoral College, namely North Carolina, New Hampshire and Nevada. I project that Burr will narrowly hold his seat, while the Democrats hold their seat in Nevada. The Democrats will likely pick up Illinois, Wisconsin and Pennsylvania without too much fuss, which brings them to 49. The Democrats need to win the tossups of New Hampshire and Indiana, and I think they will. Evan Bayh has the name recognition in Indiana and a higher voter turnout will only help him. In New Hampshire, I imagine the state goes the same as the Electoral Race, so I think Maggie Hassan narrowly wins there.