Holiday events to check out this break
Hang on for a minute...we're trying to find some more stories you might like.
As final exams begin to loom over DePaul students, Christmas lights begin to decorate the city. Though many students will be leaving to go home over winter break, there are opportunities now to get into the Christmas spirit even before Thanksgiving has occurred.
From Nov. 18 through Dec. 24, Daley Plaza will host the 21st annual Christkindlmarket Chicago. There will also be a second market held at Naper Settlement in Naperville, Illinois from Nov. 25 through Dec. 24, bringing it closer to those in the suburbs who will be home for the holidays.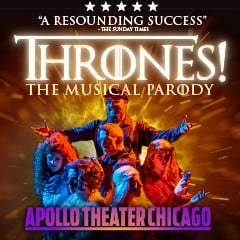 Kim McEvilly, a student at DePaul originally from Chicago Ridge, comes from a family full of Christmas spirit. Each year her family makes their rounds to various holiday events throughout the city.
"The Christkindlmarket is all based on German traditions," McEvilly said. "There are a bunch of little shops that sell crafts and figurines. It's a tradition where every year they have a boot mug that's a different design each time. They fill it with hot chocolate and apple cider every year."
"It was great because everyone there was smiling. There was not a single sad face. I went with my family and remember having the best cup of hot chocolate ever in my life," said another DePaul student Matt Lopez, remembering going as a child.
Broadway in Chicago is also already beginning to get in the swing of holiday spirit, as it welcomes "A Charlie Brown Christmas" to its stage throughout November. Per tradition, A Christmas Carol will also be presented at the Goodman Theatre for its 39th annual run of the show.
Macy's Department Store is a hub of all things Christmas throughout November and December. Chicago is one of the five cities across the United States that features the famous Macy's holiday windows. This year marks the 49th year that the windows will decorate State Street.
"The windows are different every year," recalled McEvilly.  "I love the tradition of it and seeing what different 'scenes' they come up with each year. Macy's seems to do it purely for the good of the community, and I just love how it brings people together."
This year the windows fall under the title of "Reasons to Believe" and pay homage to the joy of the holidays, including "family traditions, spirit of Santa, togetherness, giving, love, and the magic of the season," according to Macy's website.
McEvilly makes the trip down to Macy's each year with her family to see the windows, but got an early glimpse this year.
"Since I'm living closer to the city this year I couldn't resist going downtown and sneaking a peak a little early," she said, showing her excitement for this Christmas season.
In addition to the windows, The Great Tree will be on display in Macy's Walnut Room and SantaLand will be found in the children's department. All three of these Christmas traditions will be available now until Jan. 8, allowing students from out of town to experience the joy upon returning to Chicago for winter quarter.
The Lincoln Park Zoo, located a mere mile away from DePaul's Lincoln Park campus, is also a perfect place to enjoy some more holiday fun this year.
This year, Lincoln Park is hosting its first-ever Holiday Market on Nov. 29. Tickets begin at $10 and all proceeds go towards keeping Lincoln Park Zoo free 365 days a year.
The ZooLights at Lincoln Park Zoo, however, are available to everyone for free. In addition to these lights, there are also snacks, drinks, and holiday shopping available. The ZooLights will be presented from Nov. 25-27, Dec. 2-4, 9-23, 26-31, and Jan. 1.
There will also be a ZooLights Coat Drive every night that the lights are lit, allowing DePaul students to share their holiday cheer by donating new or gently used winter clothing, which will be given to Chicago charities.
Millennium Park is also home to its own festivities each year, including the 103rd annual Christmas Tree Lighting Ceremony. This same night, the ice rink will open and remain open until March 5, offering plenty of time for all DePaul students to lace up and try their turn at skating. There will also be Caroling at Cloud Gate every Friday beginning Nov. 25.
"I would describe it as a quite literal winter wonderland. The trees are covered in beautiful lights that look especially beautiful if it is snowing," says Julia Callahan, from surburban Wheaton. "Everyone seems extra happy because they all came to enjoy the same thing."
As for many other families, going to the park is an annual event for Callahan and her family.