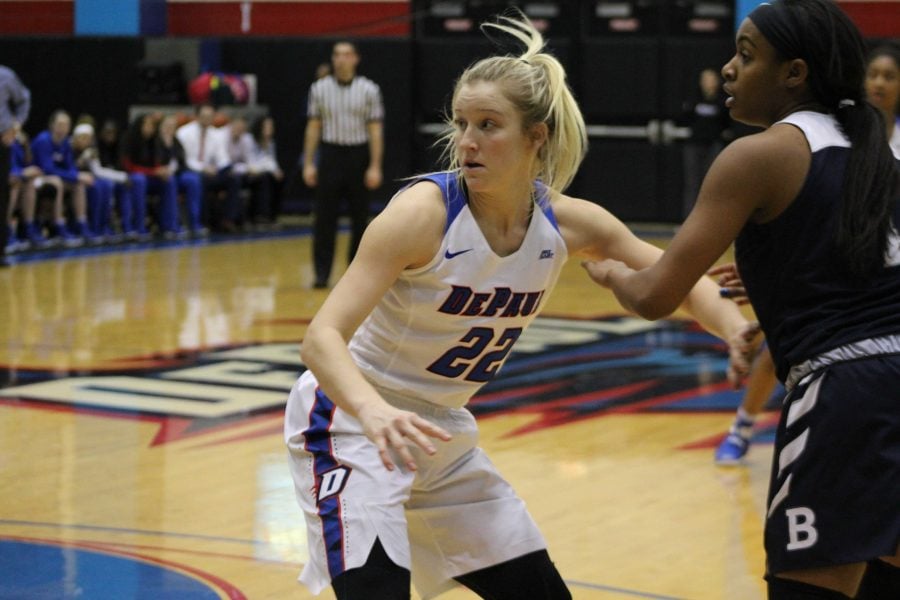 With 21 seconds remaining in the fourth quarter of Friday night's game against Butler (5-12), DePaul (15-4) freshman forward Chante Stonewall knocked down a three-point jump-shot to eclipse 100 points and close out a 100-69 conference win at home.
"I thought we came out with a good energy and live energy tonight," coach Doug Bruno said after the game.  "I just thought the players all did a good job of competing."
Butler struck first, but the Bulldog's small lead would only last a mere nine seconds before DePaul stormed out to a commanding 14-point lead through the first quarter and never looked back.
Sophomore point-guard Michelle Weaver was the only Butler starter to score in the first quarter of Friday's game.  However, after scoring 12 points in the first quarter, Weaver failed to score again until well into the second half.  She ended the night with 17 points.
DePaul's offense was surging on all fronts, led by the game's top scorer Brooke Schulte with 24 points.
"I've become a little bit more aggressive." Schulte said, "I owe that to my teammates [and coach]."  Schulte also lead DePaul with five assists.
"This is the Brooke Schulte we recruited," Bruno said of his star guard after the game, "This is what we wanted [Brooke] to do and I'm just thrilled she's doing it."
Junior guard Amarah Coleman posted 20 points of her own, joining Schulte as one of five DePaul players to score double-digit points in the game.  Senior forward Jacqui Grant scored 17 points and added a team-high six rebounds.
DePaul boasted a 55 percent field-goal percentage and converted just over 45 percent of their shots from three-point range.  The team also racked-up a total of 19 assists in a brilliant display of quick and effective ball movement that helped the Demons continue to expand their lead into the 4th quarter.
Defensively, DePaul put the pressure on early with a full court press that kept the Bulldog's offense out of rhythm for much of the game. Butler managed a respectable 41 percent field goal percentage, but an inefficient 26 percent from three-point range made for a slow scoring night.
Managing Butler's star sophomore forward Tori Schickel – who is averaging a double-double on the season – was a priority for Bruno and the Demons' game plan.  "Butler is really good when [Tori] Schickel has a good game," Bruno said.   DePaul executed in that regard, limiting Butler's top scorer/rebounder to eight points and eight rebounds.
The Demons' defense managed to collect five blocks, seven steals and 35 rebounds to complement an electric offensive performance.  Butler's offense tallied 13 turnovers on the night.
Amarah Coleman, who was benched the second half of the teams January 4th contest with Creighton due to poor defensive play, walked away with five steals to her name. "[I need] to focus on the little things," Coleman said referencing her growth as a defender, "I have to defend as much as I want to score."
"We are really proud of [Amarah Coleman's] maturation over the last few games." Bruno commented.
With Friday's decisive victory, the 21st ranked DePaul moves to 15-4 on the season and remains undefeated (7-0) in conference play.