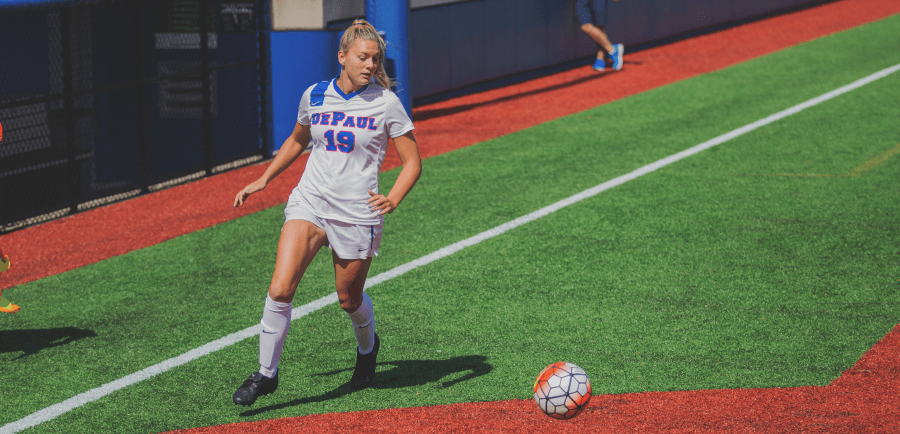 Ana Greik had all kinds of pressure on Nov. 7.
The women's soccer team was waiting to hear if their season was over or not with the NCAA tournament field being announced that afternoon. Greik didn't know if her soccer career was over yet or not, but she was busy practicing.
Practicing for softball.
Greik will transition to being on the Blue Demons' softball team after her four years playing soccer.
"I think we found out from some of the girls on the team that she was thinking of trying out," head softball coach Eugene Lenti said. "Then I went on her bio and read that she was a three-time all-state shortstop in high school, so she was definitely worth a look."
Greik approached Lenti asking to try out for the team and was given an opportunity. That opportunity came on the same day that the women's soccer team would find out they weren't selected for the NCAA tournament. Greik, then, was able to focus on softball and trying to adjustone of the girls on the team a couple times but when I had to try out I was so scared because I had no time to practice."
Greik showed enough potential that Lenti decided to bring her onto the team.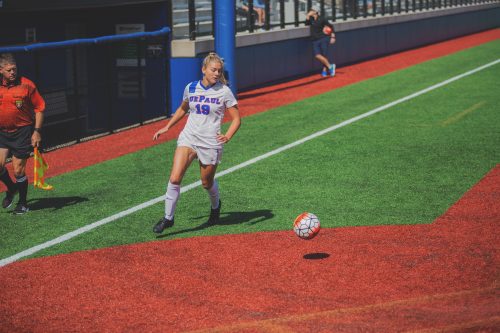 "For someone who hadn't played in a while or practicing in a while we definitely saw that there was potential there," he said. "I was asking her to do different things like pull the ball, hit the ball the other way, hit the ball the other way, bunt the ball…"
Greik used the winter break to prepare for the upcoming season and now gets to work out and do skill drills as a member of the team.
"It's been a bit more relaxed because it's just skills just now, which I'm enjoying because it's an easier way to ease into it," she said. "I don't really know what to expect on Monday but it helps that all the girls are actually welcoming me."
She said that the atmospheres of the two teams are different but she likes them both.
"It's exciting to be with a new, fun group of girls," Greik said. "The soccer team was really fun and I expect the same out of softball. I've known some of them since I was a freshman so that made the transition easier.
Greik isn't the only DePaul student-athlete moving to a new sport. Graduate senior Morgan Maize, who played four years for softball will be a member of the track and field team this spring. Lenti says that, while multi-sport collegiate athletes are increasingly rare, DePaul typically allows student-athletes to play different sports when their eligibility is up.
"I think it's a willingness of the coaches to help the athletes fulfill their potential," Lenti said. "A lot of schools won't allow student-athletes to have those opportunities."
Lenti is also happy that, even though Greik will be a collegiate softball rookie, she'll bring four-years of sports experience.
"Ana is a great kid, she represented soccer extremely well over her four years," he said. "We expect her to be a positive presence from a clubhouse point of view, to be a leader, even though she's a 'rookie.'"
Official practice started on Monday, so Greik will have more adjustments to make with the full training, but she says she's ready for the season coming up.
"I feel like you don't forgot how to throw a ball or hit a ball once you've done it before," she said."