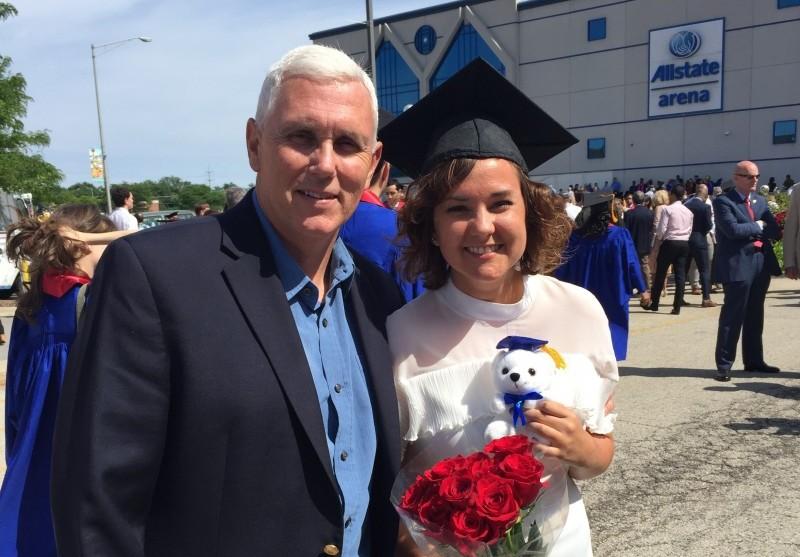 Recent DePaul graduate Charlotte Pence has done what many millennials have upon graduation: move in with her parents. What makes her situation incomparable to others, however, is that as of Jan. 20, home will be the U.S. Naval Observatory in Washington, D.C. and her father, Mike Pence, will be the Vice President of the United States.
In an interview with the DePaulia just days before President-elect Donald Trump and her father take office, Pence spoke of her experiences on the trail, the excitement of election night and how she feels about being a member of the Second Family.
"I don't think it's really hit me yet. I think there's so much going on that I don't know if it will sink in just because at the end of the day, he's still my dad first and that's what it will always be," Pence said. "There are definitely moments where it hits you for a second and it's very humbling, the whole process, especially the transition."
While Trump's victory is considered one of the biggest upsets in American political history, Pence, traveling with her parents around the country for more than three months, was not surprised given the reception they received everywhere they went.
"We definitely saw evidence of that movement while on the campaign trail. I don't think I knew that as much before I was actually out there seeing it," Pence said. "My family has been involved in politics for many years, since I was little, and I had never really seen the number of people that would come out to rallies just for my dad, ones (Trump) wasn't even at."
Campaigning with her parents in Pennsylvania, a state that had not voted Republican since 1988, Pence heard the story from the campaign that stuck with her. A woman came up to the GOP vice presidential nominee and told him of her late father's desire to vote for Trump.
"We were stopping at a barbecue joint and we kind went around, my dad would say hi to people in the restaurant and this woman came up to him and said that her dad had never voted in an election, but he was going to vote for Donald Trump because he said he had finally found someone that he wanted to vote for," Pence said. "She said that unfortunately, her father had passed away earlier that year, so he hadn't been able to cast his vote, so their whole family decided to get involved."
Pence said it was a familiar script — people who had never been involved in the political process were suddenly involved and getting behind a movement to 'drain the swamp'. So on a "hectic" and "special" election night, Pence was cautiously optimistic.
"I think, honestly, you never know until it's at 270 and so we didn't know that until much later in the night, well past midnight. I don't think there was a moment where we realized it probably until the moment it was called," Pence said. "So I think that we saw that support, I mean we were pretty convinced that if the support we'd seen out on the campaign trail was reflected in the vote, we were pretty confident."
"We were in the main room where they were watching all the screens, watching the results come in, different reports of different states being called," she said. "We were all together pretty much the whole night, which was really special and just really fun to be able to share that with everybody that we worked really closely with on the campaign trail, staff and family included."
Pence had joked in an interview last August that her job on the campaign trail was to "babysit her parents" as they traveled the country. Now, Pence, the 'second daughter' to be, will help provide a support system for her parents as she simultaneously starts her career in film production.    
"My family's always been very, very close. I think that this experience does bring you closer together though, just traveling and being on the campaign trail physically with them," Pence said. "We saw all the same things, met most of the same people and so, just having that support system is just essential and I think that's reflected in the Trump family as well. They're such a close family that I think that's just the most important thing for them and it's the most important thing for us to have those people and those relationships close to you no matter what you're going through."
Pence, with her Secret Service detail in tow, will work full time at a film production company in Washington D.C. While not taking on any official roles in connection to her dad's job, she said she's "here to support my family."
Pence graduated from DePaul in June 2016 with degrees in Digital Cinema and English.