D.C. women's marchers to Trump: "Don't get too comfortable"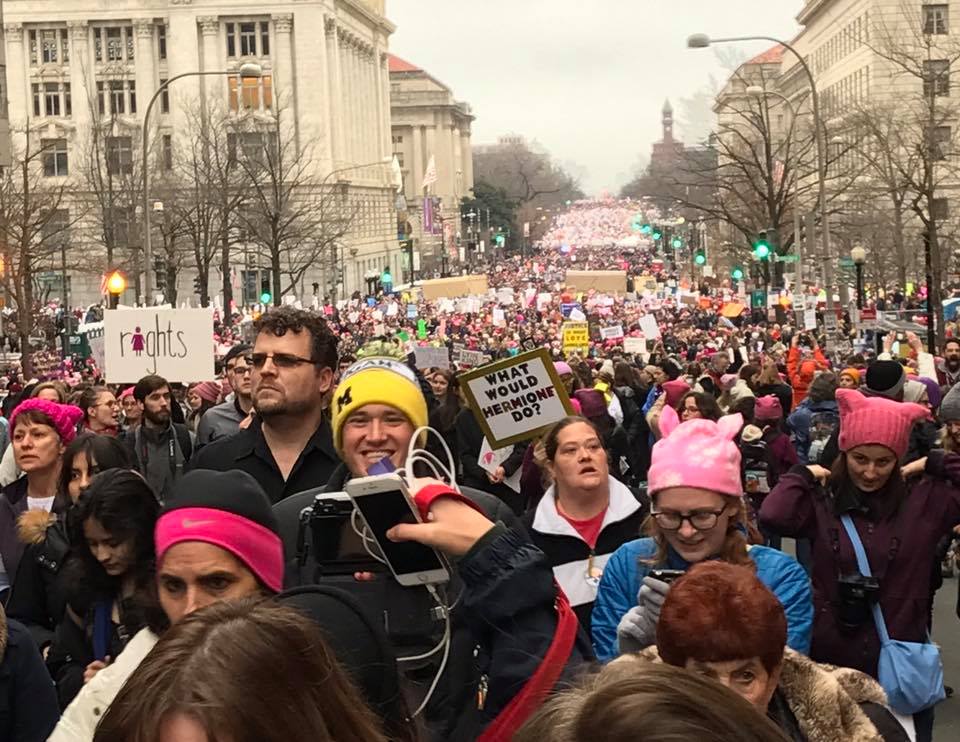 WASHINGTON D.C. — Like many on election night, DePaul associate dean Alexandra Murphy was left "heartbroken" by Donald Trump's election as the forty-fifth president of the United States.
While no stranger to being in the political minority and saddened by the possible policy implications of a Republican administration, Trump's victory cut a deeper wound.
"Trump is different. He is an irrational, Twitter-bully, who gives political opponents schoolyard nicknames and insults, who has openly criticized and mocked every vulnerable, marginalized, and underrepresented group," Murphy said. "At a minimum, he giggled and laughed about sexual assaulting women, at worst, he did it."
"The worst part of the night was knowing I had to try to explain this to my 10 year old twin daughters," she said.
But, Murphy and countless others were determined to turn that election night pain into action. The result was millions of women marching in protest across America and around the world.
Murphy and husband Chris Greene, a DePaul professor, were among the estimated half-million people to descend upon Washington D.C. on Trump's first full day in office. The crowd, the largest of any of the marches, easily bested Trump's inaugural crowd.
The message to Trump and the Republicans in Congress: 'We're still here and we're watching'.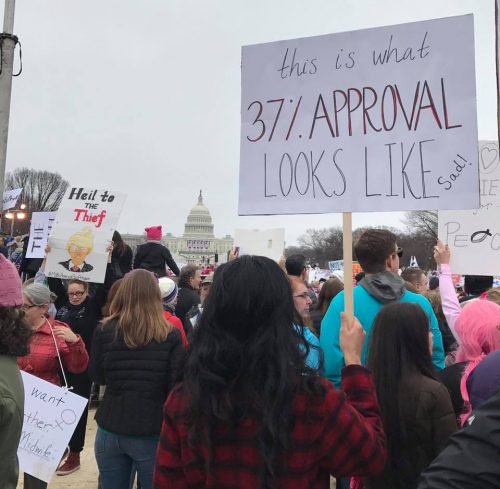 "It should serve as a strong reminder to members of Congress who are up for reelection in 2018 that elections do have consequences and if they do things that are overreach, then they will pay for it," said Bryan Bennett, who while now a resident of Washington D.C., sported White Sox cap from his days in Chicago.
"Watch out. Don't get too comfortable," his friend Lesley Dixon quickly added.
The event was unorganized at times, with overflow crowds often unsure of where to go and unable to see or hear the speeches from the main stage. And while called a 'march', it was often a crawl as attendees sifted through bottlenecks around the National Mall.
Despite that, spirits were high as marchers reveled in the solidarity of the moment, many wearing pink cat hats  and holding makeshift signs with messages, from 'tiny hands' to 'tweeting', directed at Trump.
"I think it was needed. I think that a lot of people felt that after the election, they really had nowhere to turn, nowhere to go to and were really just devastated," said Allison Kreucek, a former DePaul student who made the trek from Mount Greenwood on Chicago's Southwest Side. "I know people that were absolutely destroyed by the results of this election. And I think this show people that they are not alone."
The speaking portion of the march went over time by roughly an hour, with activists like Gloria Steinem and Michael Moore as well as celebrities from Scarlett Johansson to Madonna taking the podium.
Newly-sworn in Illinois Sen. Tammy Duckworth also took the stage with some of her female colleagues.
"This is about our country," Duckworth said, "I didn't shed blood to defend this nation – I didn't give up literally parts of my body — to have the Constitution trampled on."
Duckworth, who lost both her legs when her U.S. Army helicopter crashed on a mission in Iraq in 2004, encouraged those in attendance to get involved at the local level.  
"This is what it's about – it's about you going home after today and standing up and fighting in your communities," Duckworth said. "Don't take what you do today and don't let it end. Take it home, run for office yourselves. Get out there.
With Trump's election came a new urgency for marchers, many stressing the importance of getting organized and staying unified.
"We have a common thread now, we have a common enemy and whatever differences we may have as people, we need to come together and put those aside and push forward," Kreucek said.
Despite anger towards the current political situation, the march featured an air of hope as marchers seek to prevent the normalization of Trump.
"This cannot be the new normal," Murphy said. "I want my daughters to know that they have a voice and can and should be heard. I want them to know that while we need to remain optimistic, this is not okay and that we can and must do better."
For a march its size, it was remarkably peaceful — no arrests were recorded. This was a staunch contrast to Friday afternoon, where more than 200 protesters were arrested after sometimes violent demonstrations.
The Trump Administration has not addressed the movement.